'The View:' What Joy Behar Said About This Former Co-Host's Sudden Exit From the Show
ABC's legendary talk show The View is less one co-host once again. With Abby Huntsman's recent departure, the current panel – Whoopi Goldberg, Joy Behar, Meghan McCain, and Sunny Hostin – are in search of the next person to fill the seat at the table.
Several panelists abruptly left the show over the years with little explanation. One co-host's announcement to move on came on the heels of a high-profile interview with a well-known political figure.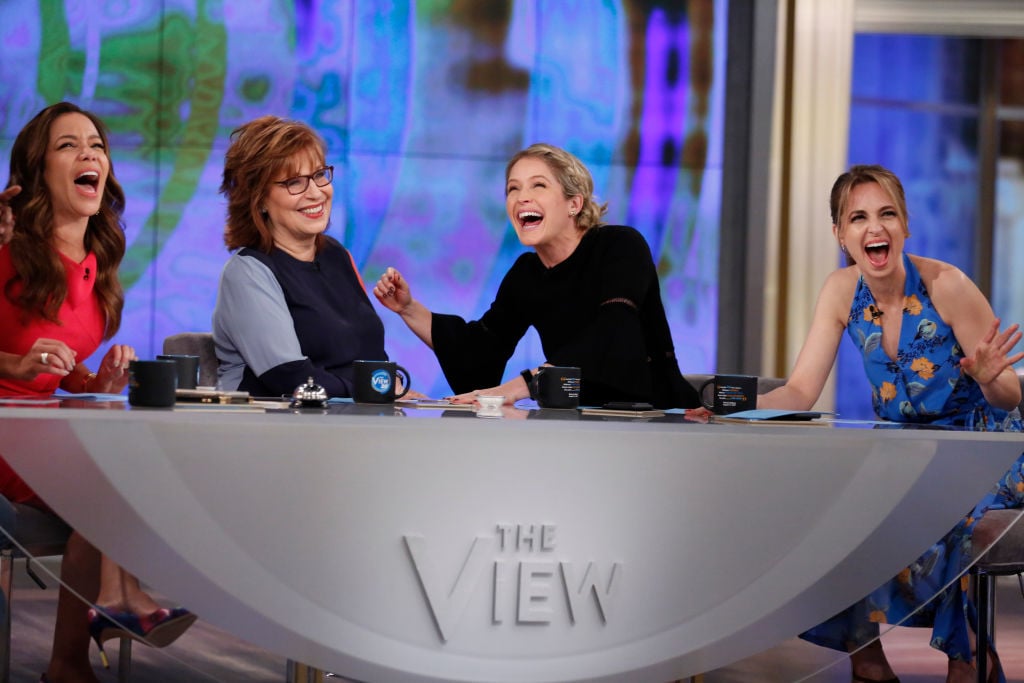 Addressing the most recent exodus
Earlier this month, Huntsman announced her departure from The View, saying she would be helping her father Jon Huntsman, Jr. in his upcoming political campaign. "After much deliberation over the holidays, I have decided to leave the show to dedicate myself full-time in support of my dad and his campaign for Governor of Utah, " Huntsman shared, according to People.
Rumors swirled that Huntsman's exodus was partially due to tension with friend and co-host McCain, though the conservative co-host recently spoke on the matter to Andy Cohen on Watch What Happens Live. "I think she was genuinely conflicted about her dad running for governor and her not helping, and that is the reason why she left," McCain told Cohen.
The View star went on to reveal that she did have an argument with Huntsman at one point, but it was blown way out of proportion by the media, saying, "we did get in a fight, which is a very small fight and a friend fight. And all friendships have ups and downs," McCain told Cohen.
She feels the media has put a false light on her friendship with Huntsman just to create gossip. "It was sort of bizarre for me, and I think bizarre for her, to have — the fact that we got in one fight the two years that we worked together on the show, to be put under dissection in the media, to be weaponized," she said of the leaked story. "I don't think this is a totally fair shake using our friendship in the way that it has been used."
Another conservative leaves the table
According to Closer Weekly, conservative co-host Jedediah Bila got a seat at The View's table in 2016, but abruptly announced her departure in the fall the following year.
"So, this is my last day at The View, and I want to thank these ladies," she said to her fellow panelists in September 2017, referring to Goldberg, Hostin, Behar, and Sara Haines. "What you don't know about us, these ladies, we're friends. Sunny's texts, Sara, Whoopi, you're my inspiration. Joy, when I need comedic relief, this is where I go. So we're going to be friends no matter what."
With such a hasty exit, speculation on Bila's reasons for leaving began pointing to a certain interview that had been conducted just the week prior to her announcement. When Hillary Clinton appeared on the show to promote her book "What Happened," Bila presented her with some tough questions.
"Former campaign surrogates of yours, former fundraisers have said, 'This book puts us in the past and we wanna move forward, we wanna figure out where to take this party, how to succeed in the future. And this places us in the past.'" Bila posed to Clinton. How do you respond to Democrats also coming out in criticism of you writing this?"
"I think they first should read the book," Clinton responded.
Behar's take
With the timing of the interview and Bila's news that she was moving on, rumors swirled that the two circumstances were somehow connected, implying that Bila was fired for giving Clinton some hard-hitting inquiries. When Joy Behar appeared on Watch What Happens Live in 2017, she addressed the rumors on the buzz surrounding Bila's exit.
"I know that there's this thing going on that Jedediah lost her job because she asked Hillary a tough question," Behar said. "That is so the opposite … they want her to ask a tough question. They would never get rid of her for something like that and yet this thing is going around like it's true… It wasn't anything completely off the wall, but it was a strict question."
Bila has clearly moved on from the ABC daytime talk show with her co-hosting gig at Fox News. She recently welcomed son Hartley with husband Jeremy in November and is enjoying her new role as a mom.