'The View:' Which Conservative Co-Host Has the Highest Net Worth, Meghan McCain or Elisabeth Hasselbeck?
Co-hosts Whoopi Goldberg, Joy Behar, Sunny Hostin, and Meghan McCain of The View continue to broadcast from their homes due to quarantine restrictions. With plenty of tumultuous issues to cover, the four panelists are never short on hot topics. 
While McCain is the resident Republican of the group, many remember conservative co-host Elisabeth Hasselbeck during her long stint on the show. With both television personalities often making headlines, some may wonder who has the bigger bank account.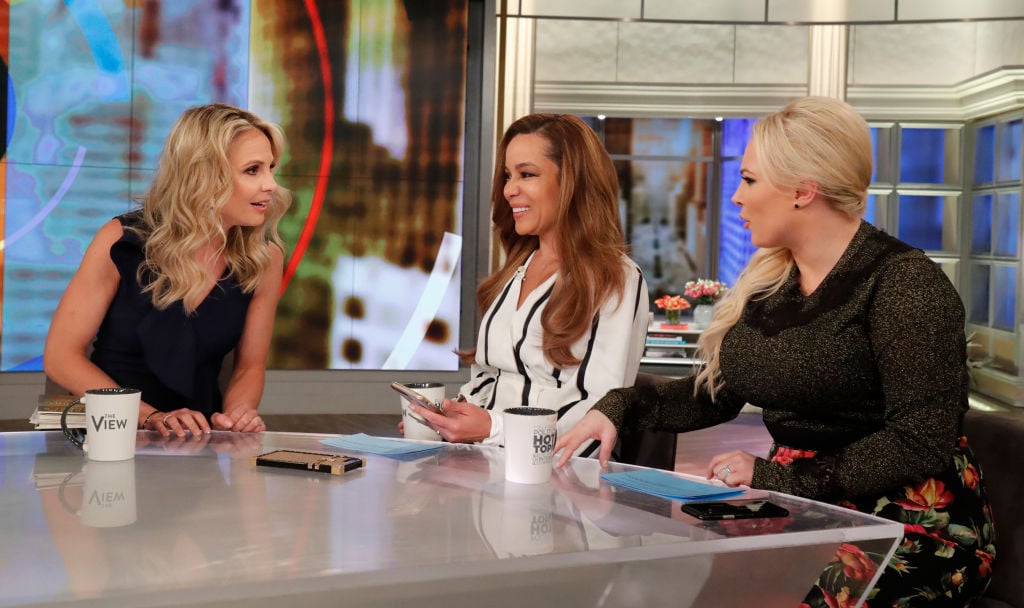 Meghan McCain and Elisabeth Hasselbeck's war of words
When Hasselbeck appeared on The View in early March just before quarantines were implemented nationwide, the coronavirus crisis became a talking point. Some of the former co-host's comments didn't go over well with the panel.
"Yes, we're going to take precautions, we're going to Purell, pray that God's got us in our tomorrows, right?" Hasselbeck said, according to Entertainment Tonight. "We pray that this coronavirus is extinguished, that it's stopped in its tracks. I think we should prepare. I think we should pray. I'm not going to let coronavirus rule me!"
McCain was particularly put off by Hasselbeck's stance on the pandemic. "I took this virus seriously from the very beginning and I thought a lot of this rhetoric was really dangerous," The View co-host told Andy Cohen on Watch What Happens Live following Hasselbeck's appearance. "I think it's really, really unfortunate and dangerous that she said that. And I don't need to co-host with her again."
RELATED: 'The View:' Why Meghan McCain Misses Joy Behar The Most Out of All Her Co-Hosts
Wanting to clarify her statements, Hasselbeck called out McCain on Instagram to clear the air. "I don't know why you are taking an opportunity to be so aggressive toward me during such a stressful time," she wrote. "I never said I had the power to pray COVID away … My quote was that I am going to pray and Purell. … This is all hard and stressful enough – turn off the meanness as the world needs more togetherness and kindness."
Elisabeth Hasselbeck moved on to Fox after 'The View'
Serving as a co-host on The View from 2003 to 2013, Hasselbeck was known as the panel's conservative commentator. Frequently going toe-to-toe with her more liberal co-hosts (especially Rosie O'Donnell), Hasselbeck never shied away from controversial topics. 
Fired from the show in 2013, the television personality revealed that her termination was a gut punch.
"Without emotion, without wasting a minute, they told me they were not renewing my contract," she wrote in her book Point of View: A Fresh Look at Work, Faith, and Freedom of the day she was let go."They said the show would be going in a less political direction, and that I could leave that day or the next day or stay for the remainder of this current season — but, come September, they were replacing me." 
RELATED: Elisabeth Hasselbeck Returns to 'The View' and Tangles With Joy Behar and Sunny Hostin
Moving on to Fox News' Fox & Friends, Hasselbeck was asked to return to The View table to once again assume the role of co-host. She declined the offer but has returned many times as a guest.
Celebrity Net Worth lists Hasselbeck's total at $3 million. 
Meghan McCain has a list of pre-'View' credits to her name
As the daughter of the late Senator John McCain, The View co-host grew up in politics. Recording her father's 2008 Presidential campaign by keeping a blog, McCain has also served on radio shows and as a contributing writer for the Daily Beast. 
Prior to the ABC talk show, McCain has appeared on MSNBC and co-hosted Fox News' Outnumbered, as reported by Closer Weekly. Wanting to take her television career a step further, McCain headed to start-up cable network Pivot TV and launched her own talk-reality show Raising McCain, which was meant for a millennial audience.
"I wanted to do a show that's much more conversation with the audience, because oftentimes I watch TV, and I feel like I'm watching someone who's preaching to me because they have all the answers," she told SF Gate in 2013. "It's not stuff that I really am ever drawn to."
The show was cancelled after just a few months, but McCain had already made her mark as a credible television personality. Her tenure on The View since 2017 has helped the show skyrocket in ratings and boost her validity as a TV journalist.
McCain comes out on top with Celebrity Net Worth listing her total at $4 million.