'The View': Who Was the Most Disliked Host of All Time?
You'll find an even divide on those who find The View essential viewing to gain perspective on today's politics, or those who find it nothing but cacophonous morning TV chatter.
Whatever camp you fall into, the show would be nothing without its controversial hosts. Determining who the "most hated" have been over the years may be based on your own personal political ideologies.
While nobody should be hated, let's take a minute to look at the hosts who some fans found the least appealing. A few of these created more than a few notable ruckuses on the set, sometimes in subtle ways.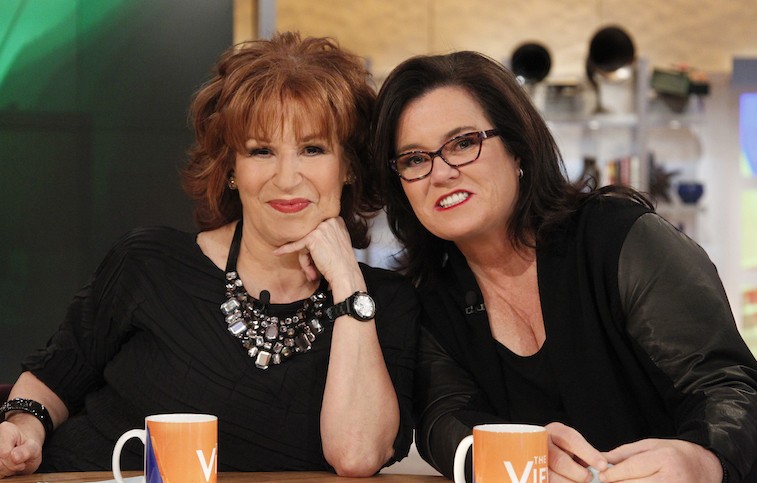 Rosie O'Donnell
It's kind of startling O'Donnell went from one of the most loved talk shows hosts in the '90s when hosting her own afternoon show to one of the most reviled hosts on The View.
Your perspective on this probably comes from whether you agreed with her left-leaning politics. Even then, she sometimes became too brash for her own good and didn't gain any points from both sides. This is the danger of becoming brutally honest about your politics in front of a national audience.
Making things worse is that O'Donnell couldn't resist tearing into Melissa Hasselbeck who also couldn't resist championing right-leaning political issues. When they both locked horns about Iraq during a 2007 show, O'Donnell quit.
Her public image suffered greatly in ensuing years. Regardless, she agreed to return to the show in 2014 for just one season. Since then, she's mostly retreated from television appearances, perhaps based squarely on her controversial The View image.
Debbie Matenopoulos
One of the seemingly most-hated hosts behind-the-scenes was reportedly Debbie Matenopoulos who became the first host to be fired controversially. Apparently a lot of the cast didn't like her off-camera, something that never followed up on as to why.
According to Matenopoulos herself, she was told by producers viewers hated her and that she was a horrible person. She tried to tell this story in an autobiography she never sold.
Some of Matenopoulos's insinuations seem to say Barbara Walters was behind some of these rumors, adding some suspicion when you add a similar situation related to Elizabeth Hasselbeck.
Matenopoulos still didn't lack for finding other work as a TV host. Some of this included later work on the TV Guide Channel, then hosting Home & Family on the Hallmark Channel.
Elizabeth Hasselbeck
Next to O'Donnell, there probably wasn't any more volatile host who felt she was being sabotaged for her conservative politics. Hasselbeck quit the show in 2013 without any major scandal. She then went on to co-host Fox & Friends for a time on Fox News.
In more recent years, she's mentioned she left the show under less than positive terms. Some audio surfaced of her exploding backstage for Barbara Walters telling her on-air to be more rational in arguing a case against a birth control pill.
Hasselbeck suggested Walters was more scheming behind the camera rather than the motherly figure she put forward in front of the cameras. Who's to say who's right? It does make us question whether Walters was controlling a lot more things in a subtle way than anybody really knew.
So, we ask: Should Walters be on this list?
We've all loved Barbara Walters for years for the news legacy she's left us. She's in questionable health now, so we don't want to say anything negative on this short list.
However, some of the above situations with hosts makes us think she was maybe controlling The View's political narrative and running out hosts who didn't fit the mold.
Behind the curtain, maybe she hasn't been entirely respected by everybody while still being a maternal figure.
Place her only in a theoretical category here, along with other notorious names like Star Jones, Jenny McCarthy, and (current host) Meghan McCain as strong runners-up.
McCain may end up at the top of the list as she creates a political tug-of-war at the table each week. Look out for this possibly boiling over someday, which could lead to a live "take this job and shove it" situation like we've never seen.