'The View:' Why Former Panelist Debbie Matenopoulos Says She Felt 'Super Betrayed' By Co-Host Star Jones
The View's current team of Whoopi Goldberg, Joy Behar, Sunny Hostin, and Meghan McCain are holding down the fort in spite of the show still needing a replacement for former panelist Abby Huntsman, who left in January.
Revolving co-hosts have been a part of the table's dynamic since The View launched in 1997, with some exits being more contentious than others. Two of the program's original co-hosts – Debbie Matenopoulos and Star Jones – became close friends when they started together on the daytime talk show. According to Matenopoulos, that began to change when ABC execs were in the process of giving the young star the boot.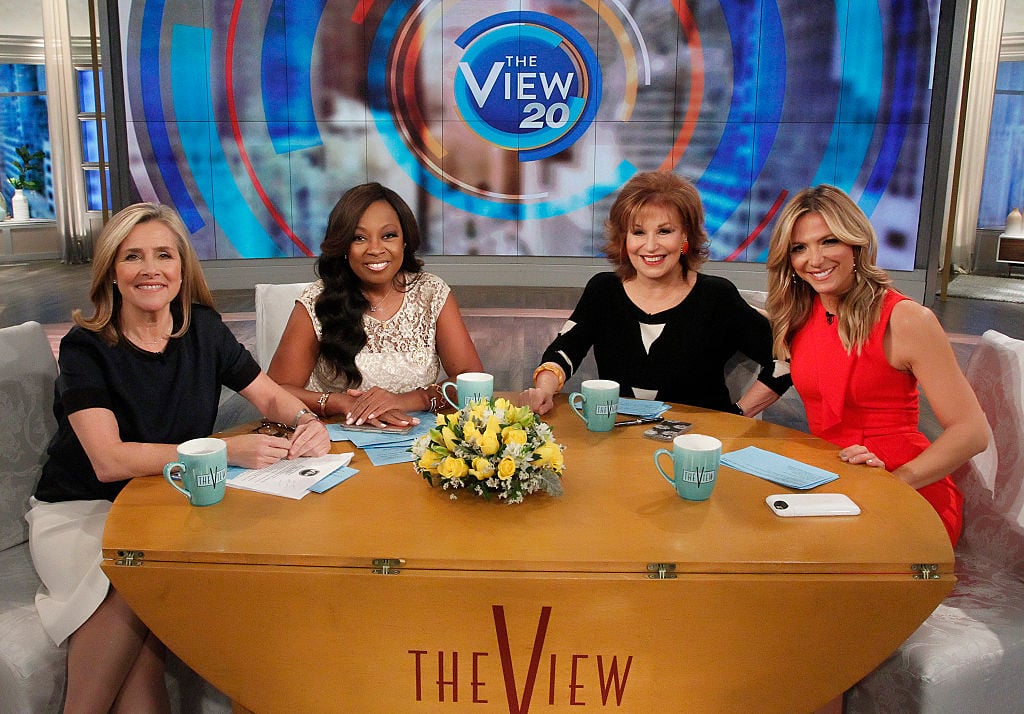 Matenopoulos gets a seat at the table
According to Time, Matenopoulos auditioned for The View when she was just 22 years old. A senior at New York University and working part-time at MTV as a production assistant, the rising star landed the seat at the talk show table along with Jones, Meredith Vieira, Joy Behar, and show creator Barbara Walters.
The former View panelist still recalls the message from Walters on her answering machine arriving at a time when she could barely pay her bills.
"Oh, Debbie, it's Barbara," Matenopoulos heard Walters say from the machine. "I just want you to know that you've got the job. I couldn't do this without you." Matenopoulos noted the irony. "In one day, my lights go out and I get the job of a lifetime," she said.
Too much too soon
Matenopoulos was brought into the world of live television and, by her own admission, was unprepared. "I was so scared, so young, and so in over my head," she told Ramin Setoodah, author of Ladies Who Punch: The Explosive Inside Story of The View. "I was a kid. I had no clue."
Her inexperience on the air was perceived as ignorance rather than just youthful banter. Matenopoulos would stay away from topics of substance and instead talk about items more in her comfort zone like boyfriends and hairstyles.
"How are you going to have an opinion if you haven't lived it?" Matenopoulos posed to Setoodah. "I didn't have the experience like the rest of them had. So I chose to really not say too much when they were talking about really heavy things, because I didn't know what to say."
The young co-host's presence on the show was becoming a problem, where producers were soon forced to make some staffing decisions. "The audience just didn't like Debbie," former executive producer Bill Geddie said. "The older people were okay with her. They thought she was an idiot, but it was funny. Younger people didn't see themselves in Debbie. They thought by picking someone like that, we were talking down to them."
Star-crossed friendship
Despite the turmoil regarding Matenopoulos' performance on the show, she had formed a solid bond with Jones as the two single women on the panel. "We were thick as thieves," Matenopoulos revealed. Jones agreed that they were close pals at one point, saying, "I do partnerships and relationships really well."
Yet as Matenopoulos' seat at the table began to show signs of shifting, Jones starting distancing herself. Once the young co-host was given the ax, Jones cut her off completely.
"Star, who was supposed to be one of my very good friends, didn't return my phone calls or emails," Matenopoulos revealed in Setoodah's book. "I was really hurt. I felt like she threw me under the bus. I felt super betrayed by Star."
To make matters worse, Matenopoulos reportedly heard Jones badmouth her in television interviews following her dismissal. "She didn't need to use my firing to get press," Matenopoulos commented. "That really upset me."
Jones told Setoodah that she had her reasons for their falling out. "I became disappointed because [Matenopoulos] stopped working hard," Jones said. "She would stay out late and show up looking bedraggled. … It was difficult to see her not be able to right the ship. I don't think she fought hard enough to stay, and she could have done it."
In her opinion, Jones felt Matenopoulos didn't put in enough of an effort to keep her seat at The View table and relied too much on her appearance. "Less cute, more content. Young pretty blond girls quite often don't get over being young pretty blond girls," Jones said. "That gets you in the door. That doesn't keep you there. I thought Debbie needed to develop her own niche. She just wouldn't do it."
Jones ended up being fired from the show in 2006, and many View co-hosts after that faced termination as well. For Matenopoulos, she realizes that she was the first in a long line of followers.
"I was like the original Survivor to be voted off the island," she said.