'The View:' Why Rosie O'Donnell Doesn't Watch The Show, Says 'It Upsets Me'
Rosie O'Donnell still gets asked about her time on The View despite not being on the show in years. Serving on the panel from 2006 to 2007, and again from 2014 to 2015, the comedian's tenure on the daytime talk show is legendary due to her infamous outbursts and tensions with her co-hosts.
Though O'Donnell has a history with the ABC program, she recently revealed she now doesn't take any time to enjoy The View.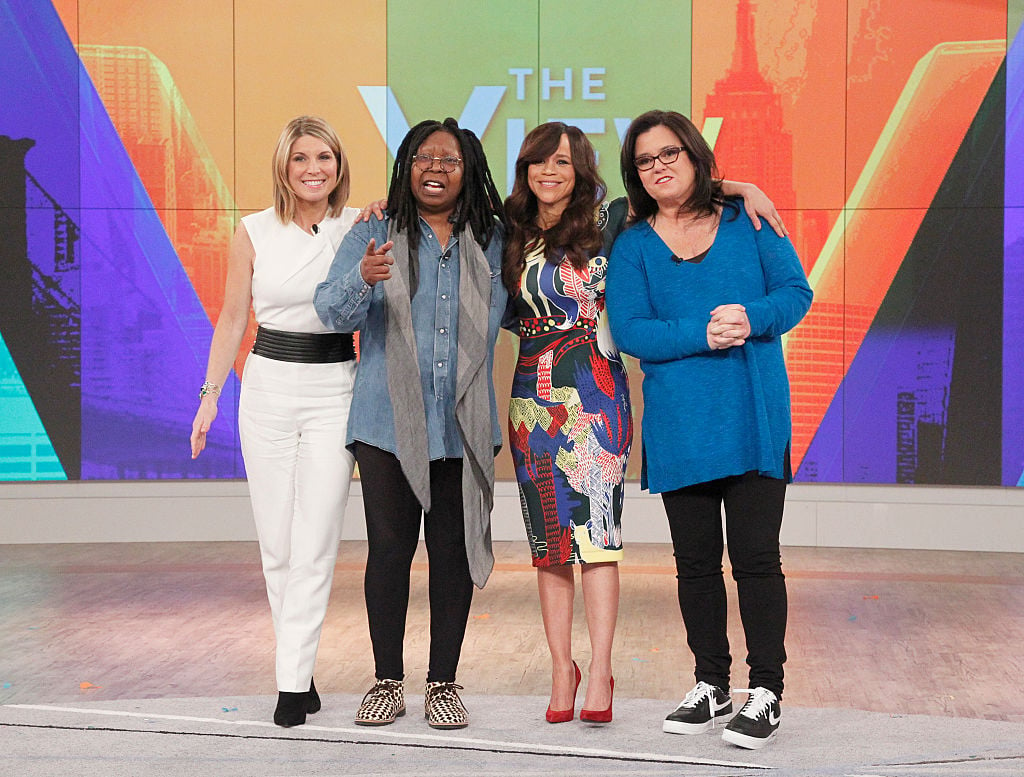 Former 'View' star tangled with moderator Whoopi Goldberg
In Ramin Setoodah's book Ladies Who Punch: The Explosive Inside Story of 'The View,' O'Donnell described the contentious relationship she had with Whoopi Goldberg, the show moderator.
"Whoopi Goldberg was as mean as anyone has ever been on television to me," O'Donnell said. "With [former co-host] Elisabeth Hasselbeck, I didn't see her in a one-woman show that changed my life as an artist. But I did with Whoopi Goldberg, and I watched her make her way through a world, which is racist and sexist and homophobic, and succeed like only four women of color have in our age range."
In an interview last year on Bravo TV's Watch What Happens Live with Andy Cohen, O'Donnell alluded to a more civil understanding the two former colleagues now share.
"Well believe it or not, we bumped into each other physically at the Megan Mullally show of her concert in Cafe Carlyle and we were very cordial and said hello," O'Donnell told Cohen of Goldberg. "And, you know, I'm always going to respect her. I'm always gonna look up to her. She's somebody who was inspirational in my career and, you know, you like to keep those people in a place of reverence if you can. And that's what I'm hoping to do."
Rosie O'Donnell says she was told not to discuss Bill Cosby
In an interview with The Daily Beast on May 12, O'Donnell spoke on a myriad of topics including her thoughts on The View today. When the journalist credited the former panelist for opening the door to the show's focus on politics (stemming from her infamous battle with now-President Donald Trump) and other potentially taboo topics, the comedian agreed with the assessment and mentioned a subject she wasn't allowed to bring up.
"Bill Cosby, which they didn't let us talk about," O'Donnell revealed. "I was overtly told: 'We are not discussing it, Rosie.' One of the hosts told me that."
When Cosby was accused of sexual assault in 2014, Goldberg was hesitant on saying anything against the iconic actor where O'Donnell was speculating on the amount of his victims.
"I think it will probably end up in the hundreds, and I don't necessarily think that that's such an outlandish possibility," O'Donnell said in one particularly tense conversation, according to The Wrap.
"People can say anything," Goldberg responded. "If you've been on the other side of this, then you know. Once somebody paints you with that brush, you are that forever. So I want to be surer."
Needless to say, the two never saw eye-to-eye on the topic.
Rosie O'Donnell won't view 'The View'
When O'Donnell was asked if she checks out the latest on her former ABC talk show, she revealed that she doesn't feel the program is up to the standard it once was.
"I don't watch it anymore because it upsets me, and because I think it's been dumbed-down a lot," O'Donnell said. "Everyone seems to think they have their two-minute sound bite and they want to get everything in."
The comedian sees the previous seasons of The View as when it was at the height of its appeal. "In the old days, The View had much more of a real conversation happening live," O'Donnell commented. "It doesn't feel like that's happening anymore."