'The View:' Why Whoopi Goldberg Didn't Like the Cover of 'Ladies Who Punch' Tell-All
Whoopi Goldberg of 'The View' wouldn't participate in Ramin Setoodah's book 'Ladies Who Punch' but did weigh in on the cover art.
Co-hosts Whoopi Goldberg, Joy Behar, Sunny Hostin, and Meghan McCain continue to appear on The View from home via video due to the coronavirus crisis. Outside of its usual banter, the show is currently being put in the spotlight due to Ramin Setoodah's 2019 tell-all book about the program being recently released in paperback with an updated epilogue that promises some new details.
Though Goldberg was not one of the many co-hosts that agreed to be interviewed for the book, she did give her opinion on the cover image.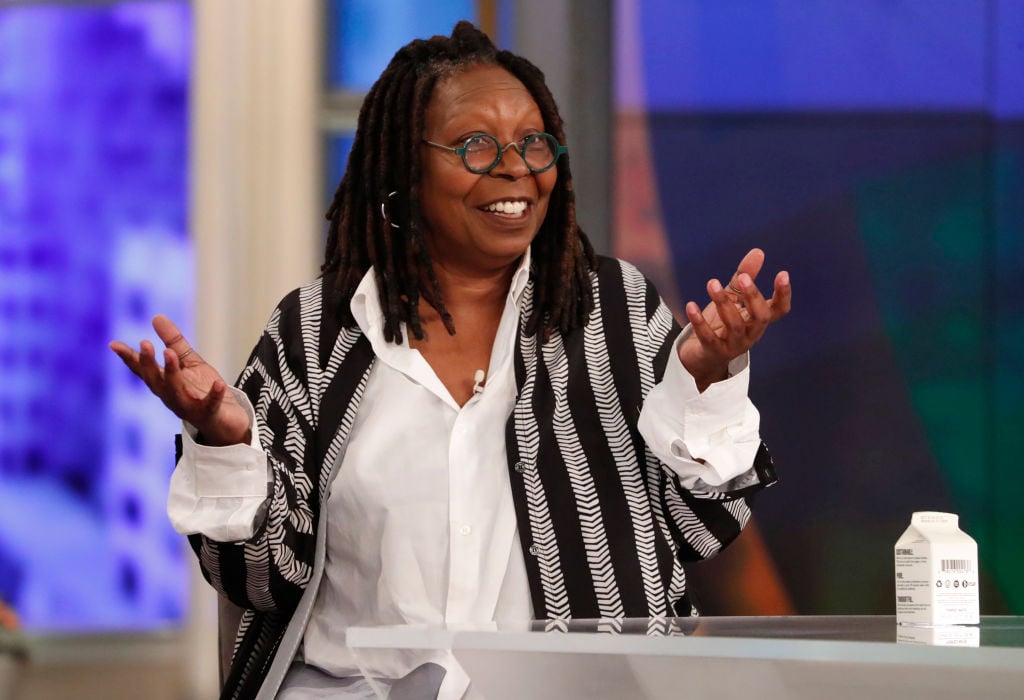 Former 'View' co-host blasts Whoopi Goldberg in book
Rosie O'Donnell, former two-time co-host of The View was one of the many panelists who agreed to talk to Setoodah for his book Ladies Who Punch: The Explosive Story of 'The View.' The television personality didn't hold back when the author asked about her tumultuous relationship with Goldberg during her second stint in the 2014-2015 season.
"Whoopi Goldberg was as mean as anyone has ever been on television to me, personally," she told Setoodah, according to the Daily News. In a recent interview with Howard Stern on his SiriusXM radio show, she elaborated on her comment.
"When people say, 'Well, what happened?' I say, 'Go back and watch them.' It's not like a mystery," O'Donnell told Stern. "Watch the way it went down, and I don't need to say anything. Did it hurt my feelings? Tremendously. It was trippy to me. But I knew I had to leave. I'm not fighting with Whoopi Goldberg. I have no desire to fight with her."
O'Donnell shared plenty of other details about her time on The View to Setoodah, yet apparently now regrets the interview. "It was literally… 15 minutes in a restaurant by my house with Cindy Berger, who is a friend of [Setoodeh]," she told Andy Cohen in an interview last year. "So, she said, 'Please do it.' She begged me to do. I go, 'I'll do 15 minutes.' But yeah, I shouldn't have done it at all. I didn't wanna do it." 
Whoopi Goldberg's view of the cover
Though Goldberg did not want to be interviewed for the 2019 book, Setoodah revealed that the EGOT winner gave her opinion on the book's cover art showcasing a caricature of her, O'Donnell, and show creator Barbara Walters.
"Whoopi saw the cover on her Kindle a few months back, and she was very upset that she was shown on the cover with Rosie O'Donnell, which I found to be kind of humorous because I'm not inventing a scenario that didn't exist," Setoodah told Salon last year. "You were on the show for months with Rosie O'Donnell. It's like I'm creating a situation that didn't exist."
The author noted that The View moderator's opinion of the cover was reflective of her relationship with O'Donnell. "They were on the same show together, but it got so ugly between the two of them Whoopi doesn't even want to be seen in an illustration with Rosie," Setoodah said.
For the show moderator, what happens on 'The View' stays on 'The View
Former and current co-hosts spoke to Setoodah for his book, including Joy Behar, Meredith Vieira, Star Jones, and Lisa Ling. Goldberg had no interest. "Listen, I didn't talk to the guy; I didn't care about the book," she told Andy Cohen last year on Watch What Happens Live, according to USA Today. 
The Oscar winner shared that she prefers not to spill any secrets regarding her workplace. "What happens for me at work is not for everybody; it's not their business," she said. "I don't like talking out of school, and I don't like other people talking out of school. So, for me, you just have to… leave it there. That's for me. I don't know about anybody else."
When Cohen brought up that O'Donnell had some "strong words" about her Goldberg responded, "That's OK."
No surprise that Goldberg revealed she has not read Setoodah's book.