'The View's' Whoopi Goldberg Shares What Women Should Try Once in their Lifetime
Whoopi Goldberg of 'The View' highly recommends a certain practice to women when it comes to the opinions of others.
Whoopi Goldberg has been a steady presence on The View since 2007. A force to be reckoned with, the EGOT winner continues to act in film and on stage while serving as the daytime talk show's moderator.
One reason for Goldberg's success on the ABC program may be due to her willingness to speak her mind as well as her indifference to what others think of her, a practice she highly recommends to all women.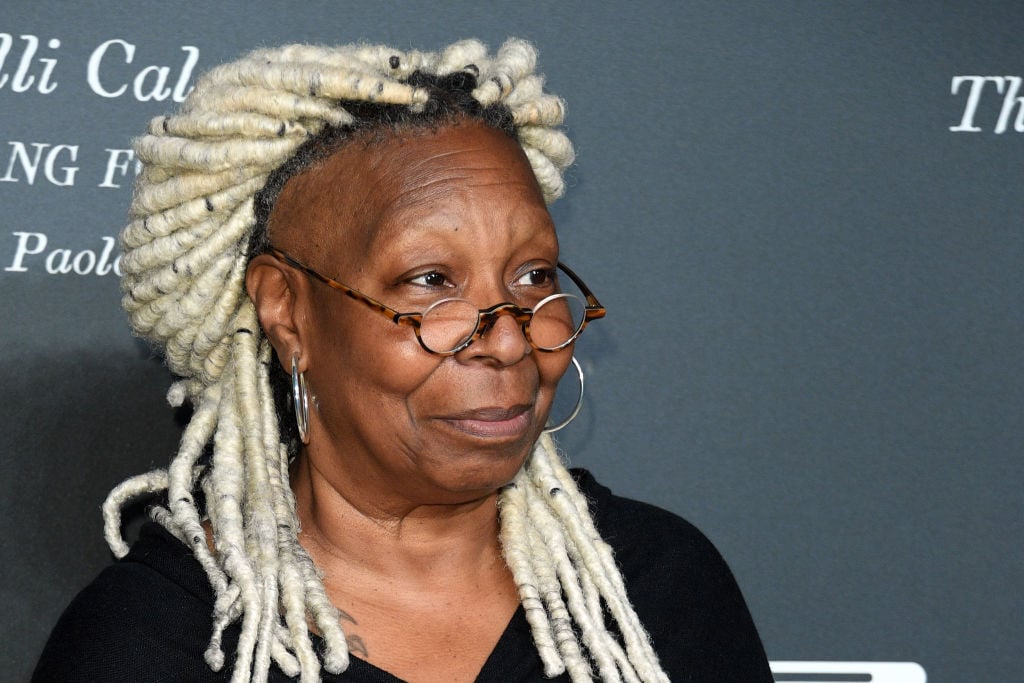 Whoopi Goldberg's rise to fame
Born Caryn Elaine Johnson in New York City, Whoopi Goldberg became a household name after her performance in Steven Spielberg's 1985 film The Color Purple. Between her vast acting range and talent as a stand-up comic, Goldberg soon received each of the most coveted awards in the industry and established herself as a top celebrity.
Coming from very humble beginnings, Goldberg noted when she realized she had truly arrived as an actress.
"I was walking along the streets of New York with my very, very first publicist who stopped in the middle of the street and said, 'Enjoy this now,' because nobody was looking or waving or saying hello," Goldberg told Marie Claire in 2018. "She said, 'Enjoy this because this is the last time you will be able to do this with nobody caring that you're on the street.'"
The View moderator also recalled some valuable advice she received from two iconic singers. "Came from Paul Simon and Art Garfunkel at the beginning of my career when they both said to me and my mother, 'Make sure you enjoy this ride,'" Goldberg shared. "It's important. Lots of people will try to stop you from having a good time, but the very first time is always wonderful, so enjoy it."
'The View' star has a suggestion for women
As the longtime moderator of The View, Goldberg often has to referee heated debates while giving her own opinions on controversial topics. With her high-profile career, the Oscar winner revealed that she is often seen as fair game to the public.
"People forget that you're a human being so they will come up to you and say the strangest stuff," Goldberg said, commenting that she considers this to be the worst pitfall of show business. "Now I think it happens to everybody, but people just forget that you're human or that you have a life or that you have a family that you want to hang out with, too."
This aspect of her industry may be why she's developed such an indifference to how she is viewed by others. In a 2018 interview, Goldberg noted that her resurgence in popularity was most likely due to her being unfazed by others' opinions of her.
"I think more people are interested in me again. Careers are cyclical," the Ghost star said, according to Glamour. "I used to make people very uncomfortable and now people are very comfortable. Maybe people know now, for real, that I don't care."
Her apathy towards the judgement of others is something she highly recommends to all women. "Not giving a rat's butt what other people think of her," Goldberg advised women to practice in her trademark straight talk. "That's the thing you should try in your lifetime."
EGOT winner prefers to go solo
Married and divorced three times, Goldberg recently commented on relationships in an interview with The New York Times last year.
"Look, people expect you to have a boyfriend. They expect you to get married," The View star said. "So I kept trying to do that, but I didn't want to share information with somebody else. I didn't want anybody asking me why I was doing what I was doing, or to have to make the other person feel better. But if you're in a relationship, you have to do those things, and it took me a while to figure out that I didn't want to."
Goldberg revealed that she finally realized it was ok to be single. "I'd be thinking, why don't I feel the thing that I'm supposed to? Then one day I thought: I don't have to do this," the actress shared. "I don't have to conform. I tried marriage, and it wasn't for me. You can't be in a marriage because everybody's expecting you to."
Goldberg has proven herself to be a trailblazer in more ways than one.