'The Voice': Which Coach Is Ariana Grande's 'Biggest Competition' in Season 21?
The competition between The Voice Season 21 coaches Ariana Grande, Blake Shelton, John Legend, and Kelly Clarkson is already heating up. There's been plenty of chatter among the stars regarding Grande's first season of the NBC series, as she's proven herself to be quite a powerful opponent for the three returning coaches. In August, Grande teased that one coach, in particular, has become her "biggest competition." Who is it?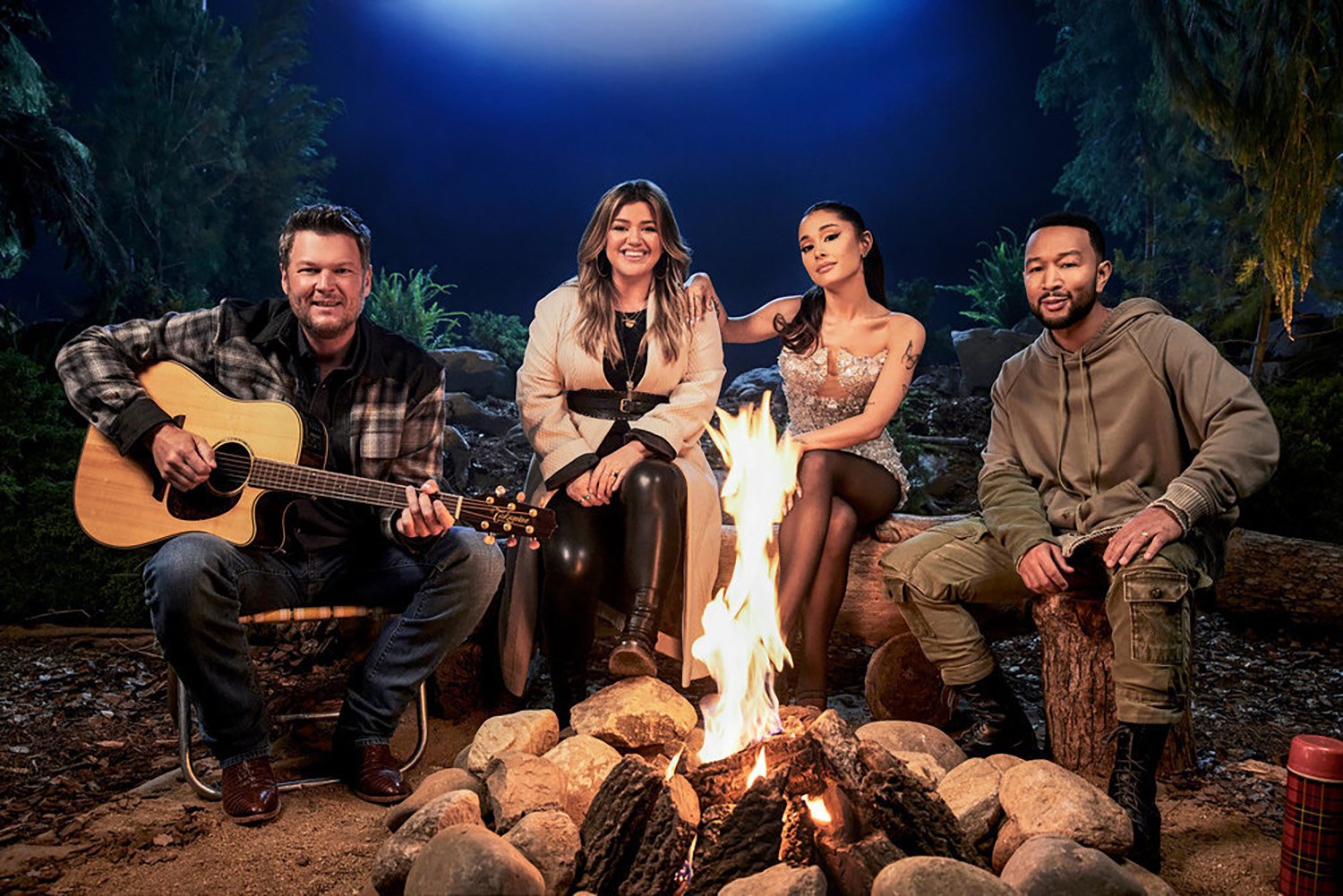 Ariana Grande says John Legend is her 'biggest competition' in 'The Voice' Season 21
Grande and her season 21 adviser, Kristin Chenoweth, sat down for an interview with E! Daily Pop, during which Grande teased her battle with Legend. The "7 Rings" singer revealed that she and Legend turned for many of the same artists during the Blind Auditions.
"John has been my biggest competition so far because I think we turn for a lot of the same voices," Grande explained. "And everybody picks John, not that I blame them. It hurts. But, that being said, everything happens for a reason, and I love Team Ariana."
Chenoweth quickly chimed in to praise Grande's team, noting that she chose a singer in every genre.
"With all due respect to all of the coaches, and I'm a huge fan of all of them…Ariana has been wise in her selections," the Broadway star said. "She has every single category out there. There's not one that don't [sic] fit."
Legend joined The Voice as a full-time coach in season 16 after serving as an adviser in season 12. He took home the trophy in his very first season with singer Maelyn Jarmon.
John Legend calls Ariana Grande a 'formidable opponent'
Legend is ready to take Grande on for the rest of the season. Speaking to Entertainment Tonight, the "All of Me" singer called Grande a "threat" to the other coaches because of her huge fan base and talents.
"Of course she's a threat!" he said. "She is hugely talented, hugely successful, and has legions and legions of fans that know how to use the internet and vote. There's certainly a learning curve. But she comes in as a formidable opponent."
In the same interview, Legend and Grande teased that some blocks could be used in the future. The Voice introduced the block button for Blind Auditions a few seasons ago as a way for one coach to prevent another from accepting a particular artist on their team. Each coach only gets one block in the Blinds.
"I would never block Ariana," joked Legend. "I would never."
Kelly Clarkson says John Legend and Blake Shelton are 'terrified' of Ariana Grande
Legend might seem confident around Grande, but according to Clarkson, it's all an act. She told Grande during The Kelly Clarkson Show on Sept. 17 that both Legend and Shelton are "terrified" of her. Clarkson showed a video of Shelton and Legend denying their fear, but she didn't believe it.
"Ariana has a huge fan base and they are fervent, and if they show up to vote, we're all in trouble," Legend said in the clip.
"Blake and John, they are terrified of you," Clarkson told Grande after the clip ended. "[Blake] is so afraid of Ariana's fan base."
Grande didn't think Shelton and Legend could ever be terrified of her, but that might be something for viewers to figure out. The Voice Season 21 premieres on NBC on Sept. 20 at 8 p.m.