'The Voice': Ariana Grande Wants A Rule Change After Watching John Legend Make a 'Painful' Decision
As The Voice Season 21 whittled down its list of contestants, the coaches found it harder and harder to eliminate team members. Some of the most challenging decisions came during the Knockout Rounds, which concluded on Monday, Nov. 1. The final Knockout of The Voice Season 21 featured two artists from coach John Legend's team, and coach Ariana Grande wished her colleague didn't have to make such a brutal elimination. She playfully called for a change to the competition's elimination model, just this once.
[Spoiler alert: The following story contains some spoilers from The Voice Season 21 Episode 13, the Knockouts finale.]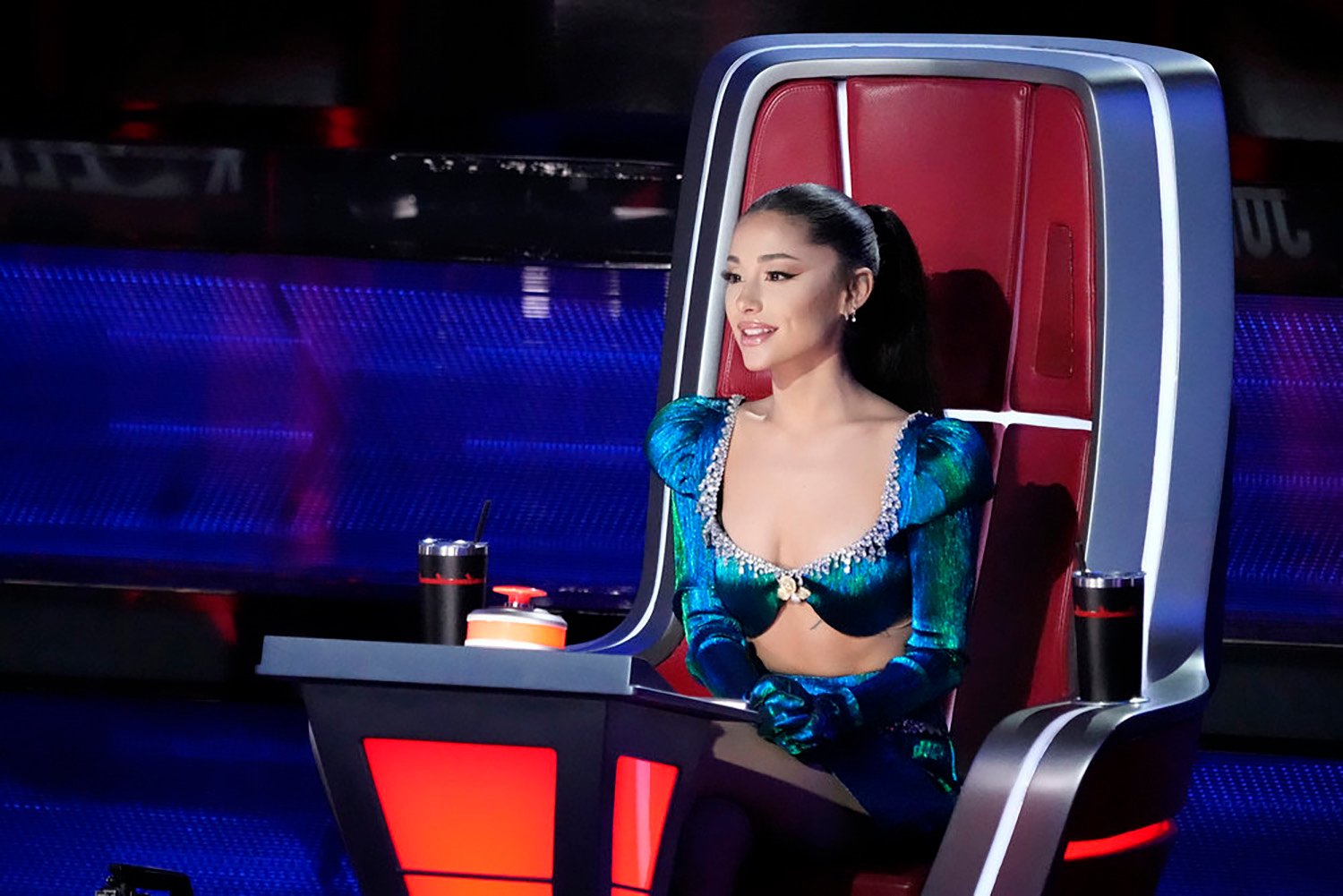 Team Legend's Jershika Maple and Paris Winningham both delivered incredible performances
John's final artists to compete in a Knockout were Jershika Maple, 24, and Paris Winningham, 33. Jershika chose to perform "Inseparable" by Natalie Cole, while Paris went with Chris Stapleton's "Tennessee Whiskey." Both artists wowed John and Mega Mentor Ed Sheeran in rehearsal. In fact, Ed even predicted that John faced an incredibly tough decision with naming a winner.
"You have a great team and a tight choice ahead of you," the "A Team" singer told John. "If I had a steal, I would steal [Jershika or Paris]."
John recognized that both Paris and Jershika came prepared to deliver their best performances thus far. He called Jershika a "formidable competitor," noting that she brought "nuances" he'd never heard from her before.
"I believe the coaches will definitely want to steal whoever doesn't win this," John predicted.
John Legend made a 'painful' decision in choosing a Knockout winner
Jershika and Paris both received standing ovations for their performances, and Kelly noted that it felt "disrespectful" to sit down with such incredible voices on stage. Meanwhile, Ariana said she was "drained emotionally" by the "next-level incredible" performances. Both coaches complained that they had no steals left to use on these artists.
"I have no idea what I would do here," Ariana told John regarding which The Voice artist to send home. "Can we change the rules of this show just this once?"
When it came time to name a winner, John admitted that Jershika and Paris "made this a dilemma" because they both were skilled. In the end, he chose Jershika but said the decision was "painful."
"It's really hard watching good people go home," John said during the episode. "Once you get to the Knockouts, everyone's good. These decisions have been tough for all of us."
It wasn't the end of the road for Paris, though. In the episode's final moments, Blake pressed his steal button to bring the singer to his team.
"It's perfect that he ended up on my team. He sang a country song, for God's sake," Blake said. "Moving forward, I want to keep finding songs for him that allow him to have that kind of personality on stage."
Ariana Grande previously explained why being a coach on 'The Voice' is 'so hard'
Ariana has discussed on more than one occasion how difficult it can be for coaches on The Voice. Speaking to E! News in September, the "positions" singer said the contestants' performances are often surprising, and it can be "so hard" to decide which artists to select for teams.
Later, during the Battle Rounds, Ariana said she spoke to her therapist to emotionally prepare for eliminations.
Thankfully, the hardest part of the coaches' jobs is behind them. When The Voice returns for Live Playoffs on Monday, Nov. 8, it will be up to viewers to vote for their favorite artists. Tune in to The Voice on Mondays and Tuesdays at 8 p.m. on NBC to see the remaining performances and cast your votes.