'The Voice': Blake Shelton Did a 'Pee' Prank on Carson Daly
Pranks also happen on the set of The Voice. Kelly Clarkson said Blake Shelton is usually behind them. She revealed the "pee" prank he pulled on host Carson Daly.
Blake Shelton has a history of doing pranks on 'The Voice' coaches
RELATED: 'The Voice': Gwen Stefani Tells Blake Shelton to "Keep Me" in Response to Carson Daly's Sweet Message
Shelton has fun while doing his job. Part of that includes pranking his fellow coaches.
In Season 17 he would have "Don't Speak" by Gwen Stefani play when Clarkson would try to convince contestants to join her team. But he hasn't been the only coach to prank people.
Adam Levine pranked Shelton after he tweeted Levine's phone number. He got him back by using two bulldozers to drop cow manure in Shelton's truck.
"I thought I would return the favor," Levine said on the show, according to CMT. "Why not pay him back a bit. … That is cow dung. That is feces of animals."
The coaches aren't the only ones being pranked. Daly has also been a victim of Shelton's pranks.
Blake Shelton did a pee prank on Carson Daly
RELATED: Gwen Stefani Confuses Fans With Her Photoshopped Throwback Picture With Blake Shelton
Clarkson played a game on The Kelly Clarkson Show of "Most Likely To…" between the current coaches of The Voice. She answered which coach is most likely to pull a prank and she had an interesting answer.
"One hundred percent, Blake!" she answered. "Blake already does. He does this thing where I think it looks like pee in Carson's cup or something in his bathroom."
Clarkson added, "I don't know what juice it is. Apple juice obviously or something like that." She claimed Daly told her "It took me forever. I just kept coming to my bathroom and there'd be like a giant glass right on my toilet and it looked like pee."
The talk show host called Shelton a "man child." Daly and Shelton are good friends so it's probably not surprising that the country singer feels comfortable pranking him.
Blake Shelton and Carson Daly are good friends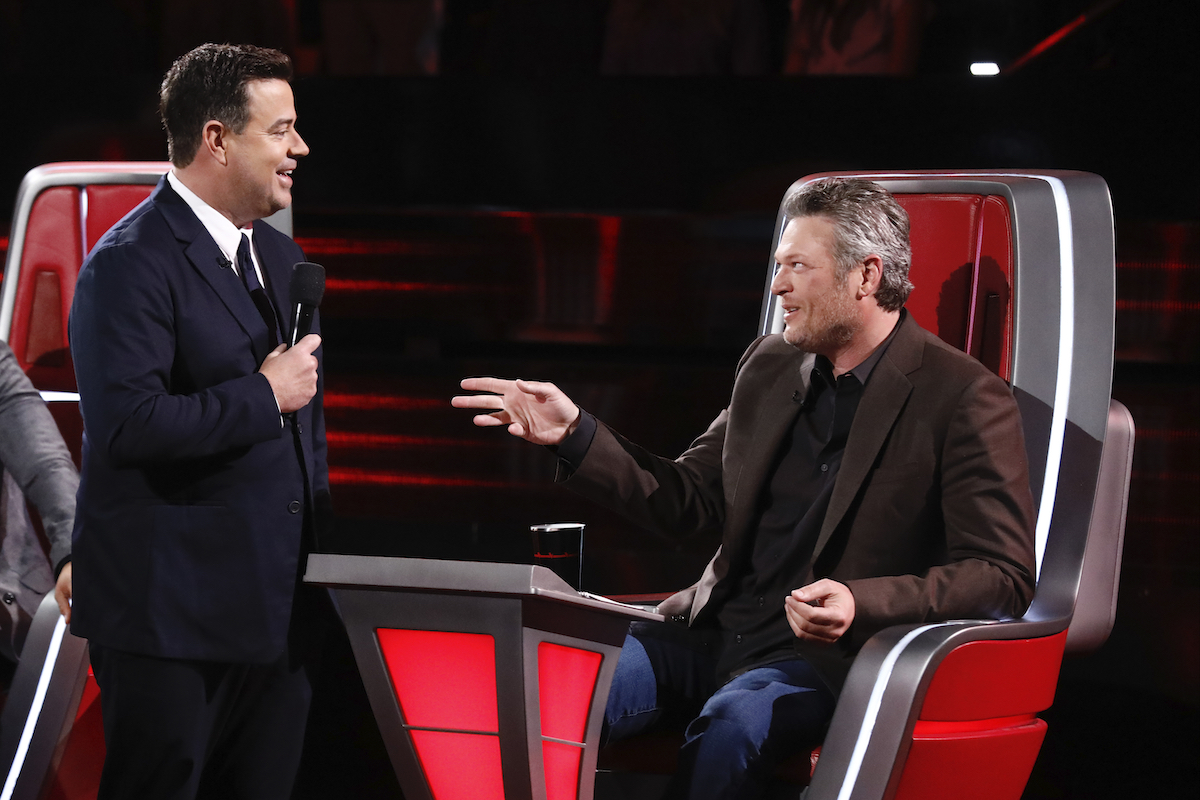 RELATED: Blake Shelton and Gwen Stefani Are Reportedly Enjoying a 'New Beginning' Together With a Big Step
The host and coach became close over the years. Daly revealed how they used to spend time together on The Kelly Clarkson Show.
"Early on in the show he'd be in L.A. and he's such an Oklahoman. He really is like he was miserable here before he started fornicating with [Gwen Stefani]," Daly said.
He later said, "But before Gwen when we were in L.A. it would be a mission to try and find something for the cowboy to do because he was such a fish out of water in L.A."
Daly also knew about Shelton's engagement with Stefani before they revealed it to their fans. There's a good chance he'll be there for their wedding day.