'The Voice': Blake Shelton Tells a Singer to Take It 'Easy' After Complimenting Gwen Stefani
The Voice is back and luckily the show's favorite couple is too. Blake Shelton again defending his title of having the most wins. Gwen Stefani is one of the other three coaches giving him a run for his money. There was a funny moment where he told an artist to take it easy after talking to Stefani. [Warning spoilers for the episode that aired on Oct. 26!]
Blake Shelton and Gwen Stefani are reunited on 'The Voice'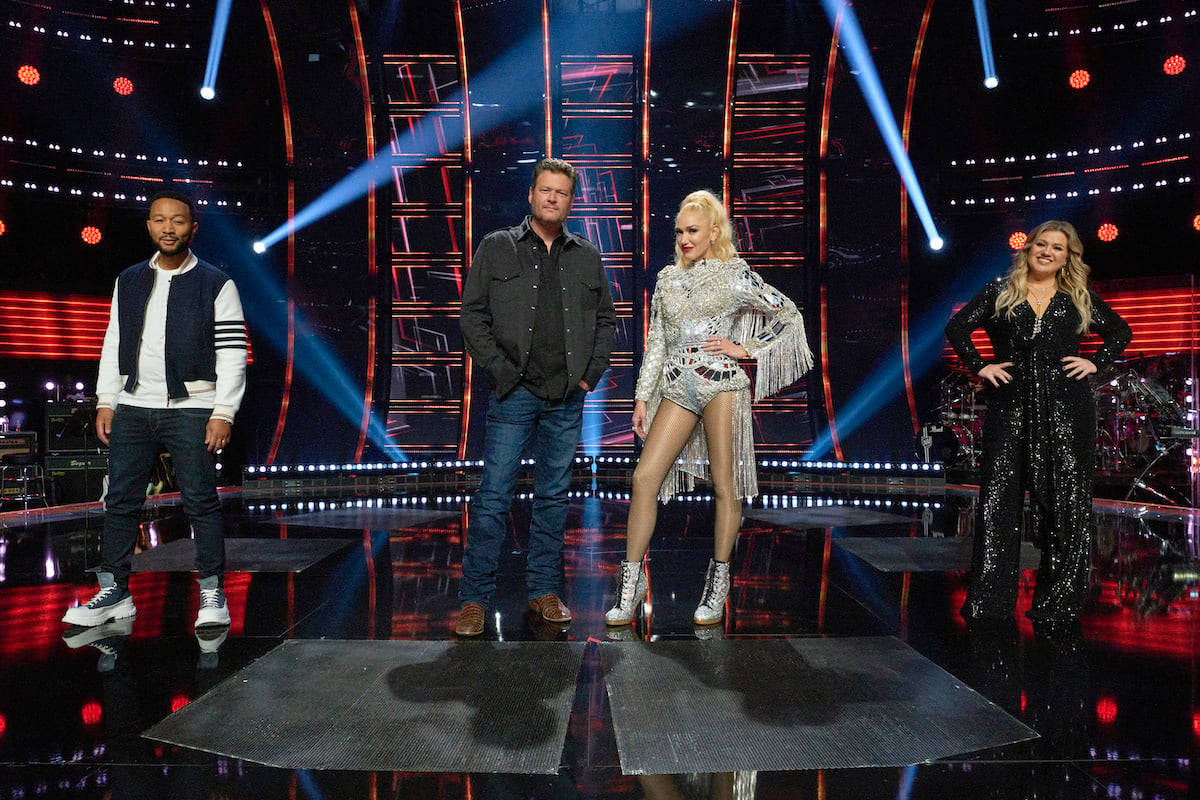 Stefani took a season off from The Voice. But now she's back and the other coaches said they are bringing "normalcy" to the season. That's because everyone else has to keep their distance from each other to film safely during the pandemic.
"It is cool though out of the four of us — obviously Gwen and Blake are around each other, they are a little pod — so what is cool even for us to get to see is some form of normalcy," Kelly Clarkson told Entertainment Tonight.
"Well, John [Legend] and I can't really do that," she said. "Blake and Gwen can hug and play and fight and be grateful and it's OK, they are allowed to do that, so, it sucks for everyone to have to watch everyone be so distant."
Jus Jon performed 'Talk' by Khalid
The singer talked about growing up in the church and singing. He said he started off being shy around other people but his mother pushed him to perform. She was diagnosed with multiple sclerosis.
Jus Jon talked about which coaches he feels are a good match for him. "John would be a great coach for me because we are the same genre," he said. "We got the same name. He grew up in the church. I grew up in the church."
He continued, "But Blake can help me because he's a completely different genre. He would strengthen me in that aspect of crossing over to that country style. That rugged you know I have that chest tone. It runs deep so I feel like he could help me with that."
Jus Jon performed "Talk" by Khalid. Shelton ended up being the only coach to turn his chair.
Shelton told him to take it easy
The coaches gave feedback after the performance. Clarkson said she didn't turn because she was waiting to hear more dynamic notes from him. It was then Stefani's turn to talk.
"Gwen you look amazing," Jus Jon told the coach. "Thank you! Wow thanks so much," she said back. "Easy! Easy, Jus Jon!" Shelton then said.
The artist laughed and they moved forward with his feedback. Stefani agreed that he stayed in the same place throughout the song. "You have the greatest coach ever," she told him. Shelton made sure to add "of all time."
Shelton told him there is no one like him on his team. He mentioned many of his wins are with non-country artists so this could be another win.