'The Voice': There Are No Hard Feelings Between Ariana Grande and Chavon Rodgers After Accidental Snub
Chavon Rodgers is clearing the air after fans thought he snubbed coach Ariana Grande following his elimination from 'The Voice'.
One contestant on The Voice Season 21 has taken to social media to clarify a moment from Monday, Oct. 11's episode. During the Battle Rounds premiere, Chavon Rodgers battled against fellow team member David Vogel, and coach Ariana Grande had to choose which contestant to keep on her team. After choosing Vogel, Grande tried to hug Rodgers, but he walked past her. Did the singer intentionally ignore her gesture, or did he not see Grande?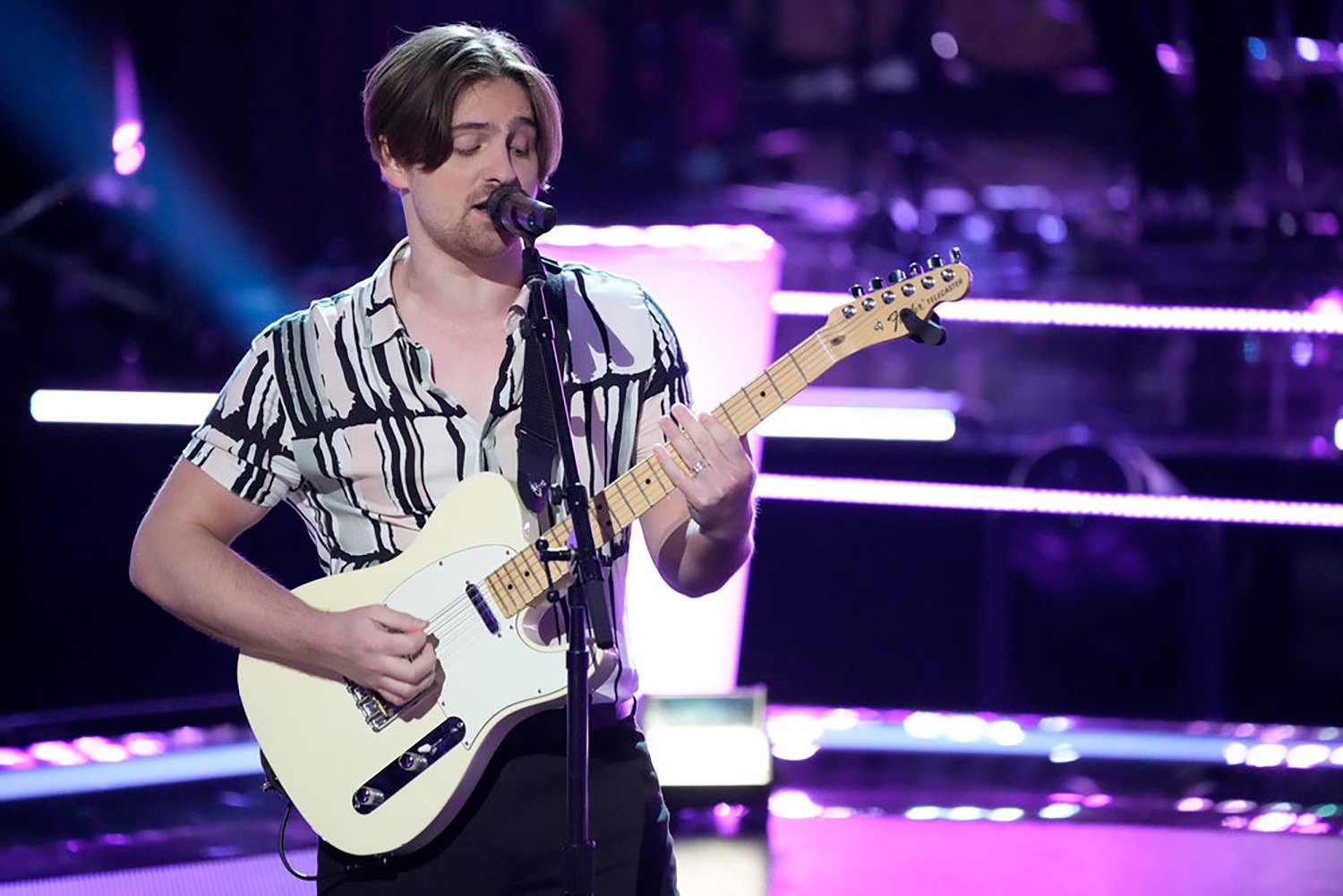 Team Ariana's Chavon Rodgers and David Vogel battled on 'The Voice'
As seen in the video below, Rodgers and Vogel came together on The Voice stage to perform "Sugar, We're Going Down" by Fall Out Boy. The rock-style singers gave their own edge to the tune, and Grande complimented both artists' tones. She said Rodgers and Vogel belonged on the radio; however, Vogel's voice was clearer, and Grande could hear him on the radio today.
"I love and care about you both, and you're both so talented," Grande said, fighting back the tears. "It's so hard…But nonetheless, I'm a big fan of you both. I'm stalking you and coming to your shows for a long time. You're gonna be like, 'She's here again?' And I'm gonna be like, 'Yeah, I'm here…Can you sign my shirt?'"
Rodgers took Vogel's win gracefully, telling Grande that he's grateful to have had her as a coach.
"Thank you so much for seeing something in me and taking me along for this ride," he said. "I love you, and I'm very appreciative."
As Rodgers walked off the stage, Grande stood to hug him. However, he walked past her open arms, and she wondered if he didn't see her. After his kind words, it seemed likely that he didn't intentionally snub her, but the moment caused some confusion.
Chavon Rodgers took to Instagram Stories to clear up confusion about the hug 'snub'
Thankfully, Rodgers didn't wait long to clear the air with Grande and curious fans. As Entertainment Tonight reported, the Tulsa, Oklahoma native went to Instagram Stories to confirm that he didn't see Grande waiting and meant no harm by walking away.
"Hey, guys! Just wanted to clear something up. I totally did not see Ariana getting up to hug me. I had my eyes down and was headed offstage after I was able to thank her for everything!" Rodgers explained. "When I got backstage, a producer told me what happened, and I was devastated. Ariana is so amazing, and I am so grateful to her for everything. I love her so so much."
Ariana Grande confirms there are no hard feelings
Rodgers also shared a heartfelt post on his Instagram feed to comment on his experience with the singing competition. He shared a few images from his rehearsal and performance with Vogel and complimented his fellow singer.
"@davidlvogel, you're incredible, and you have my support all the way! You have big things in your future, and I can't wait to see what you do," Rodgers wrote.
Additionally, the singer thanked Grande for bringing him to her team and assured the former Nickelodeon star again that he didn't mean to ignore her hug.
"You are truly a wonderful, kind, genuine, and caring human. Thank you for letting me be a part of your team. I can't believe I got to work with you and learn from you. Mind blown. I have so much respect and appreciation for you," Rodgers added. "Love you, coach. Ps: I am so sorry I'm blind. I will make up for that hug I missed the first chance I get."
As it turns out, Grande and Rodgers are still on good terms after the awkward moment. She commented on the post that she would expect a hug from Rodgers the next time she sees him.
"LOVE YOU. holding you to it. :) you were absolutely incredible!" Grande wrote.
The Voice airs on Mondays and Tuesdays at 8 p.m. on NBC.