'The Voice': Mega Mentor Ed Sheeran Shares Video Proof That He Sang Terribly at 14
Ed Sheeran's singing voice skyrocketed him into fame in 2011, but he didn't always sound that way. During The Voice Season 21, where the English singer serves as Mega Mentor to the contestants, Sheeran revealed that he wasn't quite as vocally talented as a teen. He even brought video proof, sharing the footage with coach Kelly Clarkson and her team members, The Cunningham Sisters and Hailey Mia. An out-of-tune, rocky performance rang out from his phone.
Here's more on Sheeran's teenaged singing voice and how he trained himself to become the artist he is today.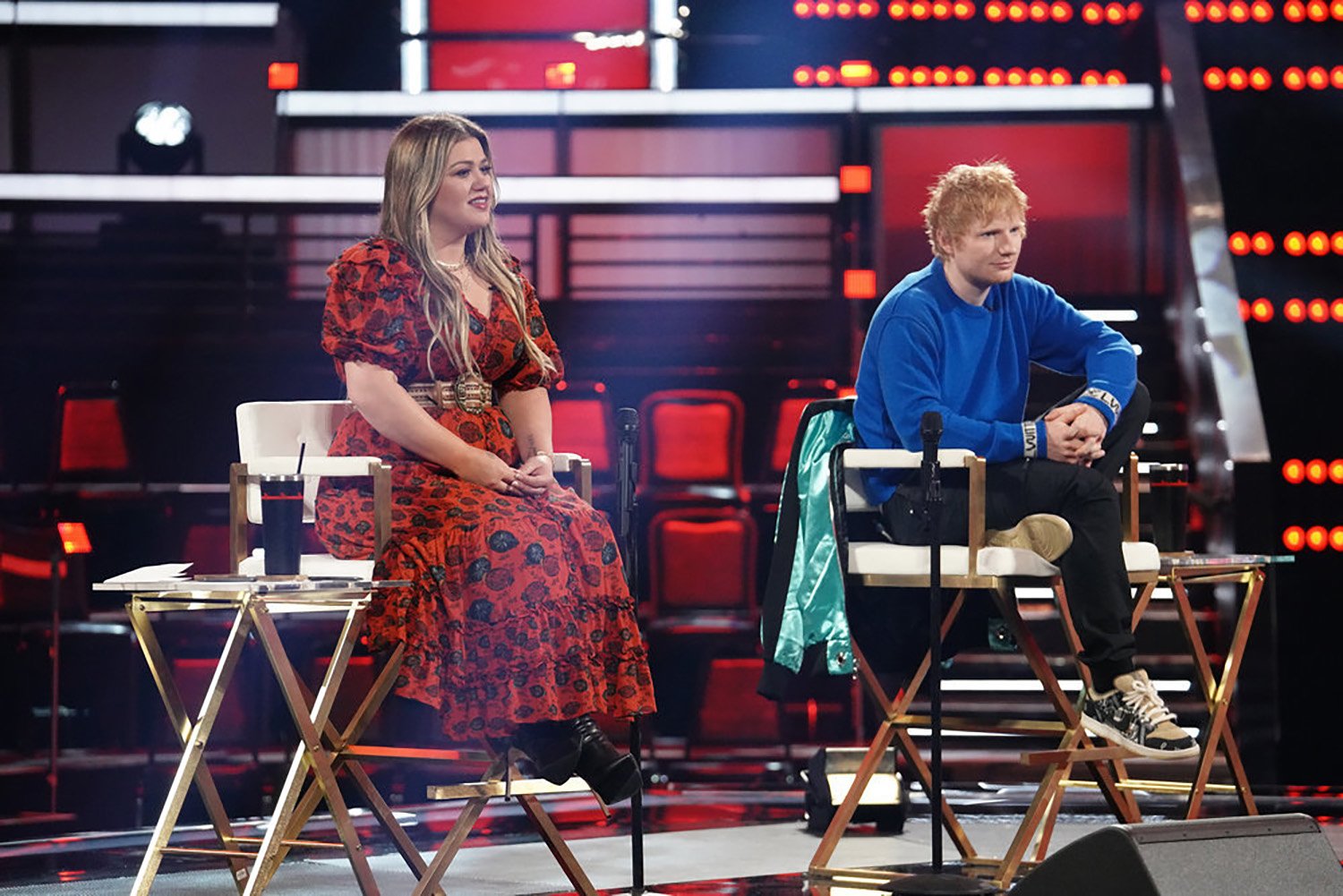 How did Ed Sheeran become famous?
Sheeran became interested in music when he was 11 or 12 years old. He spent a few years busking with his guitar and writing songs, but his big break didn't come until he turned 20. In 2011, Sheeran released "The A Team," his first single to become an international hit. He gained recognition with his debut album, +, and toured with Taylor Swift while still writing songs for other artists.
From there, Sheeran became more and more famous. He now has six full-length albums on the market and four Grammy Awards, as well as various other accolades.
Ed Sheeran reveals on 'The Voice' that he didn't have singing talent as a teen
On Tuesday, Oct. 26's episode of The Voice, Sheeran worked with Clarkson to coach The Cunningham Sisters and Hailey Mia for their Knockouts. All three singers were very young — Hailey Mia, 13, Marie Cunningham, 14, and Macie Cunningham, 15 — and they felt intimidated by Sheeran's mega-star status. So, he pulled out a video of his own performance at 14.
Though the audience couldn't see the video, hearing his voice was more than enough proof. The clip featured a young Sheeran performing his 2005 song, "Addicted," but in an out-of-tune and pitchy manner. To be frank, it was terrible. It can be shocking to know that this was the same person who brought us hits like "Shape of You."
Sheeran told the Cunninghams and Hailey that he couldn't sing in tune until he was 16. He encouraged the girls to keep practicing and working toward their musical goals.
"Kids always go, 'Oh, you've got to be born with natural talent,' and I'm like, 'No, you don't,'" he said. "I'm telling you, you can achieve anything in this world. My point is, I learned and learned, and I got experience, and I now have a career. And you guys are way further ahead than I was."
The star previously shared his secrets for learning how to sing
So, how did Sheeran improve his skills? Plenty of practice. As Young Post reported, Sheeran revealed in 2015 that he improved his voice by singing riffs at a slow pace and then gradually gaining speed.
"You can literally teach yourself to sing crazy runs just by singing them slowly and then faster. I don't know what it does to your vocal cords, but I think it stretches them in a way where you can do more [stuff]," he said.
When it came to busking, Sheeran encouraged artists to write their own songs instead of doing covers.
"You can't make it as just a voice; you have to be an artist," Sheeran explained. "It doesn't matter if they're [terrible]. Just get them out there. The more you write songs, the more you improve over the years, so you might as well start now."
New episodes of The Voice premiere on Mondays and Tuesdays at 8 p.m. on NBC.
RELATED: Justin Bieber: 1 of His No. 1 Songs Was Written by Ed Sheeran