'The Voice' Fans Won't Stop Talking About Kelly Clarkson's No-Makeup Look
One thing we've learned is that Kelly Clarkson isn't afraid to take risks with fashion and makeup as she coaches. Things had to change with the cast of The Voice isolating because of the coronavirus pandemic. Find out how she switched up her style and what fans are saying about it.
Kelly Clarkson is isolating in her Montana ranch
The singer has been isolating in her Montana ranch, which she calls "Vintage Valley" with her husband Brandon Blackstock. She showed off her ranch on The Kelly Clarkson Show.
"We officially bought our ranch, Vintage Valley, over a year and a half ago," she said. She also showed one of the cabins on the property where they stay. "I just love being outdoors. Brandon and I love wide open spaces and coming to the ranch because well both of us grew up in the countryside, one. And two, we literally work almost seven days a week if not seven days a week. So you know when we have time off we really like to check out."
Clips were shown of them riding horses. "It's nice to get into nature," she said. "As a society, we don't do it enough. We're always working constantly, so it's nice to come out here and sit by the stream, hear the water flowing, and be around all the trees."
She also showed a small fire that they have going to make s'mores with their kids. Clarkson said it's "kinda cool" to see their ranch during the winter at this time.
'The Voice' also changed because of isolation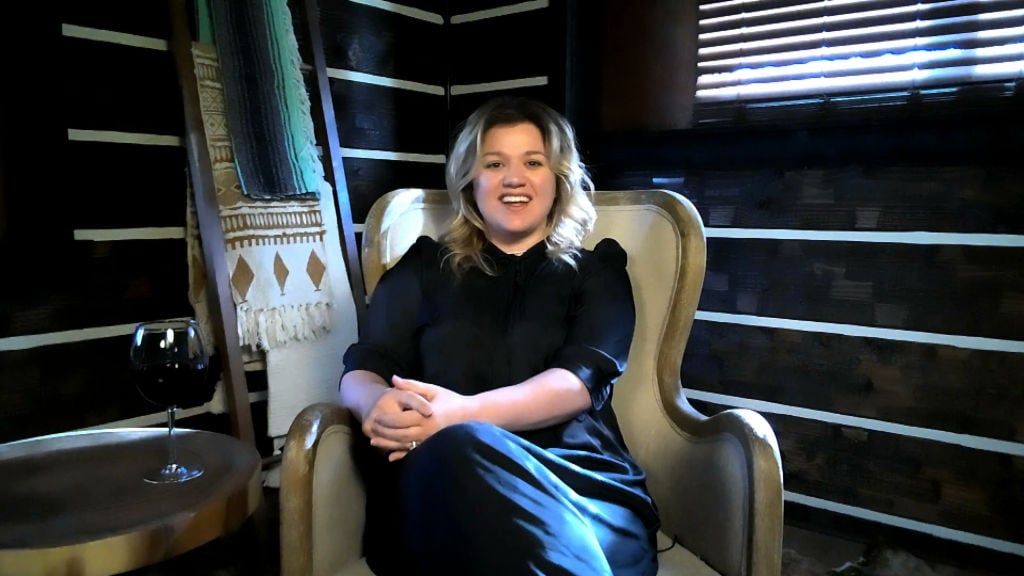 This season of The Voice had to change for the live shows to adapt to the pandemic on May 4. Everyone is filming the show from their homes.
The other coaches are isolating in other states. Blake Shelton is in his home in Oklahoma and Nick Jonas and John Legend are in their homes in Los Angeles.    
They are filming from their homes while host, Carson Daly is filming from a soundstage without an audience. The contestants are preparing for their performances with production kits that will provide wardrobe and art direction for their performances.
Fans won't stop talking about her no-makeup look
Fans have previously reacted to Clarkson's more wild makeup looks. Now the singer is going the opposite direction to barely wearing makeup during isolation.
People seem to be loving the change. They tweeted about how beautiful she looks and how she's representing women. Chances are the switch is due to not having a makeup team anymore.
Clarkson is still making announcements about her schedule changing due to the pandemic. Last week she created a post on Instagram about her Las Vegas residency.
"We've had to make the very difficult decision of postponing my Las Vegas residency, Invincible, until 2021. I want everyone to be safe, healthy, & ready to party next year! For the latest information and to receive presale access when new dates are announced – sign up for my mailing list. Swipe up in my stories to join! I can't wait to see y'all. #invincible," read the caption. The good news is that fans can still watch Clarkson on The Voice.