'The Voice' Fans Want Adam Levine to Return After Blake Shelton Brings Back Their Feud on Twitter
Blake Shelton and Adam Levine had a feud on 'The Voice.' Fans want Levine to return because Shelton brought their feud back.
Adam Levine walked away from The Voice years ago. But it looks like he'll always have his playful feud with Blake Shelton. The country singer brought the feud back on Twitter and fans now want more of it.
Adam Levine decided to quit 'The Voice'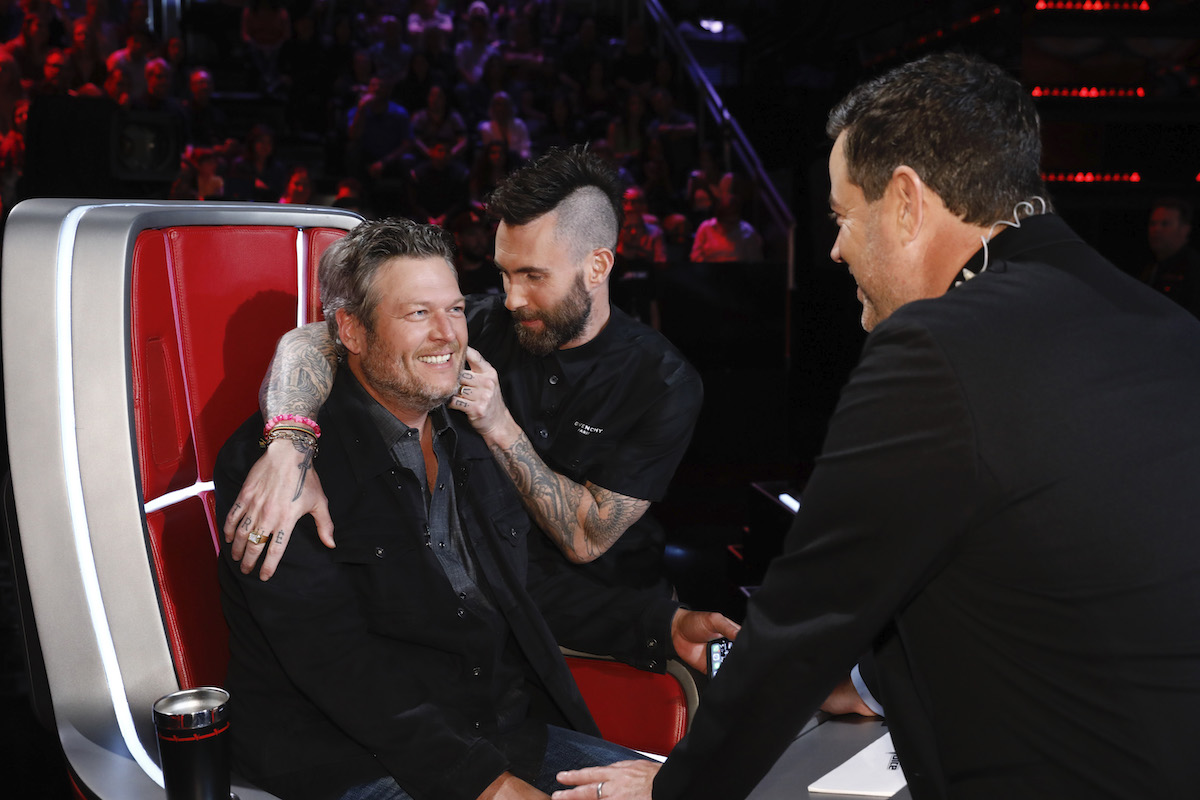 Levine was a coach on The Voice from seasons 1 to 16. Throughout that time, he had a fun rivalry with Shelton. That stopped when Shelton made the shocking announcement that he was quitting the show.
"I am truly honored to have been a part of something I'll always cherish for the rest of my life. Thank you to every single coach I ever sat in those chairs with. That is shared experience that is singularly ours. We have that for life," read part of his statement on Instagram.
Blake Shelton brought back his feud with Levine
Shelton and Levine became good friends while working together on The Voice. Fans now don't get to see their playful jabs at each other because Levine quit.
The country singer did bring back their feud on Twitter by tweeting "Wow… Looks like some of @Beeprinsloo old tweets are resurfacing… I hope this doesn't affect their personal lives.. @adamlevine#teamblake" on July 25.
He included a picture of what looked like Behati Prinsloo's tweeting "Wow…I hate to say it but Blake is way better at this show than my husband. My husband can f*ck off." The tweet is from back in 2018.
Levine shared Shelton's tweet in his Instagram Story and wrote, "When your grandpa discovers he can make fake tweets…" Maroon 5's song "Nobody's Love" is very close on the charts to Shelton and Gwen Stefani's new song "Happy Anywhere."
Shelton tweeted "My god Adam…. You are still a pain in my a**!!!!! Go away idiot!!!!" Levine shared this in his Instagram Story then wrote, "Eat sh*t cowboy! I'm comin' for ya!" Gwen Stefani stepped in by writing "@adamlevine leave my boyfriend @blakeshelton alone." Levine wrote, "I will never leave him alone. He was my boyfriend first.
Some fans hope Levine will return
There was a time where many fans turned on Levine for his actions as a coach. But some fans are ready for him to return to his chair. They showed this in the replies to Shelton's tweet.
"Welll…@adamlevine I say it's time to come back to the @NBCTheVoice and continue this battle!" one fan tweeted. "Don't watch The Voice anymore since Adam left but damn I miss this ribbin," another fan tweeted.
Someone mentioned another way Levine could return to the competition. "Bring Adam back as a mentor this season……" one fan tweeted.
Season 19 will be another season without Levine. Shelton, John Legend, Kelly Clarkson, and Stefani will be the coaches.