'The Voice': How Team Kelly's Girl Named Tom Could Make History in Season 21
The Voice Season 21 had a record number of duos and trios move past the Blind Auditions in one cycle, already making it a historic time for the NBC singing competition. However, out of the five groups to advance this season, only one trio made it to the Top 10 on Nov. 23. Sibling trio Girl Named Tom has shown remarkable talent in every round thus far, and they're constantly wowing their coach, Kelly Clarkson. At this stage, Girl Named Tom has a high chance of becoming the very first group to take home The Voice trophy.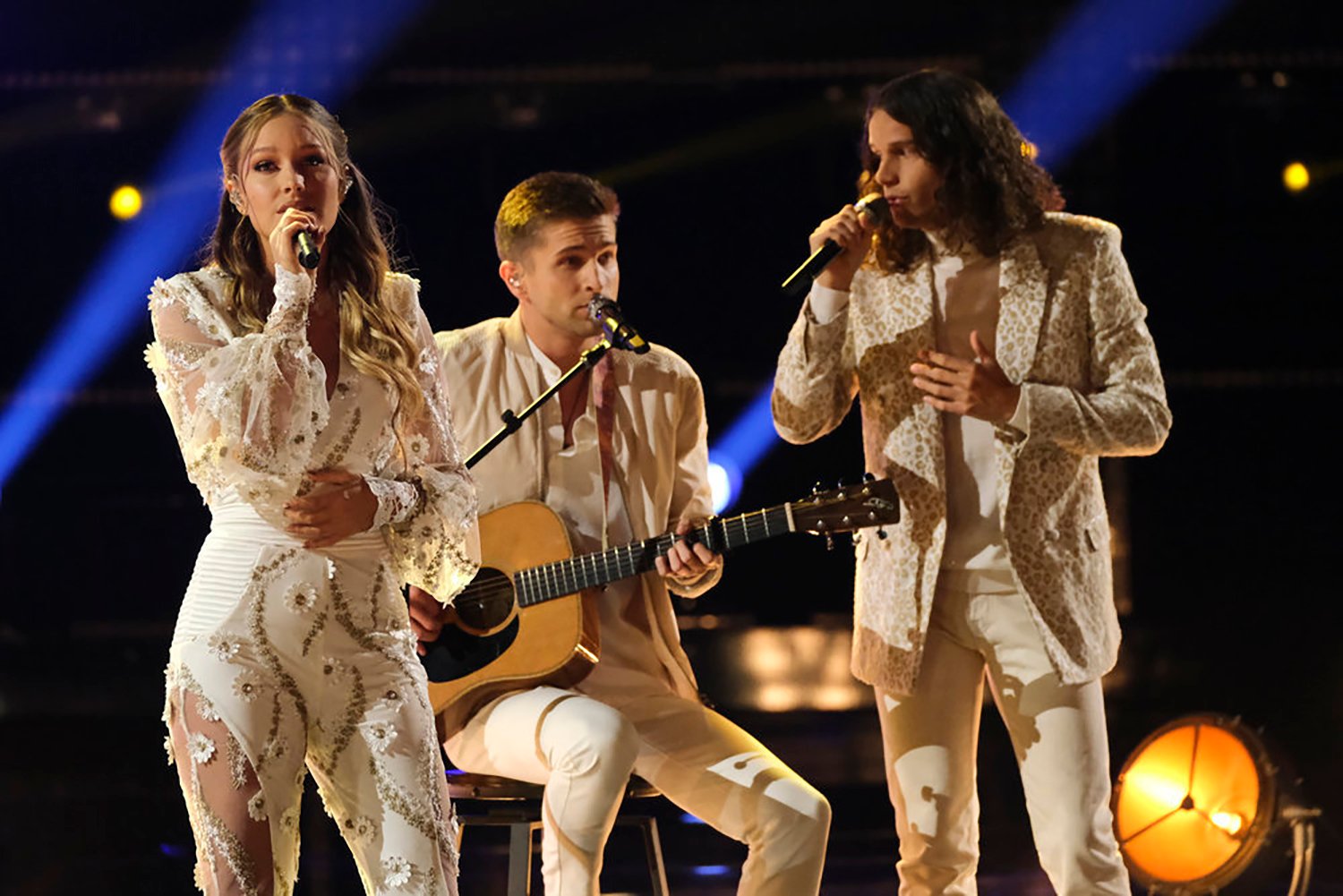 Girl Named Tom started their journey with a 4-chair turn
Siblings Caleb (26), Joshua (24), and Bekah (20) — no one named Tom — began studying music during homeschooling when they were young. The three went on to join theater when they entered public school, but music remained only a hobby for them. According to NBC, Caleb, Joshua, and Bekah all planned to become doctors until their father received a cancer diagnosis in 2017. The siblings wanted to spend more time together as a family, so they decided to form a band. Thus, Girl Named Tom was born.
Girl Named Tom performed the very first Blind Audition of season 21, and it was a doozy. The trio earned chair turns from all four coaches — Kelly, John Legend, Ariana Grande, and Blake Shelton — with their rendition of "Helplessly Hoping." After some deliberation, Girl Named Tom joined Team Kelly.
Since then, they've shown off their folk vibes with songs like "Wichita Lineman" and "More Hearts Than Mine." Week after week, the coaches complimented Girl Named Tom's beautiful harmonies. The trio quickly became a fan favorite.
Girl Named Tom has the potential to become the first trio to win 'The Voice'
Making it to the Top 10 is huge for Girl Named Tom; no other trio has advanced this far. Team Blake's Worth the Wait, a mother-daughter trio from Alabama, came the closest in season 19 when they reached the Top 17. Viewers have rarely seen a trio advance to The Voice's Live Playoffs.
Girl Named Tom's fate is up to fans during the live shows. However, the trio seems to be a favorite this season, so fans could vote them through to the finale in a few weeks. Interestingly, Girl Named Tom's performance of Kansas' "Dust in the Wind" on Monday, Nov. 15, became the only single from the night to stay on the iTunes Top 10 chart into Tuesday morning. It's also worth noting that, according to Gold Derby, the trio is currently the second most-favored contestant behind Team Blake's Wendy Moten.
'The Voice' fans have had mixed reactions to trios since season 16
While duos have appeared on The Voice since season 1, trios are another story. NBC's singing competition didn't receive its first trio until season 16 with The Bundys, another sibling group. The Bundys moved past the Blind Auditions with Team Kelly but later got eliminated in the show's first and only Live Cross-Battles.
The Bundys received mixed responses from fans during their time on The Voice. The trio did develop a fan base; however, as Country Living noted, a portion of viewers thought trios had an unfair advantage. Some thought it would be too difficult for coaches to critique individual voices. Meanwhile, others felt it was unfair to pit three singers against one in the Battles.
No matter the opinions on trios, The Bundys paved the way for more groups than ever before to audition for The Voice.
There are still a few weeks to go until the final performances on Dec. 13. Those who want to see Girl Named Tom make it to the final round should cast their votes on Mondays via The Voice official app or NBC.com/voicevote. Tune in to The Voice on Monday and Tuesday evenings at 8 p.m. on NBC.