'The Voice': Hailey Mia Breaks Blake Shelton's Heart With Emotional Top 11 Performance
The Voice Season 21's youngest contestant, Hailey Mia, has taken the competition by storm. Week after week, she continues to impress coaches Kelly Clarkson, John Legend, Ariana Grande, and Blake Shelton with her control and power at just 14 years old. Hailey joined Team Ariana when she first came to The Voice, but Team Kelly stole her in the Battle Rounds, and she's remained there ever since. Now, she's made it to the Top 11, and fans love her.
Nov. 22 marked Fan Week on The Voice, where viewers sent in song selections for the Top 11 artists. For the second week in a row, Hailey delivered a slow and smooth performance that tugged at everyone's heartstrings — even Blake's. Watch Hailey's rendition below.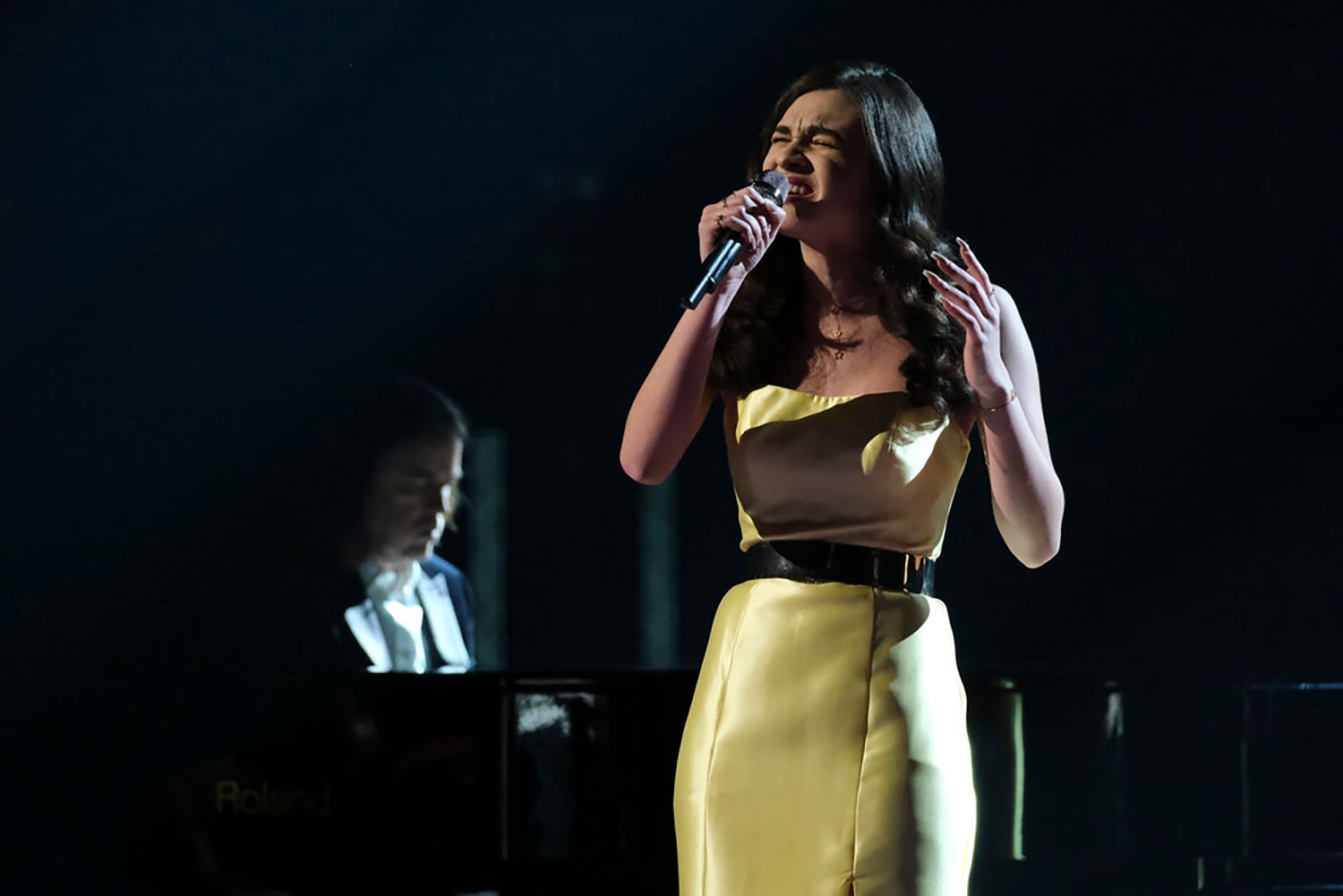 Hailey Mia's fans chose Sia's 'Elastic Heart' for 'The Voice' Top 11 performance
Following up on her slowed-down performance of The Pretenders' "I'll Stand By You" last week, which she dedicated to Kelly, Hailey sang a slow rendition of Sia's "Elastic Heart." The New Jersey native went into rehearsal feeling confident thanks to the support of thousands across the nation, as seen on NBC.
"Knowing that fans picked this for me is such an amazing feeling," Hailey said. "People are out there who want me to sing certain songs for them."
Hailey added that she knew she wanted to slow the song down to "speak to the audience."
Kelly agreed that it seemed like a perfect fit for Hailey's voice. The coach looked blown away in rehearsal, revealing that she thought this tune would show the audience Hailey's potential to win. 
When Hailey hit the stage, the crowd cheered every time she reached a stunning high note. The singer seemed overwhelmed with emotion by the end of the performance, as she gave herself a brief moment to collect herself before hitting the final note.
Hailey Mia's slow rendition broke Blake Shelton's heart
All four coaches gave Hailey a standing ovation for her rendition. When host Carson Daly asked Blake for his thoughts, the country singer said Hailey made it "hard" to see her sad, even if it was only for a performance. 
"You're so good at this that [it] was kind of hard to see you sad," he said. "We all love you so much, and you did so good on that song that it was literally so powerful that I got wrapped up in it going, 'Oh no, I don't want to see her sad!'"
Meanwhile, Kelly said Hailey's "taste and charisma" sounded "incredible," especially at 14 years old.
"I called this early on. I thought, 'she's a dark horse.' She's gonna come along, and she's gonna be better and better. She's gonna be the one," Kelly added. "I swear to you, you can make the finale. You just keep getting better and better each week. You're so phenomenal."
Kelly Clarkson says Hailey Mia has 'something really cool planned' for next week
It's not yet clear if Hailey will make it to the Top 10, but Kelly has high hopes that fans will vote her through. After The Voice, she took to Twitter to urge viewers to give Hailey a chance.
"I know I keep saying it — it just blows my mind that she's 14," the talk show host said in a video. Kelly added that Hailey has "something really cool planned" if she makes it to the Top 10 performances. According to Heavy, the Top 10 will sing "songs outside of their preferred genre," which should make for an interesting night.
Tune in to The Voice on Nov. 23 at 8 p.m. to see if Hailey Mia makes it through the Top 11 eliminations.