'The Voice': How Blake Shelton and Adam Levine's Feud Continued After the Show
Adam Levine and Blake Shelton spent years exchanging jabs as they coached upcoming artists. That ended when Levine decided to quit The Voice. But they have managed to keep up the feud over the years.
Blake Shelton called Adam Levine his 'frenemy'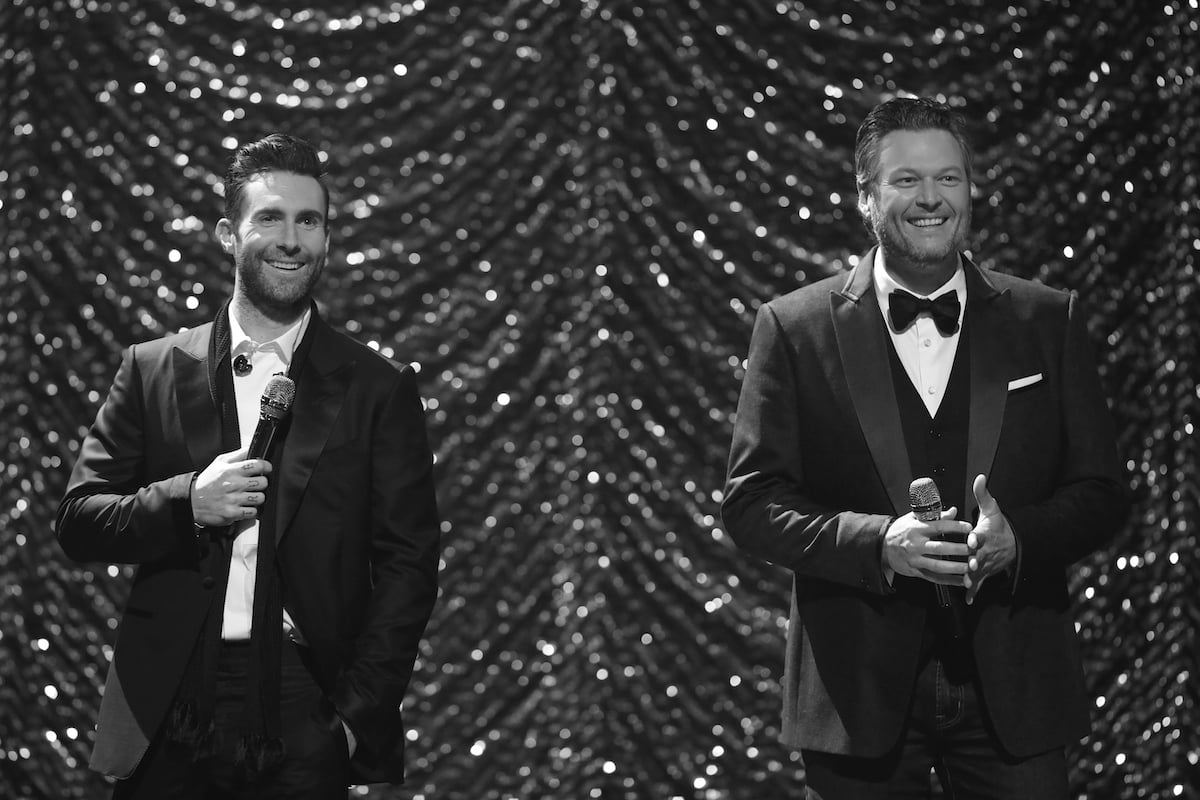 RELATED: 'The Voice': Are Blake Shelton and Adam Levine Jealous of EGOT Winner, John Legend?
Levine announced he was quitting the show after 16 seasons. Shelton revealed that many knew the singer wanted to leave for some time.
"I think we all knew, on the inside of the show, that he was ready to make a move," the coach told Entertainment Tonight. "For a guy like Adam, who is just — he's the most ADD person I think I've met — for him to have even done it as long as he did without wanting to move on to the next thing, is amazing."
He continued, "But I know he's happy with his decision. Doesn't mean I am, or any of us [are happy], but at least they were able to soften the blow a little bit and bring Gwen [Stefani] back."
Shelton later admitted he didn't know how the filming of season 17 would go without his friend. "I can't imagine, honestly, what the show is gonna feel like at first without Adam there," he said. "I mean, we're about to start filming the 17th season of the show, and Adam has been my frenemy from day one, you know, down there on the end."
Shelton told Levine what he can kiss
RELATED: 'The Voice': How Gwen Stefani Feels About Returning for Season 19, According to a Source
Shelton did an interview leading up to the first season without Levine. He had a message for his friend.
"Adam's not on the show and I want him to know that he can still kiss my a** wherever he is right now," he told Entertainment Tonight. The country singer did talk about how he felt about moving forward without Levine.
"Literally, you know, with Adam being gone, I'm not gonna lie, that was scary. It's weird," he said. "Without him here, it's literally shocking to not have him here."
Shelton joked he has Stockholm Syndrome
RELATED: 'The Voice': How Does John Legend Deal with Blake Shelton and Adam Levine's Friendly Feud?
The country singer talked about Levine in the first season of The Voice after he quit. That's partially because the other hosts would bring up the lead singer.
"Don't you feel like you need to be meaner a little bit because he's starting to get lonely for Adam?" Stefani asked the other coaches. "Do you feel withdrawal?" John Legend asked Shelton.
"I'm having Stockholm Syndrome," Shelton said. "If you guys could be not playful like cut to being overweight. Just go for it, really go for it!"
They teased each other over their new songs being on the same chart
RELATED: Blake Shelton Admits It Was 'Scary' Stepping in as a Parent for Gwen Stefani's Sons
Shelton and Stefani released their song "Happy Anywhere" close to Maroon 5 releasing their song "Nobody's Love." They were on a chart next to each other and Shelton tweeted about it.
"My god Adam…. You are still a pain in my a**!!!!! Go away idiot!!!!" he tweeted. Levine responded to this in his Instagram Story.
"Eat sh*t cowboy! I'm comin' for ya!" he wrote. Stefani also wrote on Instagram, "@adamlevine leave my boyfriend @blakeshelton alone."
It looks like this feud won't end because Levine wrote back, "I will never leave him alone. He was my boyfriend first."
Levine said he's enjoying his time after quitting the show. But it looks like he still likes giving his friend a hard time.