'The Voice': How Blake Shelton Feels About Losing to Gwen Stefani in Season 19
Season 19 showed The Voice making multiple changes because of the COVID-19 pandemic. It all came to an end on Dec. 15 and a new winner has been crowned. Team Gwen Stefani received its first trophy and Blake Shelton had something to say about it.
Gwen Stefani won 'The Voice' for the first time
Once again, Stefani made it a goal to work with young artists this season. One of them was Carter Rubin, who was 14 years old when the season started. He outlasted everyone else on her team.
That meant he went up against Jim Ranger and Ian Flanigan from Team Blake, Desz from Team Kelly Clarkson and John Holiday from Team John Legend. Rubin managed to win while being the youngest contestant at 15 years old. He also brought home Stefani's first win.
Rubin previously impressed the judges with his performance of "Rainbow Connection" from The Muppets Movie. The coaches shared their reaction to Rubin's win on social media.
Blake Shelton said it was rigged
Stefani has previously coached four times before this season. But she hasn't been able to get a win with her previous contestants. 
She shared her reaction on her Instagram Story. "We're trying to understand that this is happening right now and we're not even supposed to be close to each other," Stefani told her fans as she was with Rubin on stage. Rubin backed away from her as she showed him.
The coach asked him what he was thinking before they made the big announcement. "If I had any reason to win it was for her," he said as he pointed at Stefani. "Cause she's such an excellent coach."
Stefani later talked about beating her fiancé. "I just beat Blake Shelton at The Voice ok just so you know," she said. She then showed the country singer. 
"This show's rigged," he joked. Shelton also tweeted about the big news with, "Congrats on the win @gwenstefani! I'll let this one slide! @carterjrubin… if anyone beat #TeamBlake, I'm glad it's you!!!!"
Sadly, the couple won't be facing off again next season. Stefani will be replaced again by Nick Jonas.
The couple is rumored to be excited about taking a break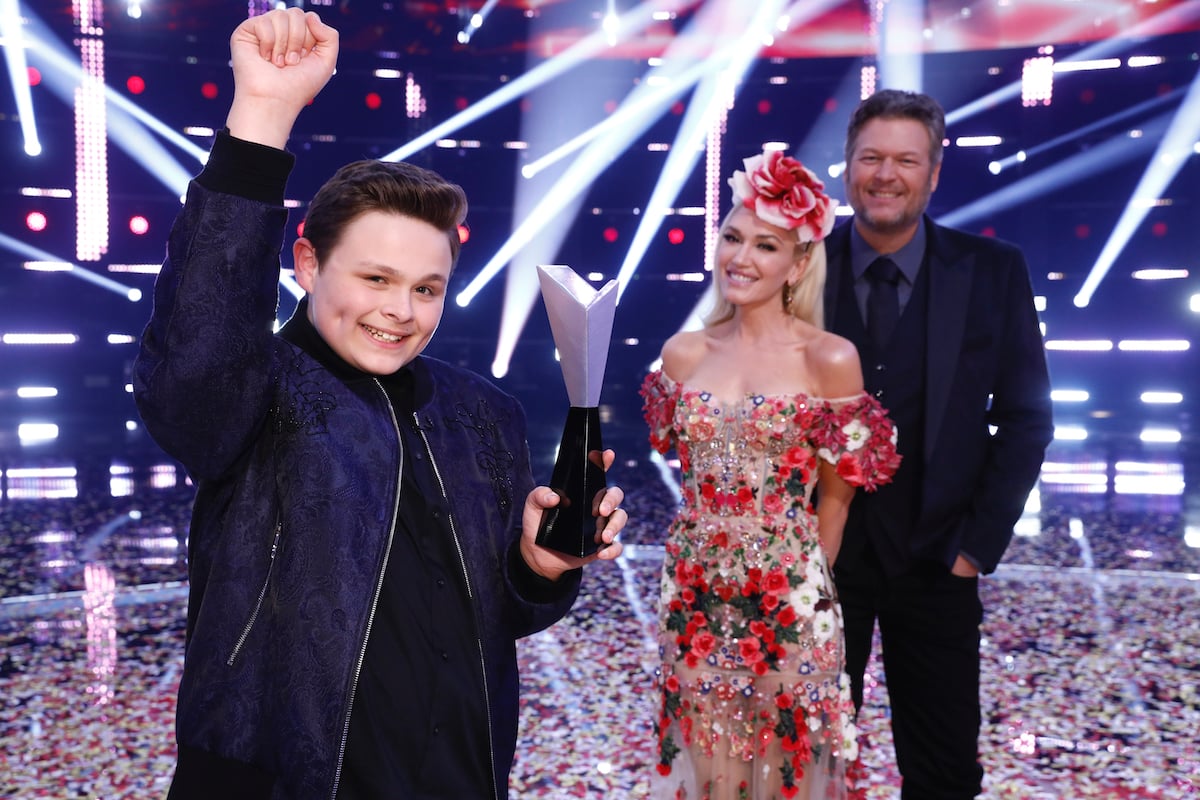 The season is over so the singers will have more time for themselves. A source reportedly told Entertainment Tonight that they're excited about it. 
"Gwen loved shooting the show this season, it's always a reminder of where she and Blake first met," an unknown source reportedly said. "Right now is Gwen's favorite time of the year and she is very ready to get into the Christmas spirit. They are both looking forward to the new year and want to start planning their wedding as soon as the pandemic is under control."
It looked like Stefani was very excited about Rubin's win. Hopefully, she'll return in the future to try to win again.