'The Voice': Is This the First Time Coach Kelly Clarkson and Battle Advisor Jason Aldean Have Worked Together?
Season 21 of The Voice is gearing up to be one of the most exciting in years with the addition of country superstar Jason Aldean as a Battle Advisor to Kelly Clarkson's team. Getting a country heavyweight on her side to help guide her team through the competition is a key strategy to help Kelly score her 4th overall team win against fellow coaches Blake Shelton, John Legend, and newbie Ariana Grande.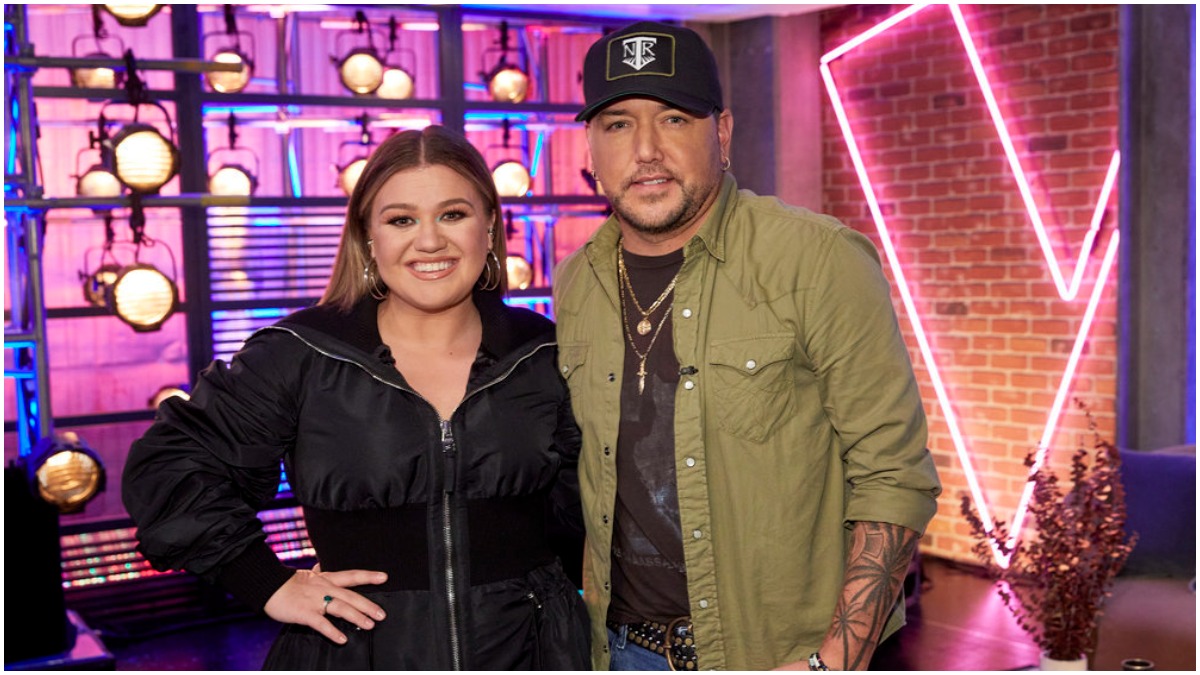 Who is Jason Aldean?
Jason Aldean is one of the leading male performers in the field of country music. He has the most Top 10 tunes on Billboard's Hot Country Songs chart, more than any other artist, since making his debut in 2005. Per his official website, he is also the Academy of Country Music's reigning Artist of the Decade and a three-time ACM Entertainer of the Year. 
Ahead of his reveal as Clarkson's Battle Advisor, Aldean was seen in a YouTube clip with his face blurred and voice altered where he gave clues for fans of the series to guess his identity. He revealed his nickname was "The Peach" (referring to his home state of Georgia) and stated his proudest accomplishment was winning ACM Entertainer of the Year.
Kelly Clarkson and Jason Aldean's Musical History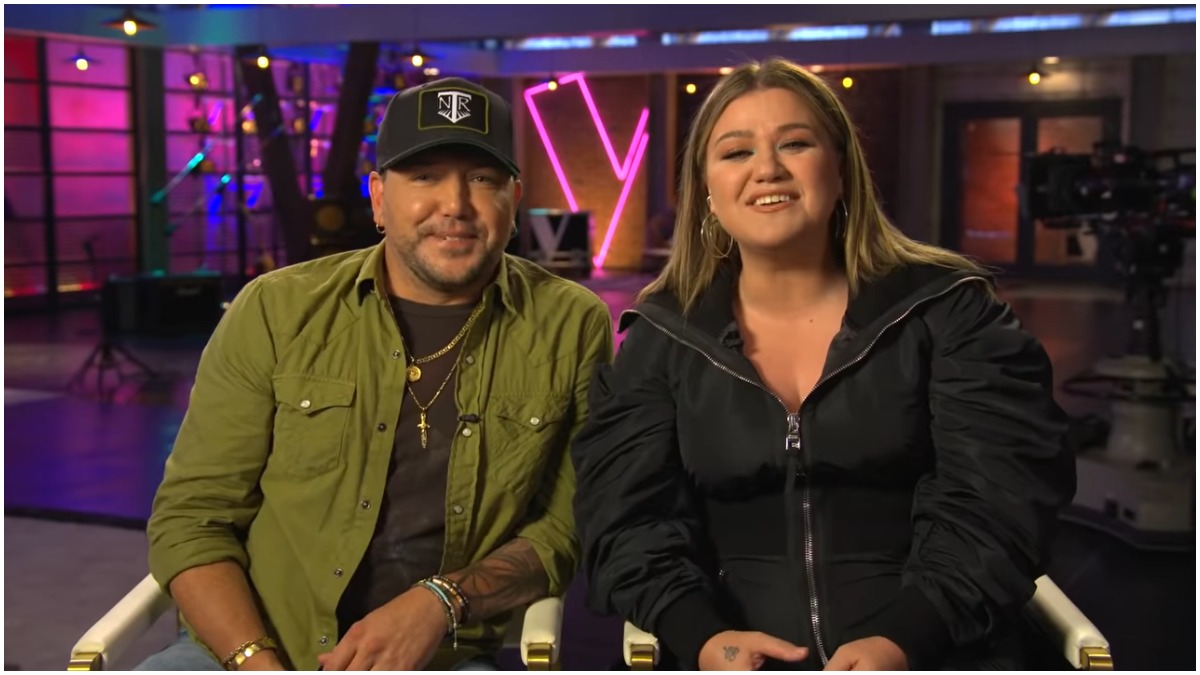 This will not be the first time Aldean and Clarkson have worked together. The two singers collaborated on the 2010 single titled "Don't You Wanna Stay." The love song was not initially written for two artists to perform. When the tune was presented to Aldean to record, the country superstar felt it would be better as a duet. He was asked which artist he would be interested in recording with and he wanted Clarkson.
"We never really met before we did the duet, and we met in the studio," Clarkson said in an interview with Entertainment Tonight. "I remember I was so excited, 'cause I loved the song so much, but when you're meeting someone, and you love their voice, and you love their sound … you're not sure if it's gonna mesh, you know? It doesn't always work out."
Aldean claimed that working together for the first time captured a "magic moment" between him and Clarkson. "As she started singing… and the way she was singing with me, too, how it all blended, you could tell it was something special. It's the cool thing cause you never know what two artists are gonna kinda have that chemistry."
"Don't You Wanna Stay" would go on to the top of Billboard's Hot Country Songs chart. The song would also be twice nominated for a CMA Award as well as a Grammy Award.
Kelly Clarkson's big plans for The Voice battle rounds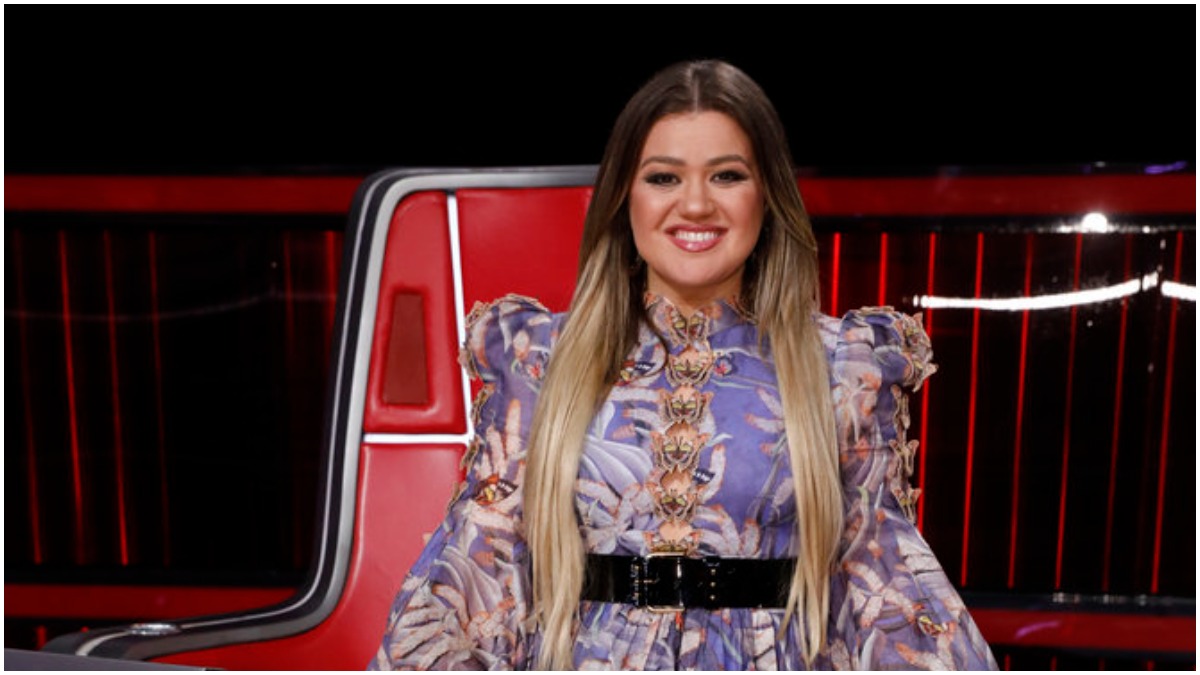 Clarkson has plans to upset Shelton from his perch as the winning coach of Season 20. She plans to use her ties with Aldean to nudge her over the top when it comes to securing the best singers for her team, even if that means musically pushing it into a different direction.
"Blake always gives me crap on the show because he does this thing — well, lies, that's the thing — where he'll be like, 'Oh, I'm country, and I know country, and these people don't know country,'" Clarkson said to Entertainment Tonight. 
"And I'm like, 'I grew up on country music, you can't take my love of country music away. You can't negate my love of country music and the fact that I sang it as well growing up, just because I took a different path, musically,'" explained Clarkson, who hails from Texas and has deep roots in the genre despite being known primarily as a pop music artist.
The Voice Season 21 premieres on NBC on Sept. 20. at 8 p.m.