'The Voice': Kelly Clarkson Says Gwen Stefani and Blake Shelton Hugging and Fighting Gives 'Normalcy'
The cast of The Voice is back, but they have to follow a few rules. Kelly Clarkson said there is a perk to having Gwen Stefani and Blake Shelton back as coaches.
Gwen Stefani is returning as a coach
Stefani took a break for a season but is back. This is after she spent time staying at Shelton's ranch with her sons. There was a promo released and fans were able to see what they were up to while staying at home.
"This summer during quarantine, I learned how to make jam," Shelton said. "At my house I have about six or eight peach trees, and every year they make a bunch of peaches and we eat them. But this year, since we were there and there were so many and there was nothing else to do, we got online and we learned how to make jam. And we've made, like, cases of peach jam."
The country singer said he may never do it again. Stefani said she was busy in the kitchen.
"I learned how to make sourdough bread like everybody else," she revealed. "It took me like a month to get my starter right. We did so much stuff. We built a garden."
'The Voice' Season 19 is back with some changes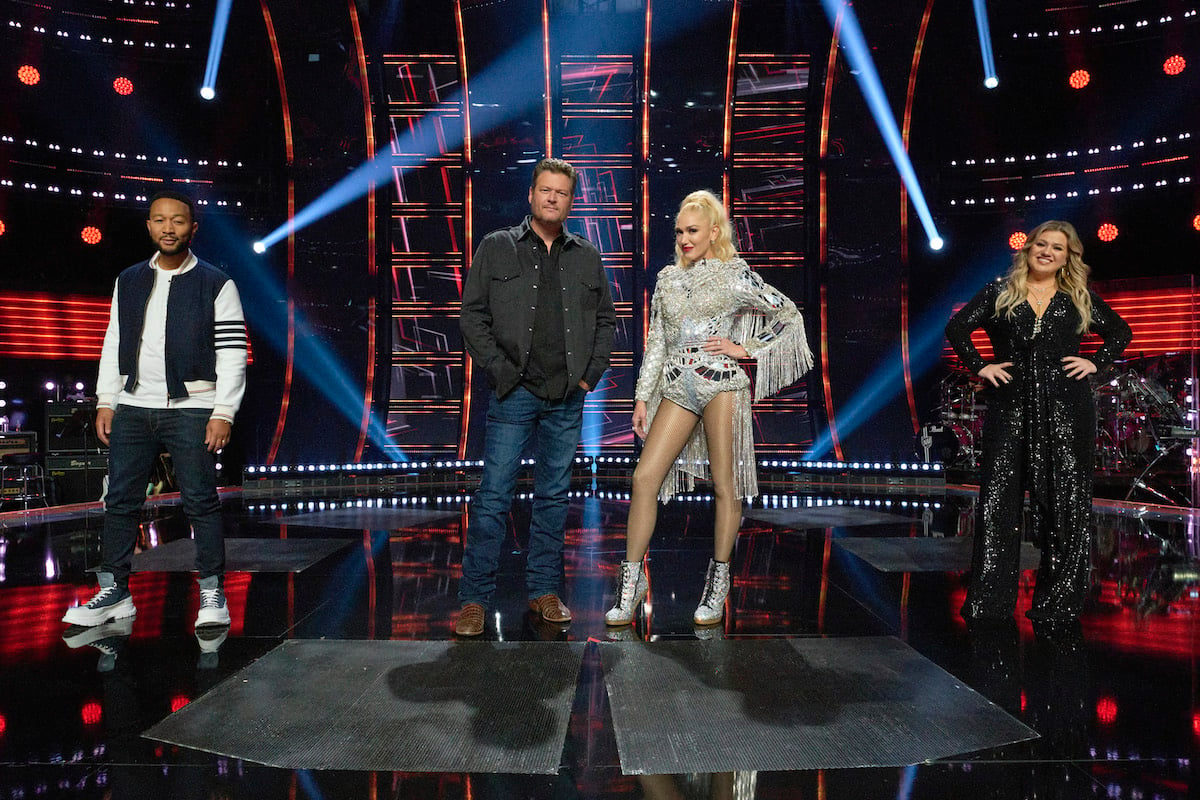 The competition had to change to being remote at the end of last season. Now The Voice is back to its normal location for the blind auditions, but with some changes.
There won't be an audience this season. There will reportedly be temperature checks and the area will be sanitized for everyone's safety, according to Us Weekly.
There will be social distancing. That means we won't see coaches touching the artists. But there are two people who will be allowed to touch.
Kelly Clarkson said the couple gives them normalcy
The cast will be keeping their distance from each other while filming. But the couple is allowed to be close to each other. Clarkson seems to be happy about it.
"It is cool though out of the four of us — obviously Gwen and Blake are around each other, they are a little pod — so what is cool even for us to get to see is some form of normalcy," Clarkson told Entertainment Tonight.
"Well, John [Legend] and I can't really do that," she added. "Blake and Gwen can hug and play and fight and be grateful and it's OK, they are allowed to do that, so, it sucks for everyone to have to watch everyone be so distant."
Clarkson also thinks the audience will be happy to see the couple together. "It kind of gets a little cold," she continued. "At least with this show, it is kind of cool because you are getting some form of it and I think visually, like, America getting to see that and it looks like some kind of normal visual thing that we were seeing before then, I think that is really cool actually."
It sounds like the singer is happy to have the couple back together on the show. Season 19 premieres on Oct. 19 on NBC.