'The Voice' May Never Have Existed If It Weren't For Kelly Clarkson
How could Kelly Clarkson be responsible for the creation of 'The Voice' and other singing competition shows on network television?
Kelly Clarkson is a world-renowned pop singer that has won several awards, including two Grammy Awards for Best Pop Vocal Albums and three MTV Music Video Awards.
In addition to her impressive music career, in 2017, the Since U Been Gone singer was now able to add vocal coach to her list of accomplishments when she joined The Voice on its 14th season. 
There are many people that are giving Kelly Clarkson credit for The Voice. So, how could Kelly Clarkson be responsible for the creation of The Voice's existence? Keep reading to find out.
How Kelly Clarkson got her start in the music industry?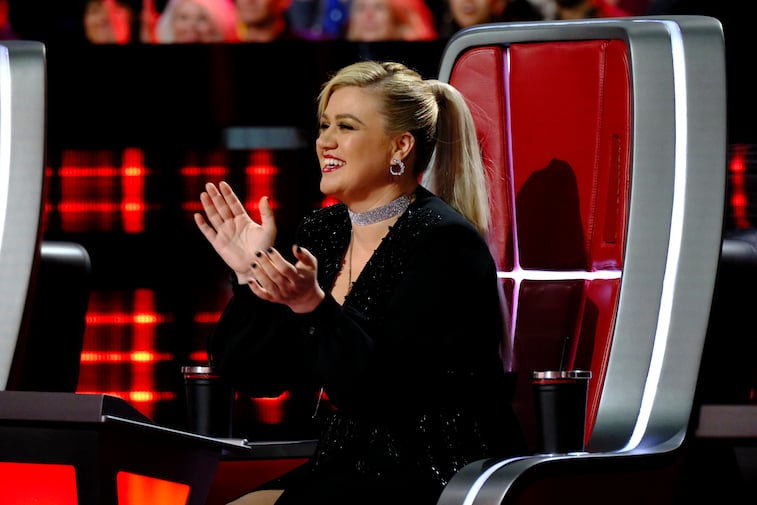 Back in 2002, the reality show genre was not what it is today. Instead of Keeping up with the Kardashians, if you wanted to get your daily dose of crying, screaming drama, you had very few options to choose from.
Then something crazy happened. A grumpy British man, named Simon Cowell, came into town with an idea that this country had never seen before. He had the ingenious idea combining all of the drama that reality TV gives you the kind of nail-biting suspense that only a talent competition can bring. And thus, American Idol was born.
Every week, millions of American would tune in to see Randy Jackson, Paula Abdul, and Simon Cowell judge some of the best, the worst, and the funniest aspiring singers that the country had to offer. One of the singers that had immediately stood out in the crowd of over 10,000 contestants was a young 20-year-old girl from Texas named Kelly Clarkson.
The popularity of 'American Idol' exploded
At the end of season one, Kelly Clarkson was crowned our "next American Idol," and went on to have an extremely successful career. After people saw that an average person could essentially become an overnight sensation just by singing in front of three judges, they were quickly intrigued by the entire concept.
During the 16 seasons that the show has been on the air, it has been responsible for producing some of the biggest names in music, including Carrie Underwood, Chris Daughtry, and Adam Lambert. Because such successful singers were getting their start from this show, many people were tuning in just to get the first glimpse at the next big musical sensation.
Would 'The Voice' ever have existed if it wasn't for Kelly Clarkson?
Due to the large number of viewers that The Voice brings in, the price for ads during the show is rather expensive. In fact, According to Business Insider, American Idol makes an estimated $15 million per hour off of the revenue that they receive from advertisers.
Being that Fox was making that kind of money, we can only assume that NBC caught wind of how much money a musical talent shoe can bring in. So, when they heard about a unique music competition show that was already widely popular in Holland and other countries, they knew that they had to bring that show to America. In 2011, NBC introduced America to the uniquely entertaining competition show called The Voice.
So, is Kelly Clarkson responsible for The Voice? Well, in a roundabout kind of a way, yes. You see, it was during that the first season that people really started to get hooked on American Idol. Because Season 1 was so entertaining, people from all over the country were tuning in to see Season 2, Season 3, and so on.
Its popularity is what made NBC want to find a show that could compete with American Idol. So, if you think about it, Kelly Clarkson helped to pave the way for other artists to compete on these types of shows, which is what has made these shows as popular as they are today.