'The Voice': Nick Jonas Offered an Artist the Chance to Work With the Jonas Brothers to Join His Team
The Voice has started with the coaches building their teams. Nick Jonas learned quickly how to win over artists. This last episode showed him using his brothers to convince someone to work with him. Find out who it is and more about his strategy this season. [Spoiler alert: The Blind Auditions Part 4.]
Nick Jonas is getting help from his brothers on 'The Voice'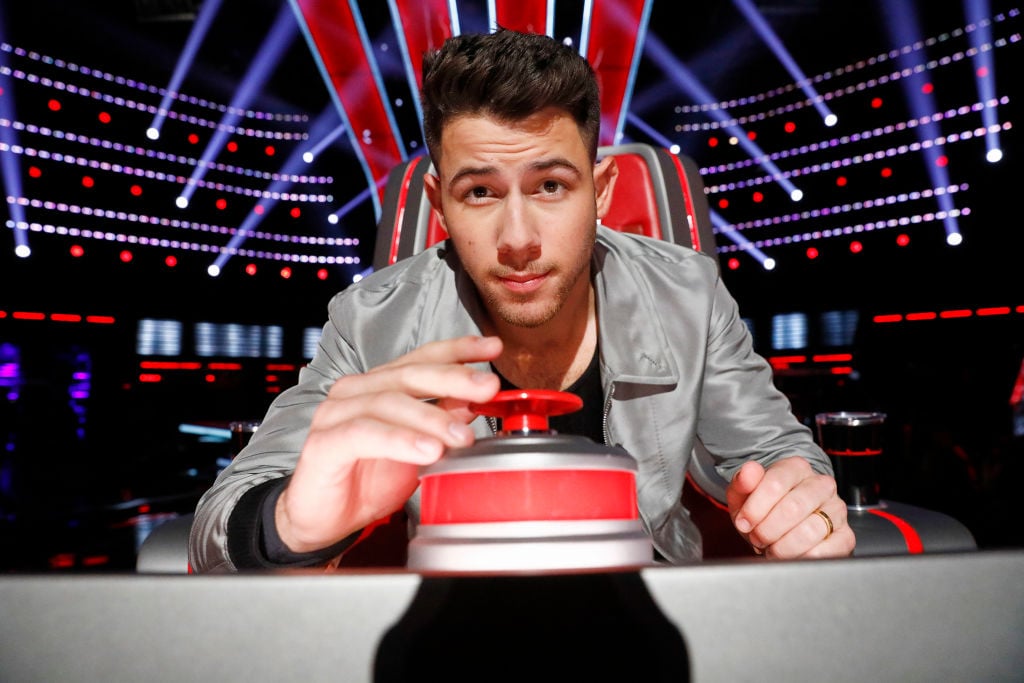 Season 18 is the first season with Jonas a coach. It's probably not surprising that his advisors for the battles will be Joe and Kevin Jonas.
He made the announcement in a video that was posted on Twitter. "Well it's that time to tell you exactly who my advisors are, my mentors are for my team. These two guys are some of the most trusted people in my life. It's Hall & Oates. Just kidding it's Kevin and Joe Jonas!" said Nick. He added, "These guys are my brothers, my bandmates, my best friends. And they're going to help me take Team Nick to the next level."
Jonas has been giving Kelly Clarkson a hard time
Kelly Clarkson and Jonas might have gone into the season planning to be on the same side. But their similar taste in artists is leading to them butt heads repeatedly.
"Nick and I, I called it," Clarkson said on the show. "Before we even started the blinds I looked at him and I was like 'We're gonna turn for the same people.'"
It was going to happen again after Arei Moon auditioned singing "Miss Independent." Jonas decided to not take the chance and blocked Clarkson so she couldn't get her. "I thought I had this in the bag and then I got blocked. That was hurtful, Nick," she told him.
He offered Jacob Miller the chance to work with them
Jacob Miller impressed the coaches with his blind audition performance of "The Times a-Changin'." Clarkson, Blake Shelton, and Jonas decided to turn their chairs for him.
"Your voice is incredible. I hope we get to work together. You've gotten to this point for a reason," Jonas told him. Clarkson asked him what kind of music he is interested in and he answered ragtime and folk music. She suggested he try to perform more current music using his style to "introduce people to a lost art."
Shelton advised the singer to be protective of his style instead of being pushed into other directions. He also loved that Miller played the guitar during his performance.
Jonas said he was excited to find out Miller is a songwriter. "See that's the thing that really excites me and regardless of the outcome of your experience on the show, I would be excited to spend some time with you in the studio," he said. "Write some music, find what you want to say, who you want to be as an artist."
He continued, "We're prepping for our next stages as far as music goes with my brothers and I. And your voice I think mixed in with the three of ours, as well, could be really interesting."
John Legend jokingly asked if he was offering Miller a spot on the Jonas Brothers. It's probably not a surprise that Miller picked Jonas as his coach.
Jonas then tweeted, "Welcome to the family, Jacob! Hope you don't mind brothers who don't understand personal space. #VoiceBlinds." It will be interesting to see if the Jonas Brothers will end up working with Miller after the season.