'The Voice': Nick Jonas Talks About Priyanka Chopra After Kelly Clarkson Says She's a Decade Older Than Him
Kelly Clarkson is 10 years older than Nick Jonas. Find out what he said to her on 'The Voice' that involves Priyanka Chopra.
Season 18 of The Voice has started and fans now know how the coaches will interact with Nick Jonas. Kelly Clarkson already mentioned she is a decade older than him in the first episode. Find out why he talked about Priyanka Chopra in response and more.
Nick Jonas and Priyanka Chopra have a 10-year age difference
Jonas and Chopra got married in 2018 and had multiple wedding ceremonies. The couple got a lot of attention due to their 10-year age difference.
Their age difference doesn't seem to phase them. Chopra told Vogue, "I call him Old Man Jonas." That's because of his serious personality and he wears things like house slippers.
She also talked to InStyle about other people's reactions to their age difference. "People gave us a lot of sh*t about that and still do," Chopra said. "I find it really amazing when you flip it and the guy is older, no one cares and actually people like it."
She said it will be amazing to see him on 'The Voice'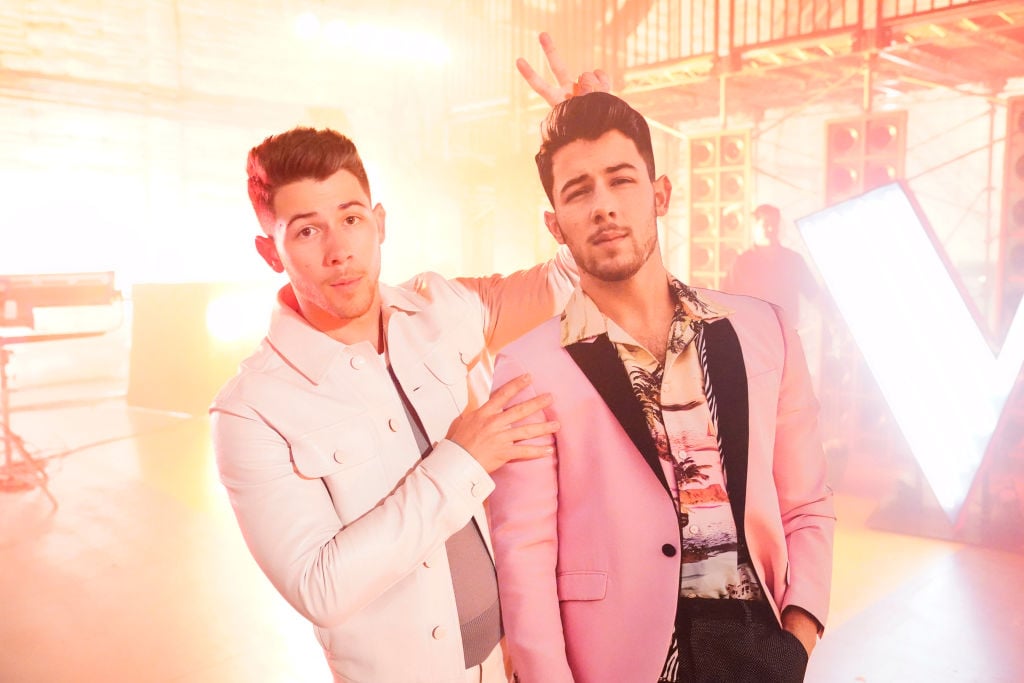 Chopra unsurprisingly was very supportive of Jonas becoming a coach on The Voice. She talked to Today about what will make him a great mentor to other artists.
"It's super exciting. I think Nick just needs to be himself, which he's going to," she said. "He knows about music so much. He's literally been a music prodigy since he was 7-years-old, so I think it'll be amazing to see him working with new musicians and adding to that."
The actress is well aware that Blake Shelton is gunning for Jonas. She said, "Blake, you better watch out."
He mentioned Chopra and Kelly Clarkson are the same age
The first artist shown in season 18's premiere was Todd Tilghman. He's a father of eight and a pastor. All four coaches turned their chairs for him and Tilghman admitted he has never performed outside of church.
Jonas told him, "I'm a PK so I'm actually a pastor's kid. My most fond memories were with my dad at the piano singing praise and worship songs." He then asked, "Do you know Phillips, Craig, and Dean?"
Tilghman said yes and Jonas began singing to him. Kelly Clarkson cheered him on. She later told the new coach, "I love that you pulled out Phillips, Craig, and Dean."
Tilghman noted it was "old school." Clarkson continued, "I know, but, like I'm a decade older than you." Jonas said it wasn't a decade and she pointed out she is 37 and he is 27. Jonas then said, "My wife is 37. It's cool."
The audience then cheered. Tilghman chose Blake Shelton because he is relatable to him in the end.
Clarkson isn't the only coach to talk about Jonas' age. Shelton made fun of him for it in his welcome message. "I'm going to have to look through the rules because this is my TV show," the country singer said. "I'm not even sure if you're old enough to be a coach on The Voice, but I'm certain that you're going to get your butt kicked, buddy."
Jonas said he still has a 20-year career. It sounds like the newcomer isn't going to let the older coaches get to him.