'The Voice' Season 18 Will Continue With Remote Live Performances
Shows are either completely stopping production or finding creative ways to move forward. The Voice Season 18 will be moving forward with remote live performance. It's been revealed what the new format will be after Blake Shelton teased potential changes.
'The Voice' coaches are isolating at home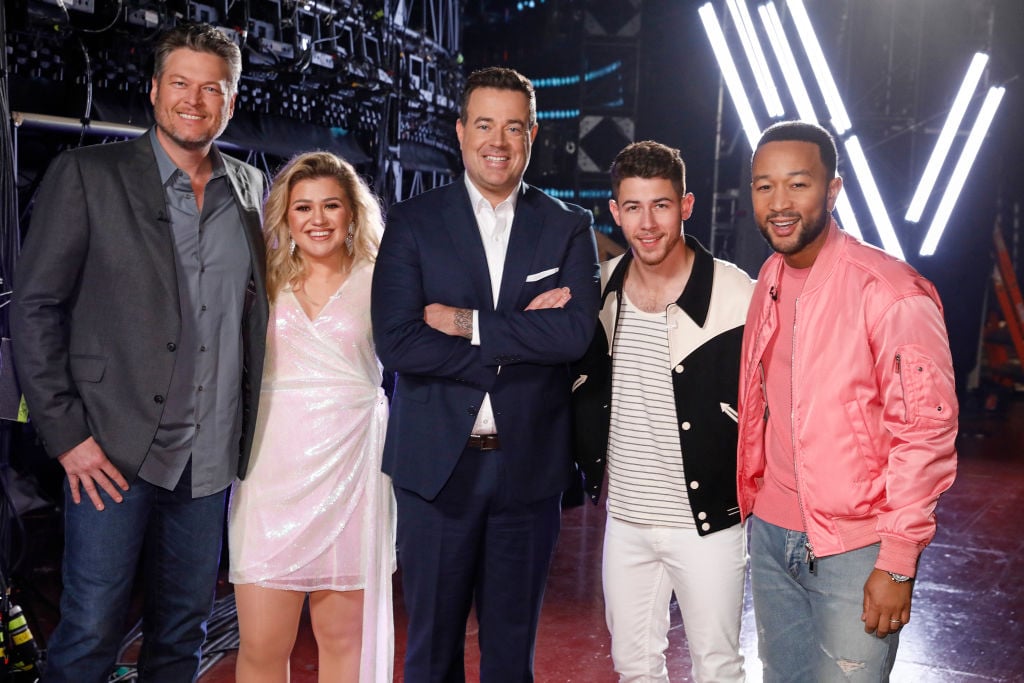 This season's coaches have been staying at home during the pandemic.  Kelly Clarkson has been at her ranch in Montana, Blake Shelton is in his home in Oklahoma and Nick Jonas and John Legend are in their homes in Los Angeles.    
Shelton had a funny announcement about what he plans to do during the pandemic. "I have an announcement. With basically EVERYTHING I had scheduled being canceled for the foreseeable [future] @gwenstefani and I have made a decision together. I am growing my mullet back as a symbol of hope or some sh*t like that.. Anyway it's coming back! For real. Stay tuned…" he tweeted on March 17.
He later posted a video of Gwen Stefani touching his new mullet. She again cut his hair on The Tonight Show with Jimmy Fallon on April 13.
"We are quarantined with a bunch of Stefanis. I'm talking 'bout a pile of them. It's me and a bunch of Stefanis," said the country singer. "My mom and stepdad live I don't know about 10 miles from here. I haven't seen them since the middle of March except for waving at them through the truck window and that's about it. We haven't left."
He did talk about how The Voice will have to change later in the season for live shows. "It's going to be crazy," he said. "We're going to coach like this [meaning over the computer.] It's just going to have to work out this way. It's going to be nuts." Now we know how the show will move forward.
There will be remote live performances
It has been officially revealed how the show will change due to the coronavirus pandemic. The live shows will be moving forward with everyone being remote on May 4.
Host Carson Daly will be on a soundstage without an audience. The coaches will give feedback to the contestants from their homes. Executive producer and showrunner Audrey Morrissey released a statement to Entertainment Tonight.
"Reinventing the live shows has allowed us to create innovative ways to bring The Voice to life in a fresh and intimate way," said Morrissey. "It has been an incredible team effort with the coaches, artists and their loved ones being involved in the process. With Carson at the helm from the stage, we are excited to share a unique Voice experience that will feel both new and familiar."
Fans will get to see the contestants get ready with production kits that will provide wardrobe and art direction for their performances. The winner of first-ever Four-Way Knockout, who gets to rejoin their team, will be revealed on May 4. Fans will then vote overnight and the results will be revealed on May 5.
Two contestants from each team will move forward in the competition to compete in the Wildcard Instant Save. Fans will then vote in real time for one of the remaining contestants to join the top nine.