'The Voice' Season 21 Episode 10 Recap: Ariana Grande Bullies Blake Shelton Into Stealing an Artist
The Voice Season 21 Episode 10 brought the Battle Rounds to a close. Coaches Ariana Grande, Blake Shelton, Kelly Clarkson, and John Legend had tough decisions to make, sending three artists home. However, Blake still had his steal, and he pressed his button just in time for a shocking Battles finale. On Oct. 25, the artists will move on to the next stage: the Knockouts.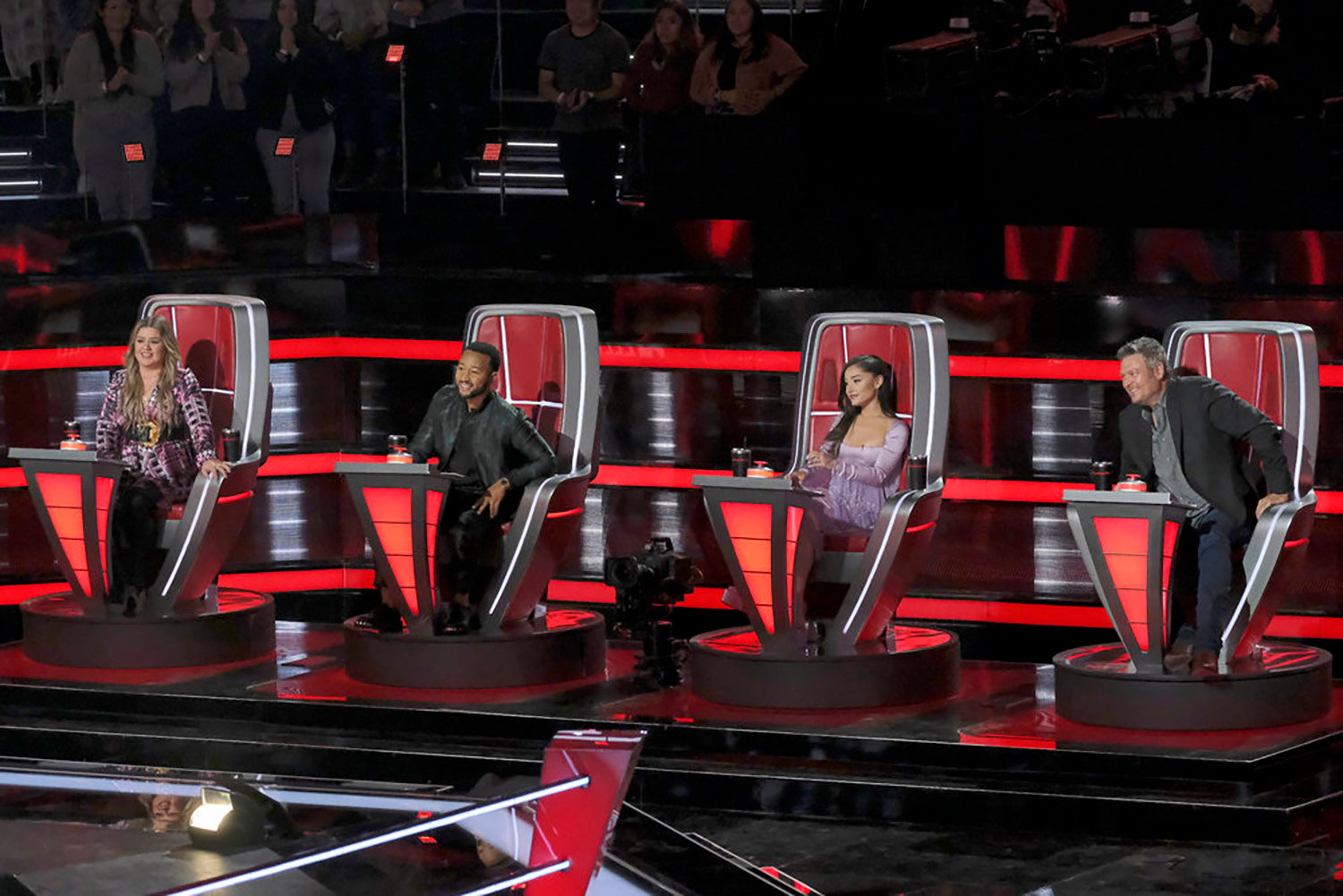 Team Ariana
For a battle between Ryleigh Plank and KCK3, coach Ariana chose "Come On Over Baby" by Christina Aguilera. During rehearsal, the coach encouraged all four voices to stand out while still creating harmony. The resulting performance featured incredible energy, with John complimenting Ryleigh's "elastic" body movements. Meanwhile, Kelly noted that each member of KCK3 had their own "textures" that still blended well. Ariana named Ryleigh the winner and called her a "vocal goddess" who could "go all the way."
Team Ariana: Jim & Sasha Allen, Katie Rae, Raquel Trinidad, Ryleigh Plank, Katherine Ann Mohler, David Vogel, Bella DeNapoli, Manny Keith
Team Kelly
The Cunningham Sisters and Parker McKay were the final artists to battle on Team Kelly, singing a beautiful rendition of "It's My Party" by Lesley Gore. Battle Adviser Jason Aldean was blown away by Macie and Marie Cunningham's talent at 14 and 15 years old, while Kelly said Parker came with her A-game. Later, Blake said anyone could fall in love with the Cunningham Sisters. John said they should have their own TV show, but he added that Parker had some better vocals. Kelly chose the Cunningham Sisters for their "confidence and precision."
Team Kelly: Gymani, Holly Forbes, Girl Named Tom, Kinsey Rose, The Cunningham Sisters, Jeremy Rosado, Xavier Cornell, Hailey Mia
Team Blake
The Voice Season 21 Episode 10 showed a quick battle between Kaitlyn Velez and Berritt Hayes, who sang "Yellow" by Coldplay. Blake said Berritt "stepped up to the plate" and delivered an "incredible performance." He named Berritt the winner, sending the artist to the Knockout Rounds.
Team Blake: Carson Peters, Lana Scott, Hailey Green, Peedy Chavis, Wendy Moten, Berritt Haynes, Libianca, Jonathan Mouton
Team Legend
Finally, Jonathan Mouton and Paris Winningham closed out the Battle Rounds with a rendition of "Here and Now" by Luther Vandross. John chose this tune because of Jonathan and Paris's similarities to Luther's voice. During the performance, Kelly complimented the match in Jonathan and Paris's voices. Meanwhile, Blake appreciated Jonathan's vibrato. Ariana said both artists were "world-class singers."
John ultimately chose Paris, leaving Jonathan for Blake to steal (after some encouragement from Ariana.) Blake said he really would've stolen either artist, but he's glad to see Jonathan come home to his team.
Team Legend: Joshua Vacanti, Samuel Harness, Samara Brown, Sabrina Dias, BrittanyBree, Shadale, Paris Winningham