'The Voice' Season 21 Episode 11 Recap: Knockouts Premiere Brings Tears, Drama, and Tough Eliminations
The Voice Season 21 Episode 11 marked the start of the Knockout Rounds, with Ed Sheeran taking the reigns as this season's Mega Mentor. For those who are unfamiliar, the Knockouts are similar to the Battles in that two artists from the same team compete with each other. However, this time, each artist performs a song of their choosing, rather than their coach assigning one song to both artists. Coaches Kelly Clarkson, Ariana Grande, John Legend, and Blake Shelton each get one steal.
Which artists in season 21 were the first to head to the Live Playoffs? Here's a recap of the Knockouts premiere.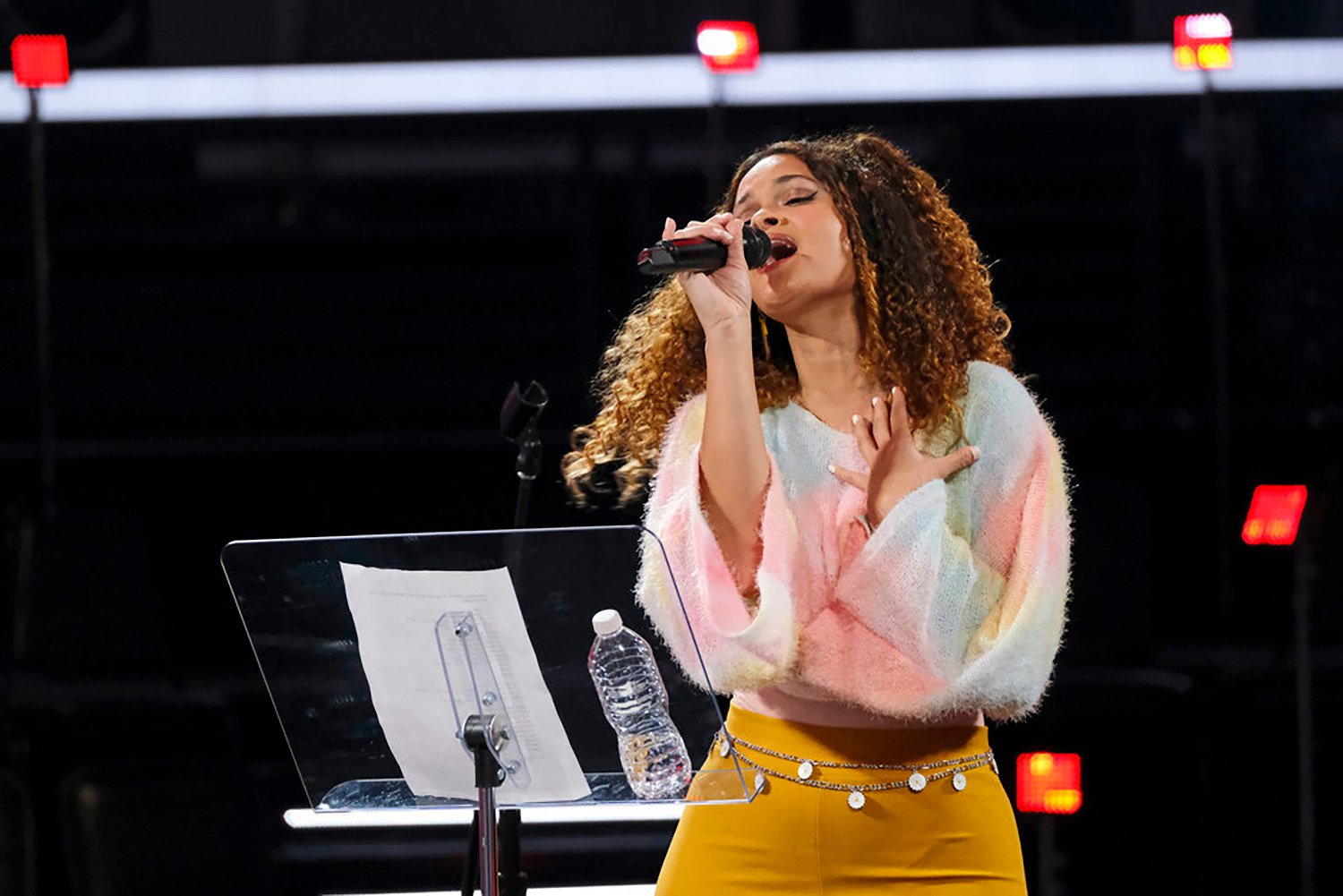 Team Blake
Jonathan Mouton took to the stage with "I Can See Clearly Now" by Johnny Nash. Meanwhile, Wendy Moten sang "Ain't No Way" by Aretha Franklin. Ed said Wendy had "star quality" in rehearsal, but both artists showed their stardom in front of the coaches. John complimented Jonathan's a cappella intro and Wendy's high notes. Kelly praised Wendy's ability to navigate — drink, Ariana and Blake — the song. In the end, Blake named Wendy the winner because she "blew the building away."
Hailey Green made a bold choice with "God's Country" by the one and only Blake Shelton, but Blake saw it fitting for her. Libianca, meanwhile, chose Billie Eilish's "everything I wanted." The song brought her to tears in rehearsal, and Ed advised her to "think of something random" on stage. Ariana complimented Hailey's bravery for singing Blake's song, while John said Libianca's performance was a "master class in vocals." Kelly called Hailey a "baby Janis Joplin." Finally, Blake said the decision was "soul-crushing," but he chose Libianca as the winner.
Team Blake: Carson Peters, Lana Scott, Peedy Chavis, Wendy Moten, Berritt Haynes, Libianca
Team Ariana
Raquel Trinidad chose "Valerie" by The Zutons for her song, while Katie Rae picked "Hold On to Me" by Lauren Daigle. Katie has had a rough few days missing her family, and Ariana advised her to bring that emotion to her performance. After Katie's heartfelt rendition on stage, Raquel delivered an upbeat show that brought Ariana to her feet to dance. John said he found Katie's voice "inviting." Meanwhile, Blake said Raquel "lit the room up." Ariana chose Raquel this time because she wants to "explore other areas" of the singer's voice. However, Kelly stole Katie, revealing that she's wanted the singer since the Blinds.
Team Ariana: Jim & Sasha Allen, Raquel Trinidad, Ryleigh Plank, Katherine Ann Mohler, David Vogel, Bella DeNapoli, Manny Keith, Holly Forbes
Team Kelly
The Voice Season 21 Episode 11 continued with Gymani, who picked "Pillowtalk" by Zayn. She went up against country singer Kinsey Rose, who chose "Strawberry Wine" by Deana Carter for her performance. Ed advised Gymani to let her "rasp" out in rehearsal, and he admired Kinsey's pure country sound. Blake called Gymani an "incredible performer," while Ariana showed love for both artists. John said Kinsey sounds like she should be in a studio already, cooking up records. Kelly recognized her own musical styles in both artists but ultimately chose Gymani.
Next, Kelly paired Girl Named Tom with Holly Forbes. Holly chose "Superstar" by Delaney & Bonnie for her tune, while Girl Named Tom went with "Wichita Lineman" by Glen Campbell. Ed complimented Holly's "gifted" voice in rehearsal, and he encouraged Girl Named Tom to add their own flair to the rendition. The performances left Blake speechless (that's a first), and John said he was glad he still had a steal.
Kelly went with Girl Named Tom, but it wasn't long before Ariana and John pressed their steal buttons. As it turns out, John still had some resentment toward Ariana for blocking him in the Blinds. Both coaches sang to Holly to entice her, but the singer ultimately moved to Team Ariana.
Team Kelly: Katie Rae, Gymani, Girl Named Tom, The Cunningham Sisters, Jeremy Rosado, Xavier Cornell, Hailey Mia
Team Legend
Sabrina Dias chose an Ed Sheeran song for her performance: "Photograph." She even added her own twist by playing guitar and drums, which impressed the Mega Mentor so much that he duetted her. Meanwhile, Joshua Vacanti went with "Falling" by Harry Styles. Both performances blew the coaches away. Kelly shouted that Sabrina was "so cool," and she pulled out another "navigate" — Blake and Ariana know the drill by now — for Joshua's tone. Ariana complimented Joshua's "sustainable" voice. John said Joshua makes the audience "feel," naming him the winner.
Team Legend: Joshua Vacanti, Samuel Harness, Samara Brown, BrittanyBree, Shadale, Paris Winningham