'The Voice' Season 21 Episode 15 Recap: Live Playoffs Begin With 20 Epic Acts
'The Voice' Season 21 Episode 15 finally brought the Live Playoffs, and the night was jam-packed with 20 epic performances.
The Voice Season 21 Episode 15, the Live Playoffs premiere, has finally arrived. Coaches Kelly Clarkson, John Legend, Ariana Grande, and Blake Shelton watched in awe as all 20 remaining contestants delivered incredible performances. They offered their opinions on the artists, but it's up to fans now to vote for their favorites. When The Voice returns on Tuesday, Nov. 9, seven artists will go home. Here's a recap of the first live show.
[Spoiler alert: The following story contains spoilers for The Voice Season 21 Episode 15, "Live Top 20 Performances."]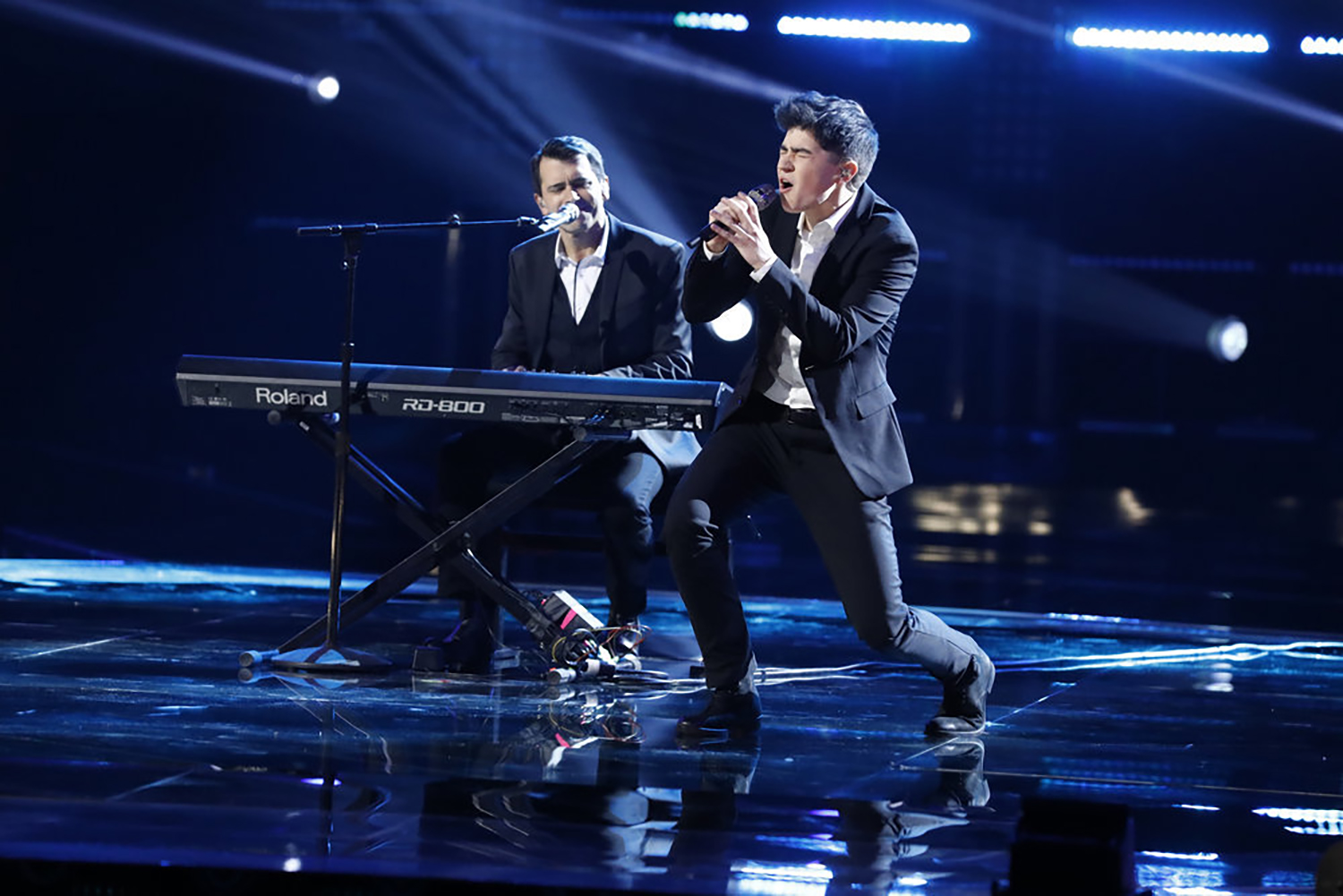 Team Kelly
Girl Named Tom went up first with a performance of "Creep" by Radiohead. John complimented the blend in the group's voices, noting that they executed the performance "flawlessly." Likewise, Kelly said she loved their family dynamic.
Next up, Katie Rae sang "Stormy Weather" by Etta James. Katie once belonged to Team Ariana, and her former coach had nothing but love for the singer, telling her this was one of her best performances thus far. Kelly complimented Katie's "storyteller vibe" and even gave a shoutout to Katie's daughter, noting that Katie provided a shining example of hard work for her little one.
Gymani performed "Say Something" by A Great Big World, and the coaches loved her take on the slow ballad. She received a standing ovation from all four coaches for the stunning rendition. Blake said he was on the edge of his seat, and Kelly choked up while trying to compliment the way Gymani showed her softer side.
Jeremy Rosado went next with Bruno Mars' "When I Was Your Man," showing off his higher notes. John said he enjoyed watching the singer's "heart and energy," which made him a powerhouse when combined with his smooth vocals. Kelly knew Jeremy was into the performance, and she called him the "best storyteller."
Hailey Mia, The Voice Season 21's youngest contestant, sang a rendition of Olivia Rodrigo's "Traitor." Ariana said she was proud to see her former team member thriving. Meanwhile, Kelly said she couldn't believe Hailey didn't already have record labels knocking at her door.
Team Kelly: Girl Named Tom, Katie Rae, Gymani, Jeremy Rosado, Hailey Mia
Team Legend
The Voice Season 21 Episode 15 continued with Team Legend's Shadale singing Rihanna's "Love on the Brain." Blake was thoroughly impressed with the singer's act, saying she "took the stage by storm." Meanwhile, John called her a "tour de force" and complimented her "precision." He added that she "dominated the stage" with her personality.
Joshua Vacanti came next with a slow and soulful rendition of "Yoü and I" by Lady Gaga. Ariana's first comment: "You better sing." She regretted that John blocked her from taking Joshua in the Blinds. Still, she's happy to see him succeeding on John's team. John loved Joshua's intensity and his "stunning" voice — and he was thrilled that he blocked Ariana.
Jershika Maple took the stage with Maneskin's "Beggin'," giving the coaches a look at her rock side. This one earned another standing ovation, and Kelly was almost speechless. She couldn't believe that she had given Jershika up from her team. John, on the other hand, thought Kelly made one of the best decisions ever. He called Jershika's voice "stunning" and said she "walked with purpose" on stage.
Bringing back the soulful vibes, Samuel Harness performed Ne-Yo's "So Sick." John said he loved how Samuel included his own personality and strayed away from Ne-Yo's style.
David Vogel finished off Team Legend's performances with "Slow Burn" by Kasey Musgraves. John stole David from Ariana, and both coaches agreed that they would love to see David in concert. Meanwhile, Ariana's already planning to get matching tattoos with the singer.
Team Legend: Shadale, Joshua Vacanti, Jershika Maple, Samuel Harness, David Vogel
Team Ariana
Raquel Trinidad kicked off Team Ariana's performances with "Don't Know Why" by Norah Jones. Kelly said she was hooked by Raquel's song choice. She also appreciated how Raquel added her own personality to the song. Ariana was "blown away" by the performance and said she felt proud of Raquel's vocal technique.
Jim and Sasha Allen went next with The Beatles' classic "Hey Jude." The performance brought Ariana to her feet. John said he loved the duo's rockstar vibes and complimented the growl in their voices, as well as their "compelling" stage presence. Meanwhile, Ariana called Sasha a "star" and said he sounded "so professional."
Bella DeNapoli took to the stage with a slow and steamy rendition of Akon and Gwen Stefani's "Sweet Escape." Blake said his wife would have to hear Bella's take on her hit song, complimenting the Long Island singer's twist on the tune. Ariana called Bella a "perfect pop star."
Next, Ryleigh Plank sang Whitney Houston's "I'm Your Baby Tonight." Ariana called the rendition "phenomenal." She also commended the singer's ability to choose songs that showcase her talent.
Finally, Holly Forbes closed out Team Ariana's acts with Natalie Imbruglia's "Torn." The moving performance wowed the coaches. Kelly begged fans to vote for her former artist, while Ariana said she couldn't find the words to describe how "perfect" Holly sounded.
Team Ariana: Raquel Trinidad, Jim and Sasha Allen, Bella DeNapoli, Ryleigh Plank, Holly Forbes
Team Blake
Peedy Chavis kicked things off for Team Blake with Tina Turner's "Proud Mary." The energetic performances hyped up the coaches and brought Blake to his feet. John said Peedy gave "everything" to the performance and complimented his commitment. Meanwhile, Blake said his mom's already voting for Peedy — need he say anything more?
Libianca went up next with Doja Cat's "Woman." She received a standing ovation from all four coaches. Ariana said she "left her body" during the performance, while Blake pointed out "how connected" Libianca was to the music.
Paris Winningham performed "I Wish It Would Rain" by The Temptations. The performance was so impressive that Kelly threw her shoe — the ultimate sign of respect on The Voice. Meanwhile, Blake thanked "The Voice gods" for bringing Paris to his team after John gave the singer up.
Next, Lana Scott sang Carly Pearce's "Next Girl." Blake called Lana "the country artist this season" and said country music needs her to get on the radio "right now."
Wendy Moten closed out The Voice Season 21 Episode 15 with a rendition of "I Will Always Love You." Kelly said she was "obsessed" with Wendy, while Blake said he's never wanted a contestant to win more than he wants Wendy.
Team Blake: Peedy Chavis, Libianca, Paris Winningham, Lana Scott, Wendy Moten
Vote for your favorite artists via The Voice official app or NBC.com/voicevote. Tune in to The Voice on Monday and Tuesday evenings at 8 p.m. on NBC.