'The Voice' Season 21 Episode 20 Recap: Wendy Moten Rallies After Stumble on Stage
Fan week continued in The Voice Season 21 Episode 20. After a powerful round of performances on Monday night, the Top 11 learned which artists would continue on to next week. In addition to the results, episode 20 featured incredible performances by Ariana Grande, Blake Shelton, and their teams. As always, the night ended with an Instant Save, and one artist went home ahead of next week's Top 10 live shows. Check out the results and the Wildcard Instant Save performance recap below.
[Spoiler alert: The following story contains spoilers for The Voice Season 21 Episode 20, "Live Top 11 Eliminations."]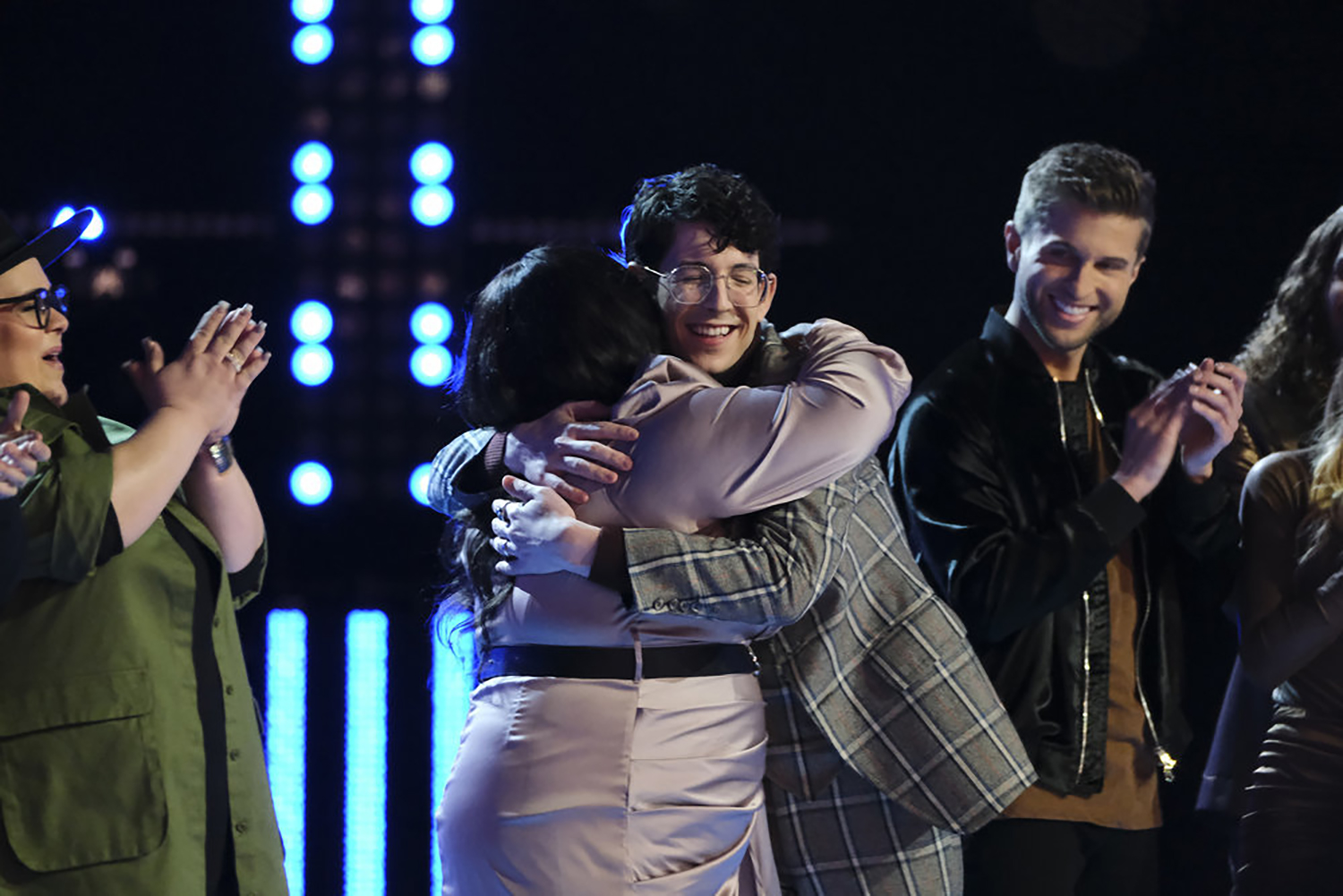 Results round 1
Team John Legend's Joshua Vacanti was the first save of the evening, followed by Team Kelly Clarkson's Hailey Mia.
Before the next round, Ariana took to the stage with Holly Forbes and Jim and Sasha Allen for an acoustic performance of "FourFiveSeconds" as they sat around a campfire. Of course, Jim provided the guitar as Sasha showcased his smooth vocals. Meanwhile, Ariana and Holly offered gorgeous harmony.
Next, fans caught a glimpse at a hilarious carpool moment between Blake and Ariana. As it turns out, Blake prefers to travel to work alone.
Results round 2
America saved Team Blake's Paris Winningham and Team Ariana's Holly Forbes. After a quick commercial break, the artists returned to the stage for more results. Team Blake's Wendy Moten moved on to the next round, as well as Team Kelly's Girl Named Tom. Another Team Blake artist, Lana Scott, will also move forward as the only country artist left in season 21.
And speaking of Team Blake, the group took to the stage with "Sugar Pie Honey Bunch." Paris, Wendy, Lana, and Blake delivered a boppy and upbeat performance complete with a saxophone solo. Kelly jumped to her feet to clap along, while John and Ariana were all smiles. The performance ended with a moment of uncertainty as Wendy stumbled on stage, but she got to her feet and kept moving.
Results round 3
Next, Team Kelly's Jeremy Rosado joined the Top 10, followed by Team Legend's Jershika Maple — meaning all of Team Legend has made it to the next round. Wendy returned to the stage to assure fans that she was alright, a little bruised, but in good spirits.
Wildcard Instant Save performances
Team Kelly's Gymani kicked off the Instant Save performances with "Tell Me Something Good." John told Gymani she was "unstoppable," and Kelly said she was a "vocal beast." Gymani's coach added that the singer had superstar talent that could make it to the end of the competition.
Team Ariana's Jim and Sasha Allen took to the stage next with "I Won't Give Up." Blake complimented the duo's growth throughout the season and called them "incredible." Meanwhile, Ariana broke out in tears as she told Jim and Sasha that they continued to deliver outstanding performances.
And the Wildcard Instant Save winner is … Jim and Sasha Allen! When The Voice returns on Monday, Nov. 30, the Top 10 artists will perform.
Team standings:
Kelly: Girl Named Tom, Jeremy Rosado, Hailey Mia
Legend: Jershika Maple, Joshua Vacanti
Ariana: Jim and Sasha Allen, Holly Forbes
Blake: Wendy Moten, Paris Winningham, Lana Scott
Tune in to The Voice on Monday and Tuesday evenings at 8 p.m. on NBC.