'The Voice' Season 21 Episode 25 Recap: Top 5 Artists Belt Out Moving Ballads
The Voice Season 21 Episode 25 gave the Top 5 artists one last chance to showcase their talents. Last week, the final members of Team Ariana Grande went home, leaving two artists on Team Kelly Clarkson, two on Team Blake Shelton, and one on Team John Legend. The remaining singers performed two songs each, including touching ballads with messages for their loved ones.
In addition to the Top 5 acts, the night also included a holiday treat from Kelly: her newest Christmas tune, "Christmas Isn't Cancelled (Just You)." Make sure to vote for your favorite singer ahead of the finale on Tuesday night. Who will become the voice of season 21?
[Spoiler alert: The following story contains spoilers for The Voice Season 21 Episode 25, "Live Finale Performances."]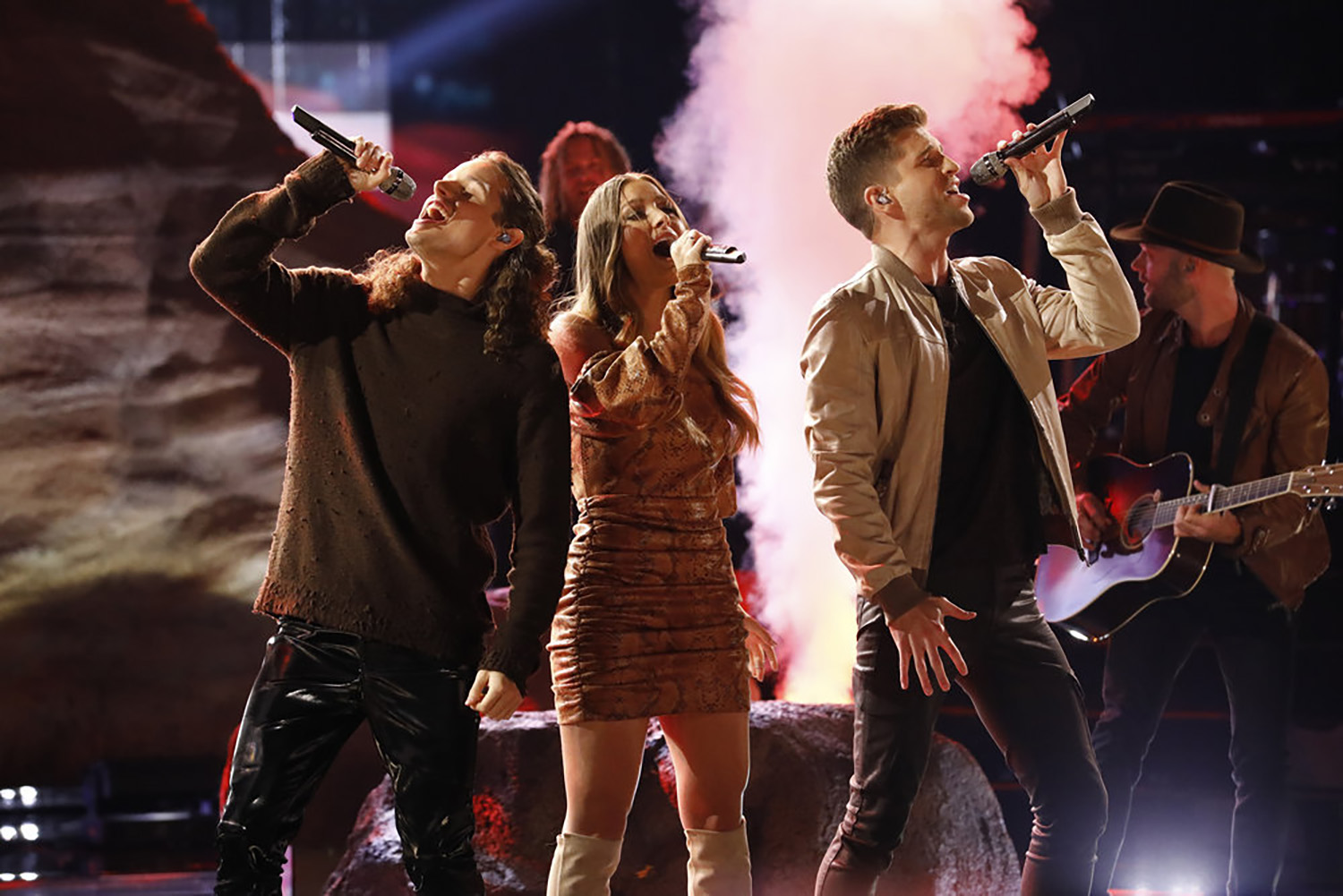 Team Kelly
Hailey Mia channeled emotion and energy with Olivia Rodrigo's "Deja Vu," and Kelly said the tune would show a side to the singer that viewers haven't yet seen. After a powerful rendition sang partially from a bed, Kelly gave her artist a standing ovation. Ariana complimented Hailey's energy, while John said he was impressed with the young teen's control. Finally, Kelly said Hailey showed off her angsty side.
Girl Named Tom went down the rock path this week with Fleetwood Mac's "The Chain." The tune was something very different for the folksy trio, and Bekah hit her highest note yet in the competition. Their performance earned standing ovations from Kelly and John. Blake complimented Girl Named Tom's edge, even when trying something new. Kelly added that they showcased "insane" harmonies.
Hailey dedicated her letter and her second song to the kids of the world, choosing to sing Billie Eilish's "Idontwannabeyouanymore." She hoped to inspire young viewers to follow their dreams, just like Hailey did to get to this point. John called it his favorite performance of Hailey's and said she reminded him of Billie. Kelly added that she was "dripping with amazing tone" and showed perfect attitude.
The three siblings of Girl Named Tom wrote sweet letters to each other, bringing tears to all of their eyes. They sang "Baby, Now That I've Found You" by The Foundations for their second tune. Ariana called the harmony "stunning as always" and said she found it thrilling to follow the group's growth. Kelly said Girl Named Tom gave a "flawless" performance.
Team Kelly: Hailey Mia, Girl Named Tom
Team Blake
Paris Winningham wrote a sweet letter to his father and dedicated Billy Paul's "Me and Mrs. Jones" to him. Ariana said she could have watched the soulful rendition "for hours," and John pointed out Paris's "gifted" high notes. Likewise, Blake complimented the singer's range and told him thousands of people would buy tickets for any future Paris Winningham concert.
For her first tune, Wendy Moten chose "How Will I Know" by Whitney Houston, which she admitted would be a challenge. However, Blake had faith that she would deliver her usual power and then some. After the performance, Ariana was floored by Wendy's high notes. Blake said he didn't think the singer could possibly impress him more, but she did.
Paris's second song of the week was Chaka Khan's "Ain't Nobody." His pop performance brought concert-like energy, complete with Paris throwing his hat into the crowd. Kelly could tell the singer was feeling himself on stage, and Ariana loved the performance so much that she fetched his hat. Blake said Paris deserves to win the show.
Wendy marked her final performance with a letter to "the two cities that shaped" her, Memphis and Nashville. She sang a smooth rendition of "Somewhere Over the Rainbow," showing off jaw-dropping high notes. All four coaches gave a standing ovation for Wendy. Blake said that he's never seen a talent like hers and called her a "world-class artist."
Team Blake: Paris Winningham, Wendy Moten
Team Legend
Jershika Maple dedicated a letter to her church community, which brought her out of her shell. She decided to sing Mary J. Blige's "I'm Goin' Down," showcasing her incredible range. Kelly kicked herself for letting Jershika go from her team, while John said it was a "privilege" to work with the singer.
For her second performance, Jershika sang Adele's "Rolling in the Deep," promising to deliver a "whole lot of stank face." John couldn't help but scream and make some noise for his singer, reminding Jershika that there has been no one like her in the competition.
Team Legend: Jershika Maple
Vote for this season's winner via The Voice official app or NBC.com/voicevote. Tune in to The Voice Season 21 finale on Dec. 14 at 8 p.m. on NBC.
RELATED: 'The Voice' Season 21 Finale Air Date, Top 5 Artists, and What to Expect