'The Voice' Season 21 Episode 9 Recap: 'Infectious' Battles Dominate the Night
Several more contestants have gone home after The Voice Season 21 Episode 9 on Monday, Oct. 18. Coaches Ariana Grande, John Legend, Kelly Clarkson, and Blake Shelton brought their A-games when it came to artist pairings, but that made choosing winners all the more difficult. One word kept popping up to describe these phenomenal performances: "infectious." The coaches and audience undoubtedly felt the energy from every contestant. Which performers made it to the Knockouts?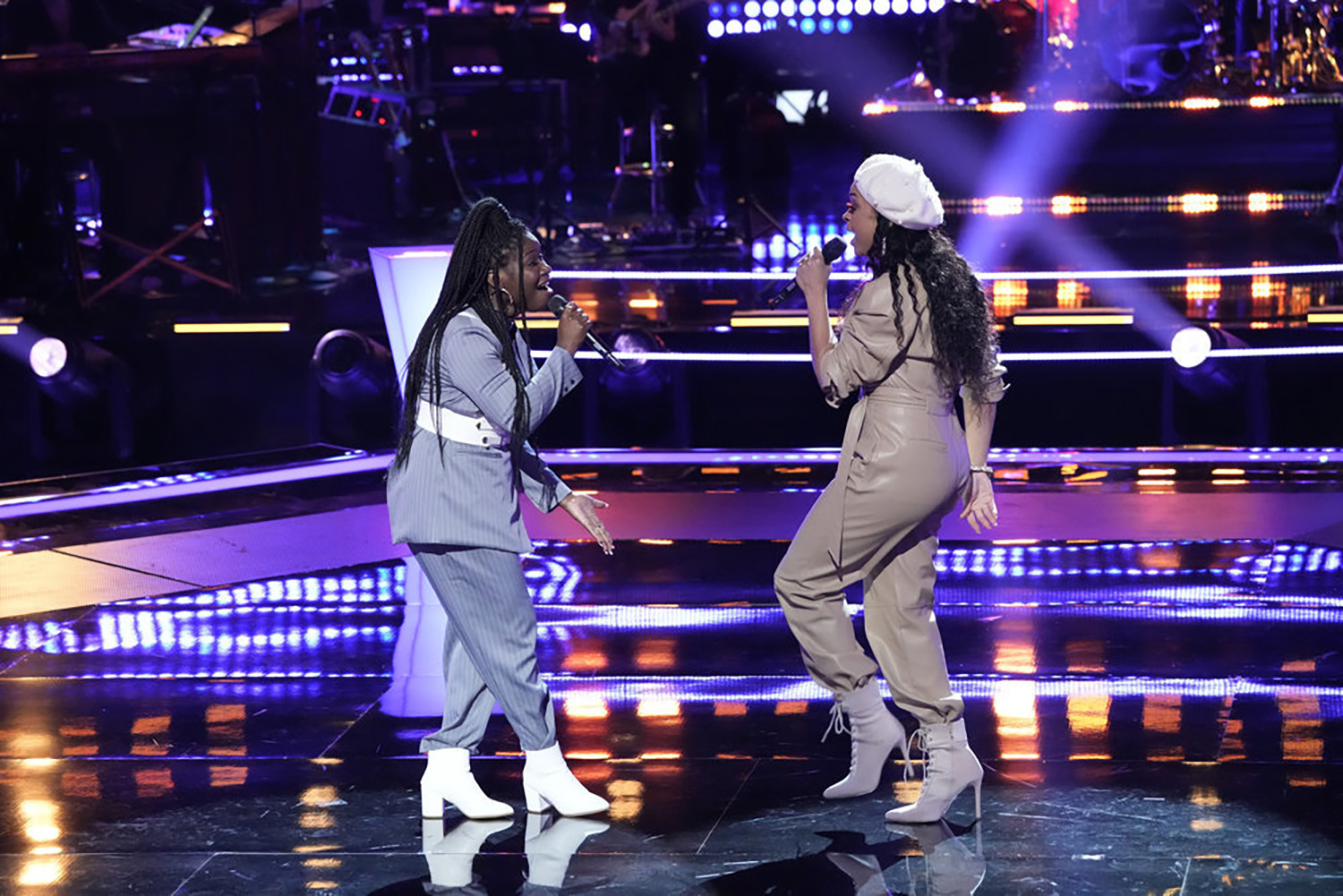 Team Legend
John's team kicked off the evening with a battle between Keilah Grace and Joshua Vacanti. The coach picked "Good For You" by Olivia Rodrigo because of the angsty tune's "theatrical" vibe and drama, which perfectly fit Keilah and Joshua. During rehearsal, Battle Adviser Camila Cabello said Joshua and Keilah exhibited "legendary behavior." How has no one made that pun before?
Later, Kelly complimented Keilah's high notes and Joshua's range. The performance was a little too chaotic for Blake to comprehend, but even he agreed that it was "crazy." John said Keilah did exactly what she was supposed to, but he was looking for some individuality, which led him to pick Joshua as the winner.
Next, John paired Jack Rogan and Sabrina Dias. He chose "Cardigan" by Taylor Swift as their battle song because it met in the middle of their styles. Both artists delivered a powerful performance; Kelly enjoyed the storytelling with their bodies and their vocals. Jack impressed John with one of his very first performances on a big stage. However, John wants to see Sabrina "shred" with a rock song in the future. He named Sabrina the winner, complimenting her energy and "electric" voice.
The Voice also offered a quick look at a battle between Shadale and Janora Brown. The two performed Ariana's hit song, "One Last Time." Shadale took the win, as John liked her vibe and felt she was the best person to move forward.
Team Legend: Joshua Vacanti, Samuel Harness, Samara Brown, Sabrina Dias, BrittanyBree, Shadale, Jonathan Mouton, Paris Winningham
Team Blake
The Voice Season 21 Episode 9 continued with a battle between Clint Sherman and Carson Peters. For their battle, Blake chose "Don't Let Our Love Start Slipping Away" by Vince Gill. Blake said he would pick the singer who put their own "stamp" on the song — Clint and Carson understood the assignment. Both singers brought a unique twist to the tune; for Carson, it was rock, while Clint blended bluegrass with country. They even wowed Ariana enough to make her want to start "yee-hawing." In the end, Blake chose Carson because he preferred the teen's edge. Plus, he's excited to see Carson play the fiddle.
Blake paired Wendy Moten and Manny Keith for a stellar performance of "If I Ever Lose My Faith in You" by Sting. The coaches enjoyed Manny's emotion, but Wendy blew them away. In fact, Kelly said that "something is wrong with the world" if Wendy doesn't make it to the finale. Blake chose Wendy, allowing Ariana to nab Manny at the last minute. "I think he can absolutely shine in his own right if given the opportunity to do so," she said of the singer.
Team Blake: Carson Peters, Lana Scott, Hailey Green, Peedy Chavis, Wendy Moten, Kaitlyn Velez, Berritt Haynes, Libianca
Team Kelly
Kelly made a bold choice for her next battle: she paired Gymani with Aaron Hines, both four-chair turns. It would be a tough decision to choose one winner, but she felt their voices blended well. Indeed, their performance of "Working" by Khalid and Tate McRae flowed together perfectly. Blake said he liked that Aaron pushed himself, but Gymani left the country star speechless. Kelly enjoyed Aaron's "sincerity" during the performance; however, she went with Gymani, calling her a "chameleon" vocalist.
Another quick performance showed Holly Forbes and Wyatt Michael, who sang "Sunny" by Bobby Hebb together. Kelly went with Holly because of her "magical" tone.
Team Kelly: Gymani, Holly Forbes, Girl Named Tom, Kinsey Rose, The Cunningham Sisters, Jeremy Rosado, Parker McKay, Xavier Cornell, Hailey Mia
Team Ariana
Raquel Trinidad went up against Hailey Mia, The Voice Season 21's youngest contestant. For this battle, Ariana chose "Car Wash" by Rose Royce. Their performance brought a new energy level to the room; according to John, they "lit it up." Kelly loved Raquel's vibe but found Hailey "magical." In the end, Ariana chose Raquel because she felt the singer was a better match for her as a student. Hailey's journey is far from over, though — Kelly was quick to save the young singer because of her "gift." She said she could help Hailey navigate the Knockouts. (Take a drink, Blake and Ariana!)
The Voice shared a glimpse at Sophia Bromberg's battle with Jim and Sasha Allen. The three performed "Signed, Sealed, Delivered I'm Yours" by Stevie Wonder. It was another tough decision for Ariana, but she chose Jim and Sasha for their seamless harmonies.
Team Ariana: Jim & Sasha Allen, Katie Rae, Raquel Trinidad, Ryleigh Plank, KCK3, Katherine Ann Mohler, David Vogel, Bella DeNapoli, Manny Keith