'The Voice' Season 21 Week 1 Recap: Team Ariana Is Filling Up Fast
'The Voice' Season 21 has already seen a few blocks, feuds, and a special button from Ariana Grande. Here's a recap of week 1, episodes 1 and 2.
The Voice Season 21 kicked off on Sept. 20 and 21, featuring Ariana Grande's very first nights as a coach. We're only in week 1 of the Blind Auditions, but Grande, John Legend, Kelly Clarkson, and Blake Shelton have already pulled out a few blocks. Plus, the coaches' feuds have already begun. Here's a recap of The Voice Season 21 Week 1, Episodes 1 and 2.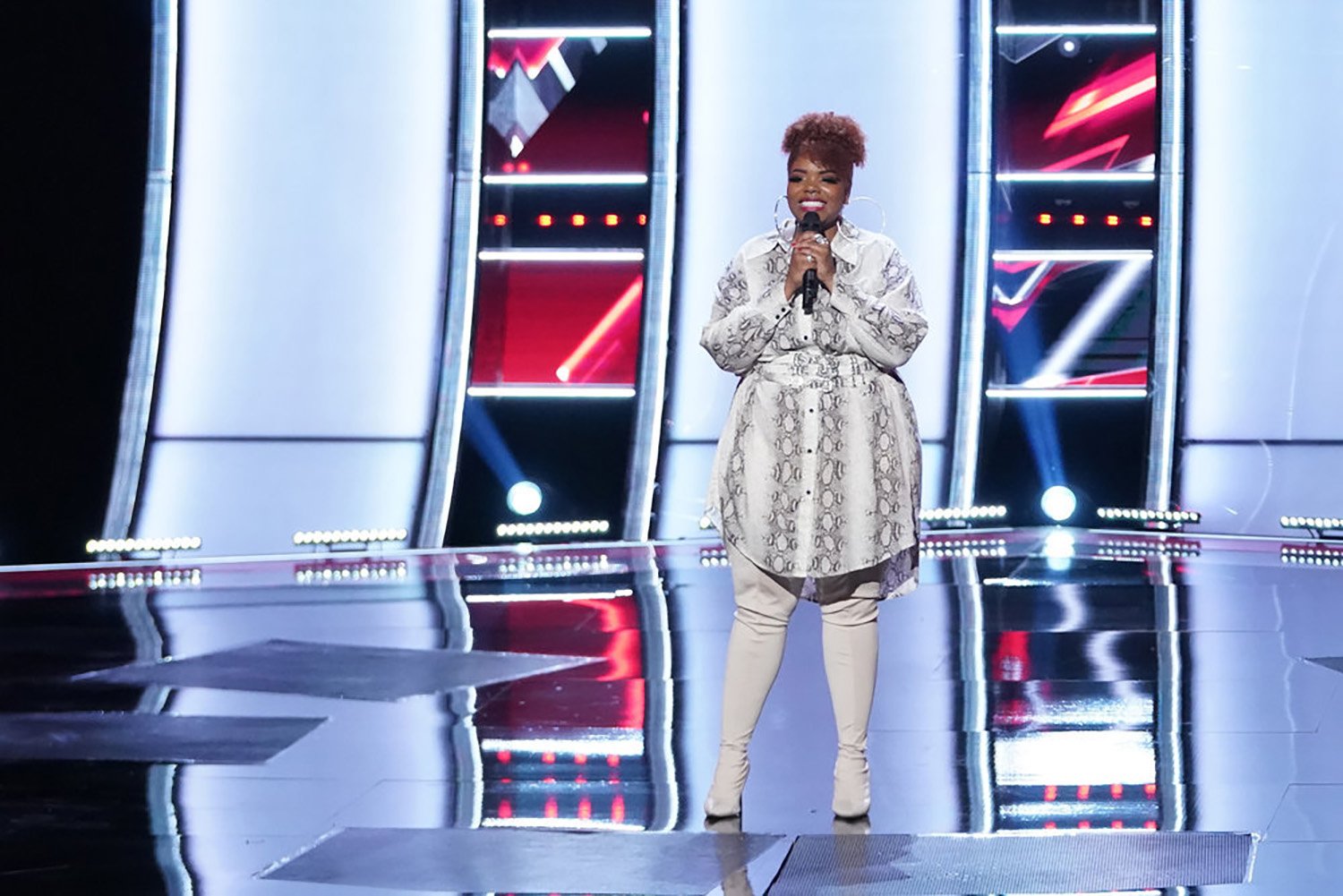 Team Kelly
Clarkson took home the first win of the season with Girl Named Tom, a sibling trio from Pettisville, Ohio. Joshua, Caleb, and Bekah (that's right, not one of them is named Tom) performed "Helplessly Hoping" by Crosby, Stills & Nash, earning the group a coveted four-chair turn. John tried to convince Girl Named Tom that harmonies were in his wheelhouse, while Clarkson reminded them she'd coached a group before.
Later, Nashville, Tenn. resident Kinsey Rose, 35, stoke Clarkson's country heart with "Cowboy Take Me Away" by the Chicks. Clarkson loved the performance so much that she used her only block on Shelton, continuing their country artist feud. "I loved Kinsey's voice. It had purpose. It was sort of a storyteller vibe," Clarkson said.
Clarkson's first artist of night 2 was Carolina Alonso, 23, of Reno, Nev. Alonso is currently studying biochemistry, but her dream is to pursue a music career. Her performance of "El Triste" by Yuri blew Clarkson away. As the only chair turn, Clarkson automatically took Alonso for her team. She's already thrilled to have Alonso's "really present and round" voice on her team.
Clarkson's final addition of the week was another four-chair turn. Gymani, 23, of East Point, Ga. Gymani performed Grande's "POV," and it was such an outstanding performance that Grande said the song belonged to Gymani now. That gesture alone might've seemed enough for Gymani to choose Grande, but she went with Clarkson in the end.
Team Kelly so far: Girl Named Tom, Kinsey Rose, Carolina Alonso, Gymani
Team Legend
Jonathan Mouton, 30, of Los Angeles, Calif., seemed like the perfect fit for Team Legend. His performance of "Leave the Door Open" by Silk Sonic wowed both Legend and Grande, with Legend comparing Mouton's sound to Peabo Bryson. As a stage 4 cancer survivor, Mouton is ready to dive back into his music career, and what a way to continue his journey.
Jack Rogan, 18, had kept his performances to friends and family in Rochester, N.Y. before his debut on The Voice Season 21 Week 1. His rendition of "House of the Rising Sun" by The Animals caused Clarkson and Legend to turn their chairs in mere seconds. Although Rogan seemed nervous, Legend felt confident in the young singer's "storytelling" tone.
Legend's first artist of night 2 was Samuel Harness, 26, of Fort Wayne, Ind. Harness rocked a slowed-down version of 3 Doors Down's "Here Without You," prompting turns from Legend, Grande, and Clarkson. Grande called the performance "phenomenal," while Legend praised Harness's raspy voice.
Joshua Vacanti, 28, of Lockport, N.Y., chose a bold song: "Into the Unknown" from Frozen 2. As a father of two young children, Legend is very familiar with that song, so he knows just how challenging it can be to sing. Grande and Vacanti bonded over musical theater, but Legend prepared for that ahead of time by blocking Grande.
Finally, Legend's team in week 1 ended with 32-year-old Paris Winningham of Jacksonville, Fla. His performance of "Superstition" by Stevie Wonder earned turns from Legend and Grande, but Winningham chose Legend. Why? "He's one of the greatest and most solid musicians of our time," Winningham said.
Team Legend so far: Jonathan Mouton, Jack Rogan, Samuel Harness, Joshua Vacanti, Paris Winningham
Team Blake
Shelton began The Voice Season 21 Week 1 with 19-year-old Peedy Chavis of Lawrenceville, Ga. His performance of "Heartbreak Hotel" by Elvis Presley brought Legend to his feet to dance. Meanwhile, Shelton felt "fired the hell up." In the end, the young Elvis fan went with Shelton.
Wendy Moten, 56, of Nashville, Tenn., is no stranger to the music industry. She released a single in the '90s and sang background vocals for Faith Hill, Tim McGraw, and more. Her rendition of "We Can Work It Out" by the Beatles stunned all four coaches. Shelton, who's been on The Voice for all 21 seasons, even called it one of the top three Blind Auditions in the history of the show.
Night 2 saw Lana Scot, 28, of Chesapeake, Va., join Shelton's team. She performed "Hole in the Bottle" by Kelsea Ballerini, which prompted turns from Clarkson and Shelton. The two argued over Scot for quite a while; in fact, Legend and Grande went to grab a snack while the country stars worked it out.
At 15 years old, Haley Green is the youngest contestant to join a team on The Voice Season 21 so far. The St. Martin, Miss. resident performed "Home" by Marc Broussard, and she might look familiar to longtime viewers. Green auditioned during season 19 without any chair turns, but Shelton encouraged her to come back. This time, she's won him over.
Team Blake so far: Peedy Chavis, Wendy Moten, Lana Scot, Haley Green
Team Ariana
Newcomer Grande has already racked up five team members. The first was Katie Rae, 35, of Sacramento, Calif. Her rendition of "The Bones" by Maren Morris was "sizzling butter" to Clarkson's ears. However, Katie went with Grande, marking the pop star's first "powerhouse" vocalist.
Katherine Anne Mohler, 22, of Memphis, Tenn., wowed Grande with "We Don't Have to Take Our Clothes Off" by Ella Eyre. Mohler made it clear she's a big fan of Grande's, so it came as no surprise to see her pick the former Nickelodeon star. Grande can't wait to dive in and help Mohler improve her technique.
Vaughn Mugol, 27, of Beaumont, Tex., performed Ed Sheeran's "The A Team," earning turns from Clarkson, Grande, and Legend. Clarkson praised Mugol's emotion, while legend enjoyed his mature, professional sound. However, Grande sealed the deal with a promise to keep his voice as healthy as possible to give him a long and happy singing career.
Physical therapy student Chavon Rodgers, 23, hails from Ada, Okla., Shelton's hometown. In fact, Rodgers even gifted Shelton an Ada brick, which might have made Shelton feel guilty for not turning. Rodgers' performance of "Driver's License" by Olivia Rodrigo left Grande thoroughly impressed. He chose Grande because she felt "more up his alley."
Finally, Grande's week 1 team finished with father-son duo Jim and Sasha Allen. The Newtown, Conn. residents performed "Leaving on A Jet Plane" by John Denver, which gave Grande major Woodstock vibes. Jim and Sasha became Grande's first group.
Team Ariana so far: Katie Rae, Katherine Anne Mohler, Vaugh Mugol, Chavon Rodgers, Jim and Sasha Allen