'The Voice': Which Artists Turned All 4 Chairs in Season 21?
One of the hardest things to do on The Voice is to get all four coaches to turn their chairs in a blind audition. But a select few have accomplished it. Here are the artists who impressed Ariana Grande, Blake Shelton, Kelly Clarkson, and John Legend in season 21.
Girl Named Tom
The trio impressed with Crosby, Stills, and Nash's "Helplessly Hoping." All four coaches turned around, but Clarkson stood up. 
"I love harmony so much. It was so beautiful," Clarkson told the group. "This is God. You should pick Kelly," she joked. Clarkson pointed out that she turned around before anyone else. Her pitch worked, and they joined her team.
Wendy Moten
The Memphis-native impressed the coaches with her single 'Come in Out of the Rain.' Shelton blocked Legend, so he was out of the running, but he told Moten she had so much "light" in her voice.
Grande called her "perfect." Clarkson also said she forgot where she was and was enjoying her show. Shelton said her performance was in the top three of blind auditions for The Voice of all time. In the end, she picked Shelton after everyone else advised her to pick anyone but him.
Gymani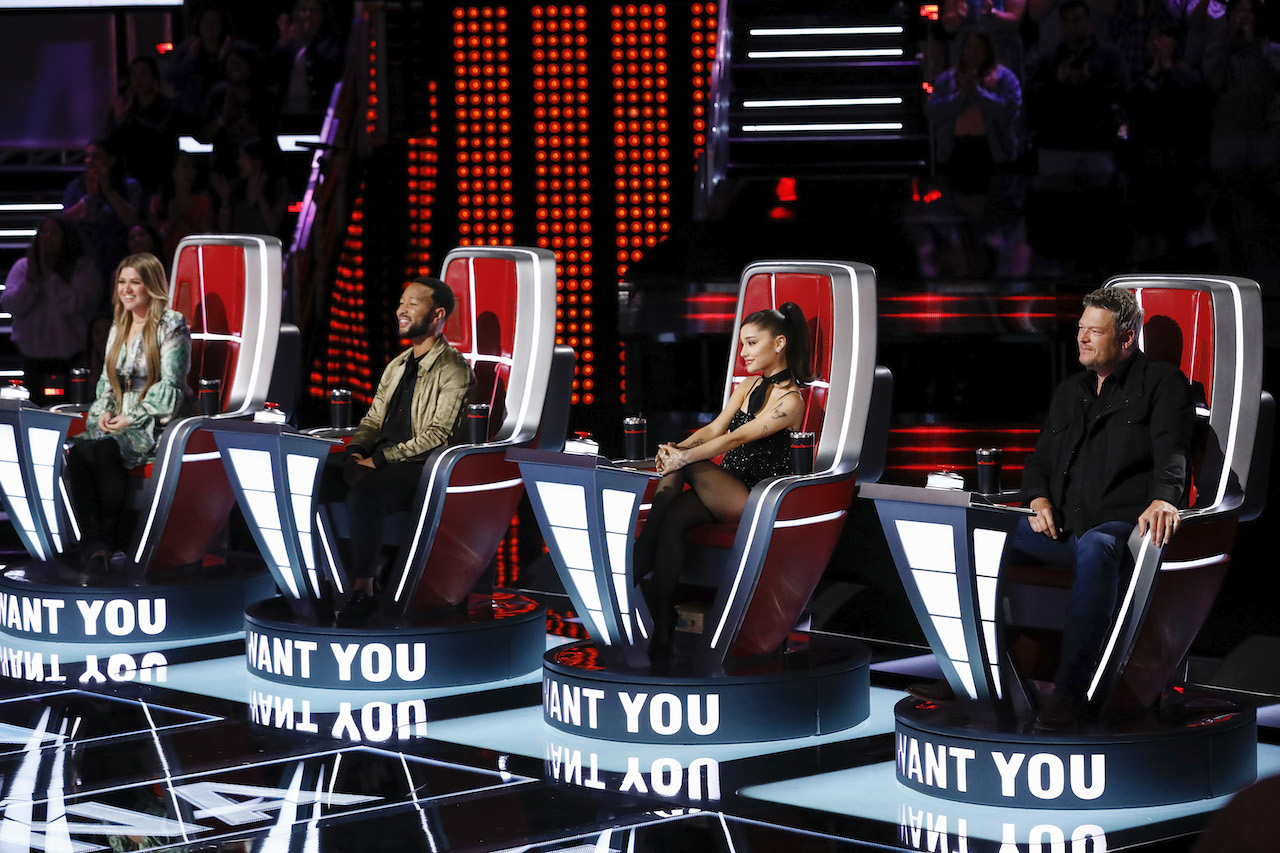 Gymani didn't just get all four coaches to turn around. She got them to turn around by covering Grande's "POV." Once the audition was done, Grande stood up and said, "That's your song now. Take it." She pointed out there were so many alterations to the melody but trusted them. 
Clarkson told her she had no one on her team like her. She said Gymani's voice is the reason The Voice exists. Gymani surprisingly picked Clarkson as her coach.
Carson Peters
The 17-year-old sang Don Williams' version of "Tulsa Time." Every coach knew they had to go on offense because Shelton seemed to be an obvious pick. Shelton said he wants to figure out which kind of Bluegrass is best for Carson Peters. The singer picked Shelton.
Holly Forbes
Songwriter Holly Forbes sang "Rocket Man" by Elton John. All of the coaches turned around, but Legend was blocked. Grande called the performance "incredibly moving." Shelton called her "little notes" impressive. Forbes picked Clarkson despite her daughter being a big fan of Grande.
Britney Bree
Britney Bree performed The Weekend's "Call Out My Name" for her audition. She revealed this is the first time she is singing outside of the church. 
Grande noted that the choices she made added emotional value to the song. Clarkson called her a great storyteller. "If your voice isn't in the finale, something's wrong," she said. Shelton told her it would be an honor to be her coach. But she ultimately picked Legend as her coach.
Aaron Hines
Aaron Hines sang "Heartbreak Anniversary" by Giveon. All four coaches turned around. Clarkson called his voice "moving." Grande said his tone "stopped me dead in my tracks." Hines also tried hard to convince Hines to pick him by tearing apart the other coaches. But Hines picked Clarkson in the end.
It looks like season 21 is full of talent. These six artists are more likely to stick around longer in the competition because of their strong start.