'The Walking Dead' Inspired This Award-Winning Singer to Write Her First Song at 11
On Halloween night in 2010, AMC televised the first episode of The Walking Dead. The post-apocalyptic show, based on Robert Kirkman's comic book series, became a huge hit.
For the past nine seasons, fans have been tuning in to witness the fate of those left wandering the planet in search of safety, as zombies await them around every corner. The show has taken on a life of its own, becoming AMC's top-rated series. At the height of its success, there were approximately 18 million viewers.
One avid viewer was a young girl from Los Angeles that was inspired to write her first song about the aftermath of the zombie apocalypse.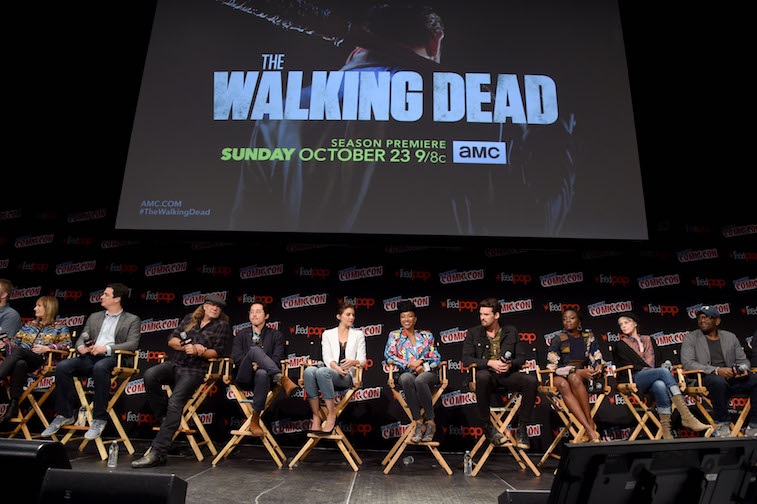 Billie Elish's 'Fingers Crossed'
The lyrics to "Fingers Crossed" state, "In the end, when they're all gone, when the world is silent and the days are long, just you and I, we'll be alive, we made it on our own."
These words were written by Billie Eilish, an 11-year-old girl that was obsessed with The Walking Dead. She utilized the horrific imagery and creepy storyline to create her very first song.
She recently told Harper's Bazaar, "I literally just watched The Walking Dead and I took little lines from it. Just watch all of The Walking Dead and you'll find some things that are in my song and some episode titles that are in my song." In season 4 episode 4 of the television series, fan-favorite Bob said "everybody makes it 'til they don't," which became the chorus in Eilish's song.
This inspiration obviously worked, as she is now a huge recording artist, winning countless awards for her music. 
Starting her career at a young age
At only 18 years of age, Eilish has taken the music industry by storm. She swept this year's GRAMMY Awards, taking home five trophies. Eilish won Song of the Year and Record of the Year for "Bad Guy."
Her album, When We All Fall Asleep, Where Do We Go? won album of the year and best pop vocal. She also took home the award for Best Pop Solo Performance, nominated alongside musical greats Ariana Grande, Beyonce, Taylor Swift, and Lizzo.
Does Billie Eilish write the lyrics to all of her songs?
The unique sound of Eilish blends alternative pop with EDM. She and her brother, Finneas O'Connell, work together to write all of her songs.
A musician himself, he has been her partner since a very young age when they used to create music together in the bedroom of their home in LA. He is her producer, performs at her live concerts, and is always at her side during award shows.
Fans can't get enough of Eilish and every time she releases a new single it heads straight to the top of the charts. Eilish and her brother were both homeschooled and given the freedom to explore their creativity. At this year's Grammy Awards, O'Connell stood by his little sister's side as she accepted the award for Song of the Year.
He held the trophy up, claiming "This is to all the kids that are making music in their bedroom today. You're going to get one of these."
What's next for Billie Eilish?
Eilish is set to go on a 42-date world tour in 2020 to promote her hugely successful album, "When We All Fall Asleep, Where Do We Go?" Her North American leg of the tour sold out within minutes of tickets going on sale.
Shows in Mexico, South America, Europe, and the United Kingdom are selling out as well. She is a the new it girl that everyone wants a chance to see. Pollstar stated, "There is likely no hotter, more in-demand artist on the planet right now."