'The Waltons' Homecoming' Cast Filmed a Snowball Fight During the Summer in Atlanta, Georgia
The Waltons' Homecoming brought back wholesome family entertainment. The CW introduced a new iteration of the classic family for the holidays. The new cast told the story of the Waltons waiting for John Walton Sr. (Ben Lawson) to come home for Christmas. Of course, to be on The CW in time for the holidays, they had to film it last summer. Nevertheless, they pulled off a snowball fight.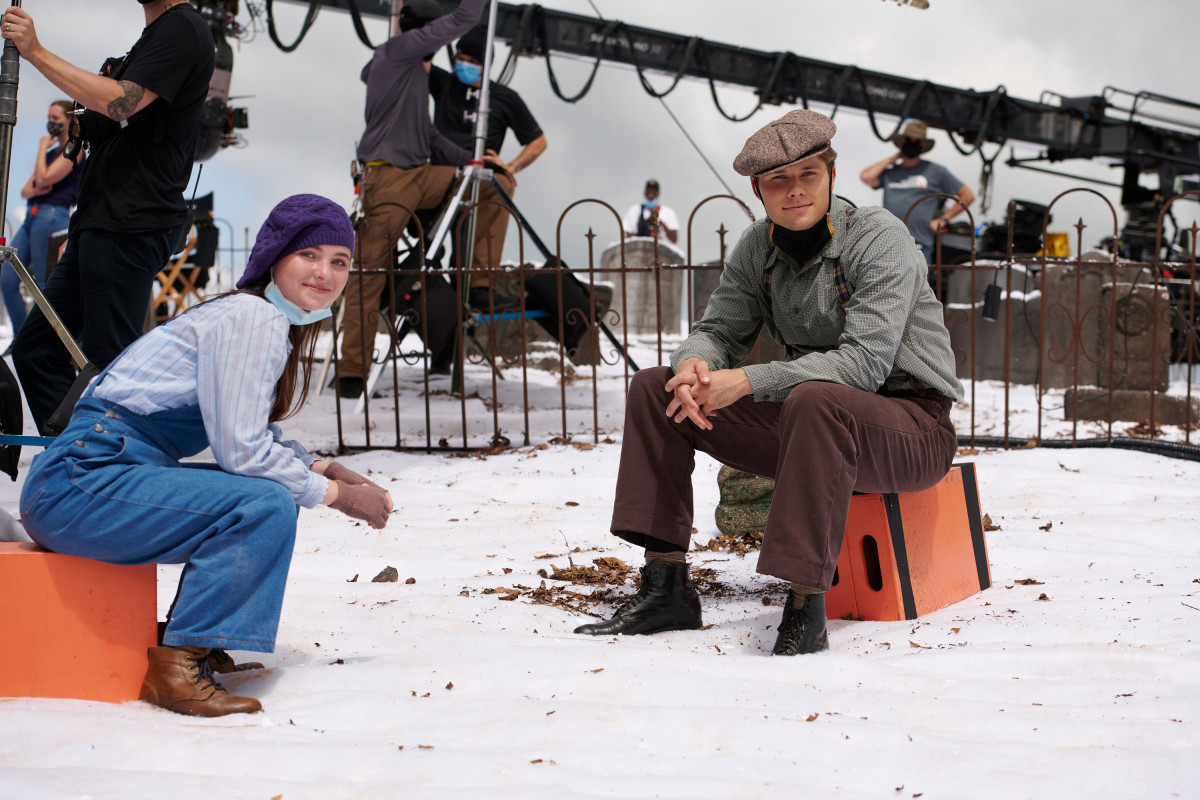 Waltons' Homecoming cast members Bellamy Young, Logan Shroyer, Marcelle LeBlanc and Lawon participated in a Zoom panel on Nov. 10. They gave away the secret for filming a snowball fight in the hot Atlanta, Georgia summer. The Waltons' Homecoming is now streaming on The CW.
'The Waltons' cast had to hide their sweat in the snowball fight
They don't call it Hotlanta for nothing. Pulling off a snowball fight in the summer required more than just fake snow.
"In between they'd, like, wipe you down from sweating, right?" Young asked Shroyer, who plays John Boy Walton.
Shroyer confirmed the sweat wipe downs. He also described the imported snow which only lasted one take at a time. 
RELATED: 'The Waltons' Star Richard Thomas Got Emotional Watching 'The Waltons' Homecoming'
"The snow melts so fast that everything was getting soaking wet," Shroyer said. "Christian [Finlayson]'s back, I feel bad. I mean, he was in a pool of water practically for when I shoved the snow in his face. It was fun, though."
Keeping 'The Waltons' cast cool in Atlanta
All the actors in The Waltons' Homecoming were dressed for a midwest winter. Michael Boyd designed the costumes, and he had some tricks for keeping them cool in Atlanta. He doesn't have to deal with this on This Is Us.
"The funny thing was I think on the first day, Marcelle and I had like a little harness with ice packs under all of our clothes," Shroyer said. "It was kind of brutal but we got through it."
LeBlanc added that sucking life savers in between takes helped keep them cool.
"Plus we're sucking Life Savers," she said. "It was an adventure to battle that heat and make it look like we were freezing. Those ice bags did help them though. I did get a chill or two."
Dressing for 'The Waltons' Homecoming'
Boyd provided authentic Depression era wardrobe. There was only so much he could do to mitigate the heat.
"His attention to detail, to detail was staggering," Young said. "It was no joke in the heat but you love it cause you know, all that matters is when people watch it, that they feel cold when you're cold, even if you're sweating all through your clothes. And Michael, there's nothing like it. Even his storyboards, his research, like dream boards were so informative for character building. I mean, I would go over there and just look at the world and really get a sense of the time and the truth. He's an incredible artist."
RELATED: 'The Waltons Homecoming' Producer Wants Every Original Cast Member to Cameo — Here's What He Wants Them to Play in Future Movies
Lawson lamented the missing part of his Waltons' Homecoming costume. 
" I wanted my hat, my little Stetson, I think it was, and I didn't get it," Lawson said. "So I'm coming back to Atlanta whether we go to series or not because that hat is the money, and it's a period perfect. I think those hats were made the same as they were in the thirties."
Boyd dressed Young for the Vietnam War drama We Were Soldiers. She remains impressed with his inventory.
"He himself has a personal warehouse," Young said. "He just is a period savant. And so many of the pieces that he pulled were from his own collection. He also, of course, had access to Warner Brothers and shopping. I don't know if you sewed, when you grew up with the Simplicity patterns that I saw as a child (Yeah) you know, from the '30s, like the actual patterns and actual sack cloth fabric, my aprons were made out of sack cloth fabric."