'The Wendy Williams Show': 'RHOA' Star Kenya Moore Revealed She Dated Kanye West, Said It Was a 'Disaster'
The Real Housewives of Atlanta star Kenya Moore has been in the Hollywood spotlight for over two decades. Moore became Miss USA in 1993, becoming the second Black woman to do so. She then went on to appear in multiple films and television shows throughout the 1990s and 2000s.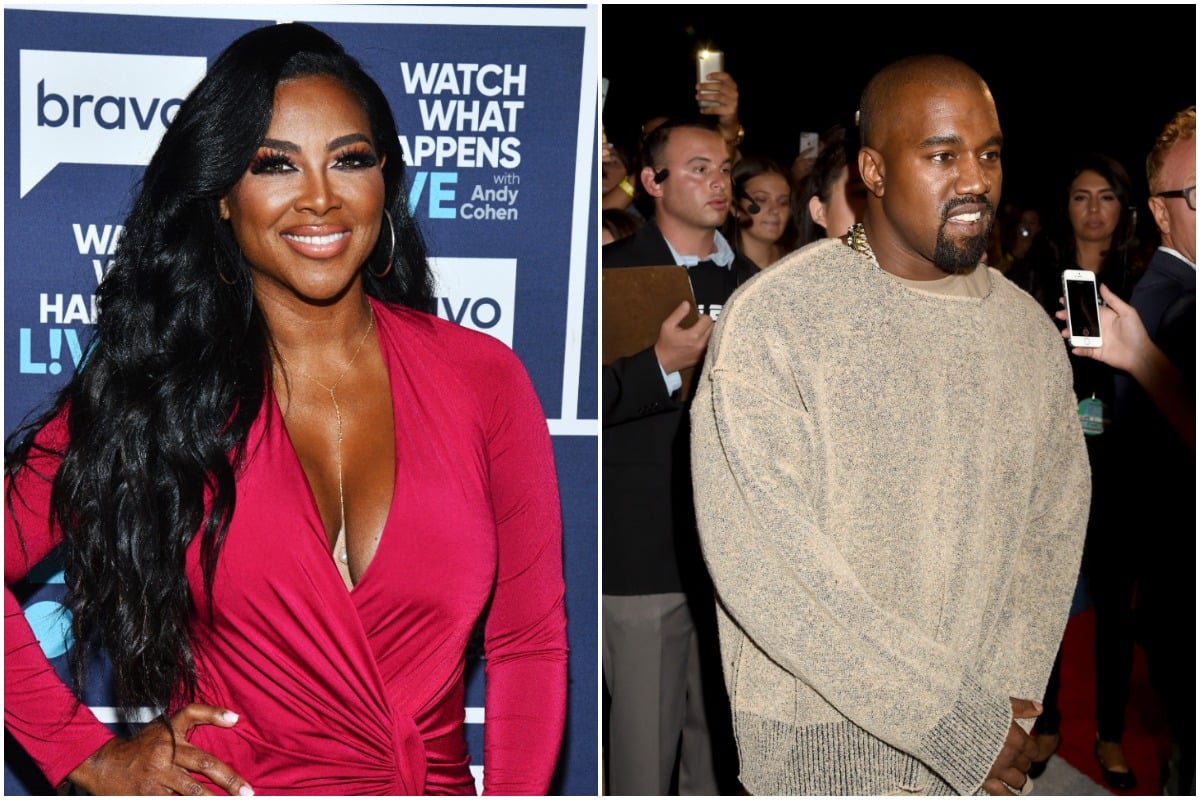 During her career, Moore told Wendy Williams that she dated multiple, high-profile men. However, her fling with one famous rapper is something Moore didn't reveal until December 2020. 
'RHOA' star Kenya Moore described her date with Kanye West as a 'disaster'
RELATED: 'RHOA': Kenya Moore Banned Marc Daly From Their Home After That Explosive Fight That Led To Their Split
Moore appeared on The Wendy Williams Show for a virtual interview with host Wendy Williams. After answering several questions about the new season of RHOA, Williams put Moore in the hot seat. Williams asked Moore about her past love life, and Moore mentioned that she once went out with Kanye West. At the time, West and Moore were both single and agreed to go out. However, Moore told Williams the date turned out to be a "disaster." The date caused Moore to realize West wasn't the one for her. 
"Somehow, we ended up going to his house, and there were some very explicit things on TV," Moore said. "I was lost. He left me alone wandering around his house, and then when I followed the noises, he was watching something on TV that he probably shouldn't have been."
Once she realized the date was going south, Moore said she decided to leave.
"So that was my exit," she recalled. "As much as I love him, that was just the craziest thing."
'RHOA' star Kenya Moore briefly discussed her date with Kanye West in 2013
RELATED: Wendy Williams Once Said Beyoncé Speaks Like She Has a 'Fifth-Grade Education'
Although she provided Williams with more details, Moore's appearance on The Wendy Williams Show isn't the first time she discussed West. Moore chatted about West with Access Hollywood in 2013, per Bravo. According to Moore, she and West had a flirtatious encounter before his marriage to Kim Kardashian West. However, Moore claimed the flirting didn't go any further because she was dating someone else at the time. 
"He was really sweet when I met him. He seemed very humble. I thought he was a great guy," Moore said. "It was just friendly, 'Hey, I want you to hear some music.' It was all above board. I'm very happy that he's found love and that he and Kim are having a good relationship."
'RHOA's' Kenya Moore found love years after her date with Kanye West
RELATED: 'The Wendy Williams Show': One Of Wendy's Most Talked About Health Scares Will Be In Her Upcoming Biopic
While she thought her date with West was a "disaster," Moore never gave up on love. Throughout her time on RHOA, viewers watched as Moore searched for love and her desired family. Moore's dream came true in June 2017. The former pageant queen shared with her fans via Instagram that she quietly married Marc Daly in St. Lucia. After she posted a photo of the two of them on her wedding day, Moore shared a sweet caption about her new husband. 
"Marc, you are the best man I have ever known," Moore wrote. 'Thank you for loving me, unconditionally. My #rideordie #bonnieandclyde thank you @pallascouture for my amazing wedding dress #fairytale."
Shortly after their wedding, Moore became pregnant with their daughter, Brooklyn. Although Moore faced some challenging times with Daly, the couple is still married.