'The Wilds': Mia Healey Reveals Shelby Goodkind's Season 2 Look in TikTok on Set
Mia Healey showed a behind-the-scenes TikTok from season 2 of 'The Wilds.' She revealed what Shelby Goodkind will look like in the next season.
Mia Healey portrayed fan-favorite Shelby Goodkind in season 1 of Amazon Prime Video's The Wilds. The actor, who is actually Australian, rose to prominence after her nuanced performance of the Texan blonde. Now, she's back to work on season 2 of the show. Healey shared a behind-the-scenes TikTok from the set that revealed Shelby's next season look.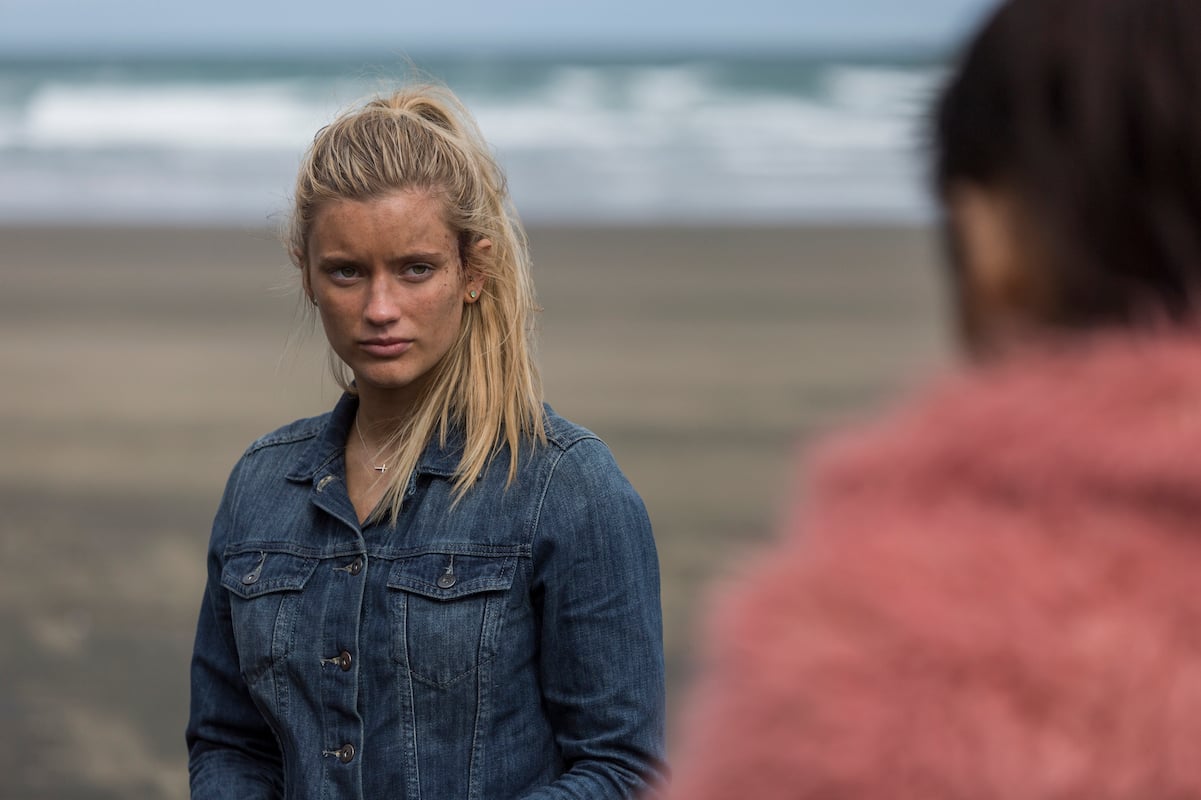 Mia Healey portrayed Shelby Goodkind in 'The Wilds' on Amazon
Shelby appeared to be a devout Christian pageant queen in The Wilds Season 1. She was at odds initially with Toni Shalifoe (Erana James). Toni was vocal about being a lesbian, while Shelby showed outward homophobia toward her. As time went on, though, The Wilds delved more into Shelby's home life in Texas.
Viewers discovered that Shelby was dealing with internalized homophobia and was part of the LGBTQ community herself. In addition to dealing with coming to terms with her sexuality, she also was processing having feelings for her female friend who died by suicide.
Shelby kept her sexuality (and her fake teeth) hidden from everyone on the island. But as the season progressed, Shelby grew to have feelings for Toni and the pair explored being together while stuck on the island.
Mia Healey reveals Shelby's look in 'The Wilds' Season 2 in video
In Healey's on-set TikTok, she showed a clip of herself getting ready for season 2. The actor lip-synced that she "took some time to rest" while wearing under-eye patches for a skincare regimen.
Then, she lip-synced to audio, "now it's game time b*tch*s." Healey in the second part of the clip appeared to be made up for filming, which Amazon Prime Video confirmed is currently underway on April 25.
In character, Healey had "dirt" on her face and Shelby's signature long, wavy blonde hair. She wore a grey tank top and a sideways cross necklace.
Due to her hair, fans can infer from Healey's TikTok that she was filming a scene from the past, likely on the island from her roughed-up makeup. At some point, in a yet-to-be-seen scene, Shelby shaves off all her hair.
Fans noticed that as season 1 progressed, Shelby's hair got more and more "wild," possibly paralleling her self-discovery and freedom from restrictions back home. Her eventual cutting off all her hair was likely a final departure from who she used to be in Texas.
What Mia Healey wants for Shelby in season 2 of 'The Wilds'
Healey revealed in an interview with Collider's Ladies Night more insight into her complex character. She said that the writers already have an idea of where they want Shelby to be at the conclusion of the show. Hopefully, though, The Wilds goes for more seasons than just two.
Healey answered where she wants her character to go next in season 2. The actor said she wants the following to be showcased in Shelby's character development: "the relationship she has with herself, and her God, and her sexuality."
Along with Shelby's sexuality, Healey wants viewers to see more of Shelby and Toni's relationship as the girls figure out a path to freedom.
Healey continued; "I really want to see some growth there. I think she's grown so much already. So I don't want to put any pressure."
"But I think there's so much room there and I really want to see her find comfort in herself and not be afraid to be who she is," she concluded. "I really want to see that for her, personally. I love that about her."
You can stream The Wilds Season 1 on Amazon Prime Video.