The Worst Thing About Bryan Cranston and Aaron Paul's Dos Hombres Mezcal
Bryan Cranston and Aaron Paul are actually really close in real life. When Breaking Bad ended, they wanted to do another project together.
It's hard to name a more iconic duo than Walter White and Jesse Pinkman. The two Breaking Bad leads had a complicated relationship that fans couldn't get enough of. In fact, fans are so crazy about these two together that it's kept them from doing another on screen project together. 
Bryan Cranston and Aaron Paul are actually really close in real life. When Breaking Bad ended, they wanted to do another project together. Unfortunately, they quickly realized they couldn't do another movie or TV show. 
Any time Cranston and Paul are together, fans automatically assume it's Breaking Bad related, even if they're not in character. The association meant that another on-screen endeavor might not have been a good idea. So they went in a different direction for their next collaboration. 
Dos Hombres Mezcal was plan B for Bryan Cranston and Aaron Paul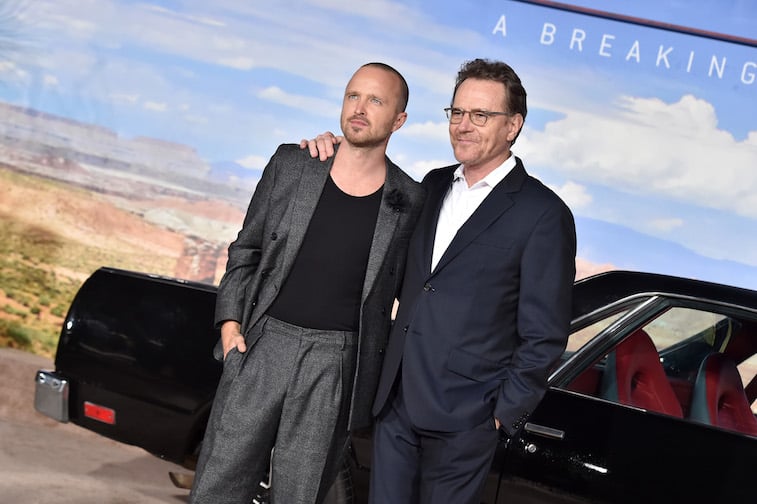 The two were talking about their next move over drinks, when the drink itself gave them the inspiration they were looking for. Paul was more into the Mezcal idea. According to Paul, he's "been such a fan of mezcal for many years."
He was able to get Cranston on board without much effort, however. Even though Cranston knew of the drink, it wasn't the high-end Mezcal like Dos Hombres. "When I was in high school and college, drinking mezcal was like a challenge. It was so bad—the little worm at the bottom of it—and it tasted and smelled like antiseptic or rubbing alcohol."
Paul introduced Cranston to a more elevated Mezcal, and Cranston agreed to try and make a business out of it. 
It took a long time for Bryan Cranston and Aaron Paul to make Dos Hombres Mezcal happen 
Just because Cranston was on board doesn't mean that they had Dos Hombres bottled and ready for the shelves. The two wanted to make sure any product they put out was completely perfect. It took them three years to get it right. According to Paul, "It was a journey, but we always swore to each other that we didn't want to put something out in the market that we didn't feel was truly perfect."
Finding something perfect for both of them was complicated. Cranston prefers a Mezcal with a smoky flavor and less punch, but Paul didn't want to lose the punch entirely. When they found the Mezcal that would become Dos Hombres, they both knew immediately it was the one.
They did blind taste tests with friends and families to be sure, and the future Dos Hombres always came out on top. 
The worst thing about Dos Hombres Mezcal is not everyone can get it 
There's not much not to like about Dos Hombres. Cranston and Paul obviously did their homework. It's guaranteed to be a top notch product, from two top-notch hombres.
But not everyone will be able to find out right away. Dos Hombres is only available in 12 states in the US. Fans can also try it in its native Mexico, the Dominican Republic, or the Caymans.
For fans who can get a bottle of Dos Hombres, they should know that Cranston and Paul poured their hearts and souls into this project, just like they did with Breaking Bad.
According to Cranston, this project isn't much different from an on-screen project for these two. "This is like a movie opening for us. We've opened up and there's excitement to it. We know that we have a great product. We have a good bottle. Great label. Everything's working for us in that sense."