'The Young and the Restless': Are Amelia Heinle and Thad Luckinbill Married in Real Life?
Every now and then, life imitates art in profound ways. The Young and the Restless is the perfect example of on-screen-romances-turned-real life. The CBS daytime soap has been in the top spot for three decades. Two of its stars hit it off so well on the set, they married off-camera, too. Are Thad Luckinbill and Amelia Heinle still married?
Victoria Newman and J.T. Hellstrom married on 'The Young and the Restless'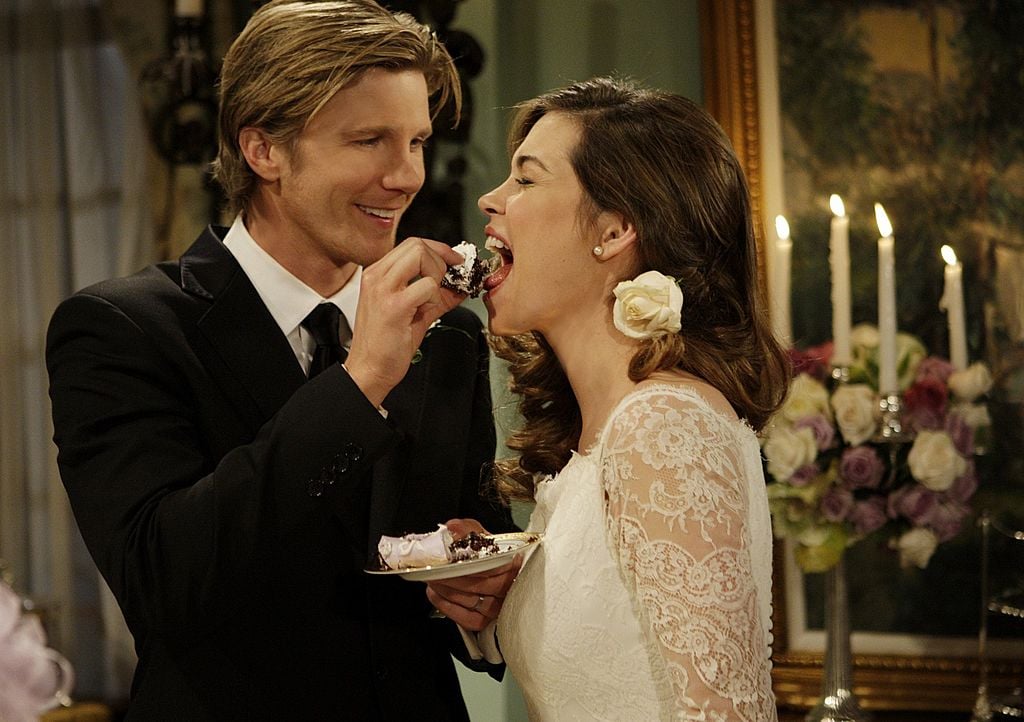 In 1999, Thad Luckinbill came onto the set of The Young and the Restless as J.T. Hellstrom. In 2005, Amelia Heinle joined the cast as Victoria Newman, fresh from her stint as Mia Saunders on All My Children. She replaced Heather Tom.
On the show, J.T. and Victoria fell in love, got married, and had their son, Reed. The two tried to make things work, but in the end, their marriage failed. The once-happy couple split up, with J.T. gaining full custody.
In recent years, Reed returned as a teenager (Tristan Lake Leabu) with J.T. living in Washington D.C. with his wife, Mac (Kelly Kruger), and their son, Dylan. J.T. later returned to Genoa City when things between him and Mac were less than stellar.
In 2018, Mac popped in on a celebration where she said she was filing for divorce and wanted full custody because J.T. had allegedly become emotionally abusive. Her intent was to keep the same from happening to Victoria.
However, once J.T mysteriously vanished and was believed to be dead, but in true soap opera fashion, he was actually alive, plotting revenge.
Thad Luckinbill and Amelia Heinle married in real life
Just like on Y&R, Luckinbill and Heinle married in March 2007. Together, they have two children, Thad Jr., and Georgia. Luckinbill's J.T. was written off Y&R in 2010. In the time since, he formed Black Label Media, along with his twin brother, Trent Luckinbill, and producer Molly Smith.
Projects, such as La La Land and 12 Strong, are a part of Luckinbill's resume via his producer hat.
Heinle was previously married to NCIS star, Michael Weatherly (with whom she co-starred in the 1990s series, Loving) in 1995. The two have one adult son together, August Manning. They divorced in 1997.
Luckinbill wasn't previously married but he did have an on-screen love interest, Lyndsy Fonseca, who played Colleen Carlton on The Young and the Restless from 2001-2005, and also co-starred with Luckinbill (also as his love interest) on Nikita from 2010-2013.
Luckinbill filed for divorce
Despite their long-time romance on and off-screen, Luckinbill filed for divorce via the Los Angeles Superior Court on March 1, 2017, citing "irreconcilable differences."
The actor also sought joint custody of the couple's two children asking for the courts to "reserve for future determination the issue of spousal support."
The two seem to be amicable
Despite the two stars' relationship history, Heinle and Luckinbill seem to be on good terms. In April, Heinle posted a post to his Instagram page wishing "a really wonderful man" a happy birthday. There are few signs of Heinle on Luckinbill's Instagram account.
As far as divorce proceedings, some outlets report that everything finalized in 2017, with others saying they're still married. Regardless, fans love knowing Y&R alum got together behind the scenes even more than on TV.
The Young and the Restless airs weekdays on CBS.