'The Young and the Restless': Courtney Hope Talks About Sally and Adam's Love Scene
The Young and the Restless redhead Sally Spectra (Courtney Hope) knows how to heat up Genoa City. The fashion designer's romance with Adam Newman (Mark Grossman) turns heads. After months of flirting, the two finally gave in to their passion. While fans enjoyed Ally's love scene, it was a challenge for Hope.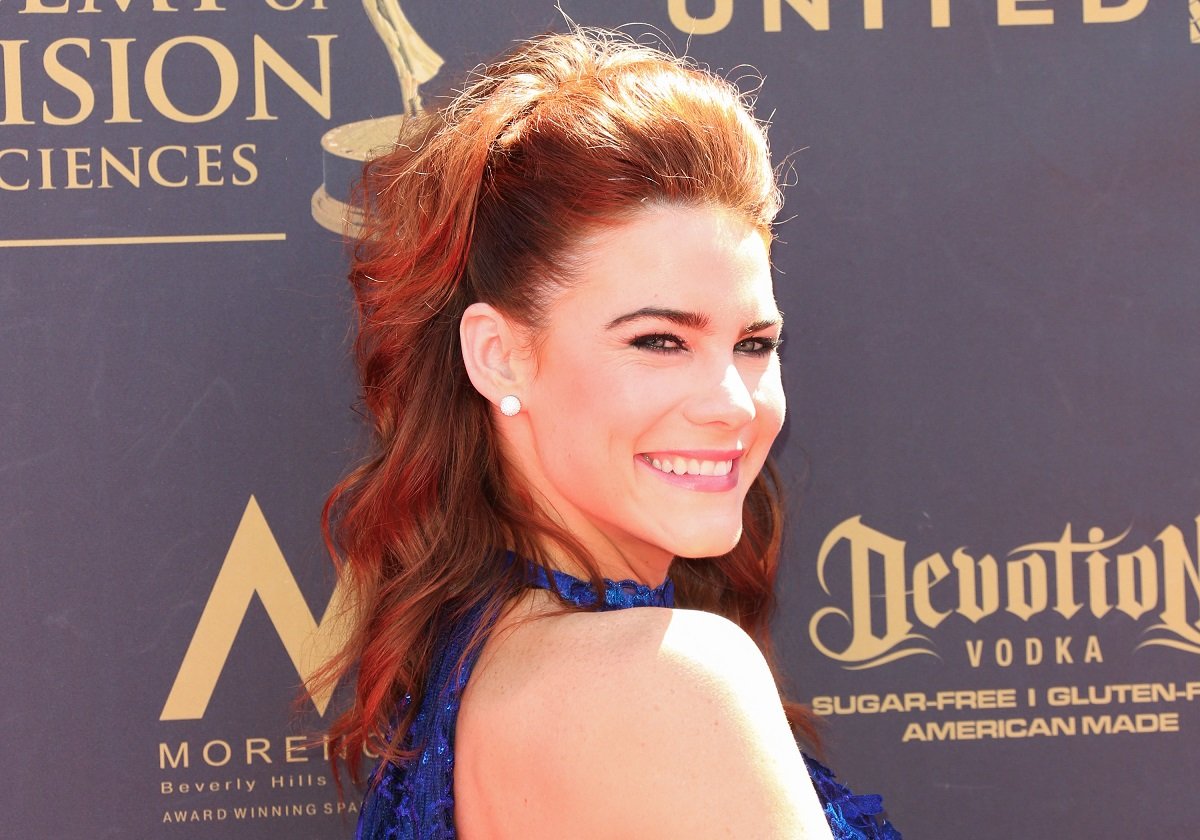 'The Young and the Restless' star Courtney Hope discusses difficulty in filming love scenes
The Valentine's Day episode of The Young and the Restless was a special treat for Sally and Adam fans. The pair have become Genoa City's hottest new couple. Although they tried to keep their relationship strictly business, they couldn't deny their attraction. 
It took six months of a slow build, but fans finally got their long-awaited Ally scene. The pair's romantic romp took place in Adam's office, and for Hope, it was a chaotic moment. 
Aside from worrying about giving the crew an unintentional peep show with her skirt, Hope also broke a few props. In an interview for the latest edition of Soap Opera Digest, the star admitted she broke some items during the scene. 
"I broke so many things, including a vase, a coffee mug, and the stem off a glass," she explained. Hope was so afraid of breaking something else that when the director handed her a champagne bottle, she asked, "Do you really want me to have this?"
A lot of choreography went into the scene
Sally and Adam's love scene will be memorable on The Young and the Restless. While fans enjoy these types of scenes, they're difficult to film. Many cast members have talked about the hard work that goes into them, especially with choreography.
With Sally and Adam making love in his office, the actor and director had to choreograph a perfect scene. "We had to figure out how we could maneuver over to the desk so my arm can hit the stapler a certain way to make it fly into an exact direction," she revealed. Aside from moving to the desk, the actors also had to hit their marks with their body movements. "You have to lay this way, now turn your body this way but make your head go that way," Hope explained.
What's next for Sally Spectra and Adam Newman?
Sally and Adam's love scene played out to perfection on The Young and the Restless despite the challenges. Since they've cemented their status as a couple, they are ready to take on any challenges. Their biggest challenge will be the Newman family.
Adam is currently in the midst of a family feud between Victor Newman (Eric Braeden) and Victoria Newman (Amelia Heinle). Victor's companies are at stake because of his scheming son-in-law Ashland Locke (Robert Newman). As Adam butt heads with Victor over the best course of action, Sally will be there by his side.
But will his family issues be too much and create trouble for the couple? Or will they stick together and prove their doubters wrong?