'The Young and the Restless': Did the Late Kristoff St. John Make Less Than His White Co-Stars? One Former Star Says 'Yes'
Longtime 'The Young and the Restless' star Kristoff St. John died in 2019. Did he make less money than his white costars? One former alum says 'yes'.
The late, great, Kristoff St. John may have passed in February 2019, but his legacy remains within The Young and the Restless world. For 28 years, St. John's role as Newman Enterprises executive, Neil Winters, became synonymous with the show itself. During his prime, one could not exist without mention of the other. Before St. John's death, one former co-star touched on the Y&R payscale alleging the network paid the show's white actors more than its black stars.
Here's how much soap stars make in general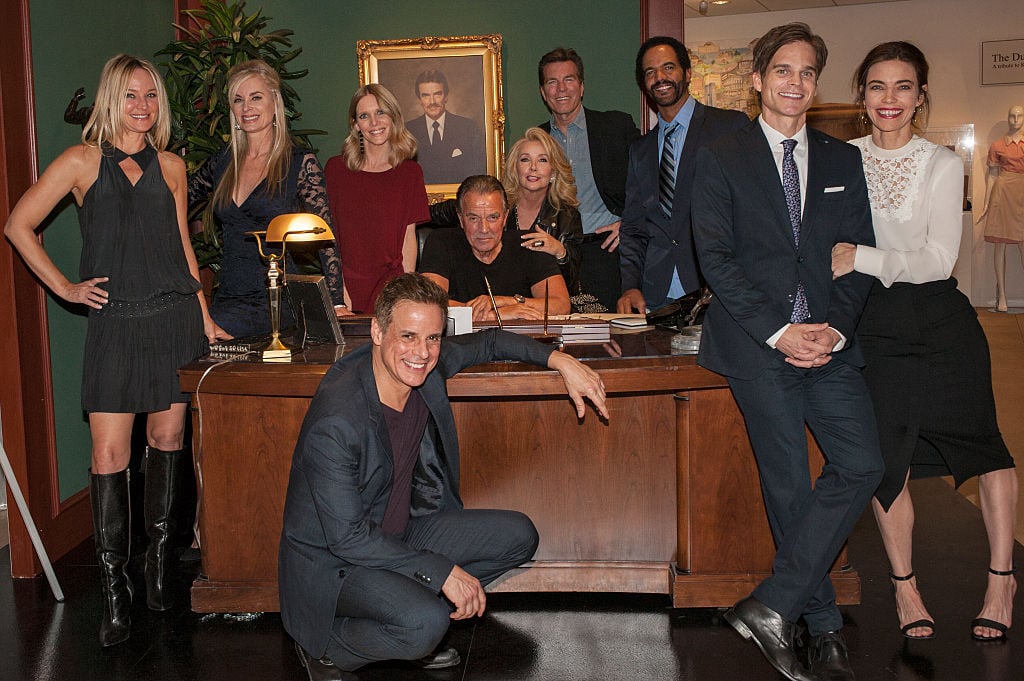 The salaries of Hollywood stars varies by industry, tenure, the value they bring to the project and experience. Sometimes, however, there are reasons only known to those in charge as to what amounts get distributed.
For instance, leads who star in The Young and the Restless have paychecks that span a wide range. Eric Braeden (who plays Victor Newman) is the highest-paid actor on the set. He has an estimated net worth is around $25 million for his 40-year contribution to the daytime CBS series.
Braeden's pay for working on Y&R could be anywhere from $2,000 to $5,000 per episode, or more. If Victor has a prominent storyline, Braden is on the set more and earning more.
Most new to seasoned soap stars, however, make, on average $57,100 annually, according to Career Trend. Newer actors earn a few hundred for each episode. The longer a star sticks around, and/or how big of a name they've made for themselves, the more they make.
The only Y&R alum worth more than Braeden is Lauralee Bell. She stars in the show and is the daughter of the show's creators. The sliding pay scale only becomes a bigger issue when referencing disparities between the white and black stars.
For example, Christel Khalil — who plays Lily Winters — has been a part of the show since 2002, appearing in 1,316 episodes. Her estimated net worth is somewhere around $16.7 million with much of that from her work in Y&R.
Khalil, who was the first and only minority actress to win a Daytime Emmy Award in the Outstanding Younger Actress category in 2012, is worth more than many of her veteran co-stars including Joshua Morrow (who plays Nicholas Newman), Peter Bergman (who plays Jack Abbott), and even the longest-serving Y&R actor, Doug Davidson (who plays Paul Williams).
Still, one former star claimed the minority cast made far less than their white counterparts.
Former 'Young and the Restless' alum claims St. John made less than costars
In 2010, St. John and Darius McCrary appeared on the FoxxHole Sirius radio show, hosted by Jamie Foxx. A former co-star who'd been let go in 2007, Victoria Rowell, called in, revealing that St. John made less money than the white stars who've been on the show a lesser amount of time.
"His business is my business. His business is the business of every actor or person that cares about equality in this country and around the world. Kristoff St. John is not the only one that is paid less than less tenured white actors. So, it's not his business," Rowell said in the now-deleted YouTube clip.
St. John didn't say whether that was the case or not. He did confirm that after a previous incident where he spoke out in the past — particularly in defense of Rowell — he was denied story and screen time.
The late actor also admitted that executive producer at the time, Maria Arena Bell, planned to speak to other castmates about Rowell's return at the time, but they'd previously voted against it.
It's not known if there's any truth to whether St. John — whose net worth was an estimated $4 million at the time of his death — was paid less than others.
Here's what other marginalized 'Y&R' stars are worth
Star, Bryton James, is worth an estimated $2 million which is far less than Khalil. He started two years after her. Tonya Williams, who played Dr. Olivia Barber Winters for 22 years, didn't have many projects post-Y&R. Her net worth is somewhere around $1 million to $ 5million.
Shemar Moore, who played the original version of Neil's (St. John) brother, Malcolm, returned off-and-on for 26 years. He has an estimated net worth of $16 million., according to Celebrity Net Worth. Moore has a successful TV and modeling career outside of the soap circuit so it's hard to say what he earned via Y&R alone.
All of this to say, Rowell's claims regarding the amount the black Y&R cast received compared to the white cast cannot be confirmed. The lack of diversity has been a long-running issue within the daytime drama industry so if there is an unfair wage gap between races, it wouldn't surprise most.
Rowell's attempts to bring awareness may be lost, according to radio host
During the interview, Rowell also called out McCrary for siding with an executive producer, she said, "unfairly fired African Americans."
"Darius is a reflection of people who have a job and don't want to rock the boat," she said. "Darius McCrary is on the other side of courage. We're trying to talk about the disparity and the deficit, but then you have people on the other side on that level of courage who don't want to talk about it at all and want to minimize and marginalize it."
Host of Buzzworthy Radio, Na'Vell J. Lee, alluded that Rowell's intent to talk about race and soaps may have been overlooked due to her brash approach.
"I love her to death, but there just comes a time when you know when you go over that mark, they're probably not going to want you back there," he said.
He continued: "I really do think she's tarnishing her reputation in the industry. She is one of those versatile actresses that can do absolutely anything given to her, and I think by just what is going on Twitter and as well as outside of Twitter, inserting herself into the situation, I think it's tarnishing her a bit because a lot of people are looking at her in a very different way."
Regardless of Rowell's approach, there's still work to be done to bridge the racial divide, financially, behind the camera, and on the set. St. John was a beloved fixture on daytime's No. 1 drama.
If he did, in fact, make less than others with less tenure due to his race, we can only hope the network will right that wrong in St. John's honor and do better moving forward.
The Young and the Restless airs weekdays on CBS.