'The Young and the Restless' Fan Base Includes Some Major Sports Figures
The Young and the Restless is one of daytime TV's most celebrated shows, and its longevity is proof of that. That is due to the fans. Based on the origin of soap operas, there is sometimes a preconceived idea of the fan demographic, and it leans toward women.
Not true! The reach of Y&R is boundless, and you may be surprised to learn that some famous figures in the sports world are part of the fandom too.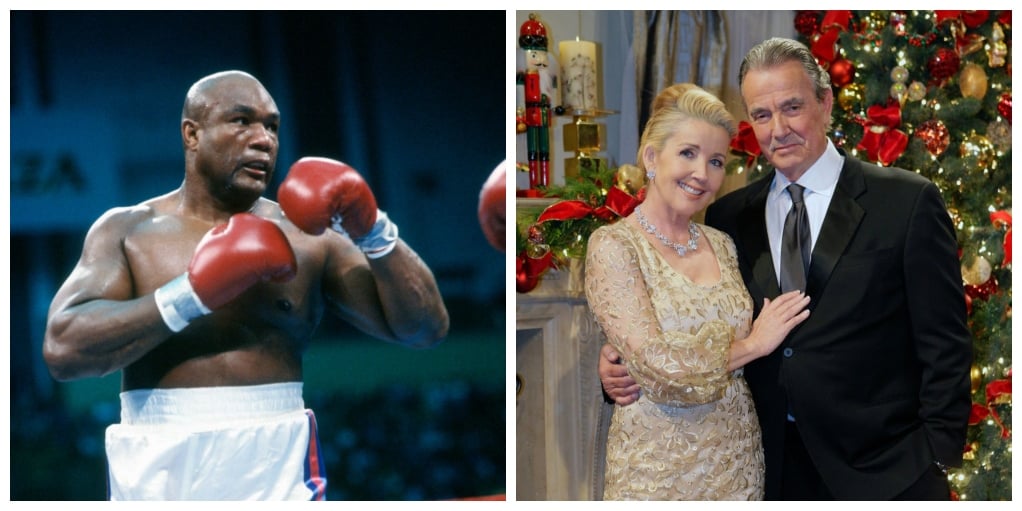 George Foreman
According to Eric Braeden, he was shocked to learn that George Foreman was a fan. During an interview with Rich Eisen, the actor said he was in his dressing room on the CBS set when there was a knock at the door. A member of the stage crew asked if it was okay for Foreman to drop by.
Both were equally excited about the meeting with Foreman saying he was blessed and honored. Braeden—who is a huge boxing fan—was awestruck. He replied, "You're blessed? I'm blessed!"
Muhammad Ali
It's somewhat of an open secret that Victor Newman stands as one of Y&R's most beloved and popular characters. He was a favorite of boxing great Muhammad Ali, who loved watching the show.
In fact, the champ befriended actors such as Eric Braeden and Don Diamont (Diamont used to play Brad Carlton) and both regarded him as one of the kindest people they'd ever met.
Braeden met Ali when he received a surprise invitation to the boxer's birthday party and wondered why. He learned Ali was a huge fan of the show. When Ali passed, Diamont posted this photo on Twitter as a tribute.
Bob Gibson
When Sports Illustrated did a piece in 1995 about athletes who love soaps, baseball Hall of Fame player Bob Gibson told the magazine his first wife got him hooked on soaps. He said if the phone rang while the show was on, it wouldn't get answered. "That's my time for The Young and the Restless."
Wayne Gretzky
Hockey legend Wayne Gretzky was well-versed in the daily happenings of Genoa City. An avid Y&R fan, Gretzky once told CBC interviewer Tommy Banks that he and his teammates loved to watch soaps before games. In 1981, he scored a cameo in the show and played a mob gangster.
Stephen A. Smith
Stephen A. Smith is known for his booming personality and opinions as a sports commentator, but did you know the Brooklyn native digs The Young and the Restless?
We didn't know either, but one giveaway is the fact that he wrote the foreword for Braeden's memoir, I'll Be Damned: How My Young and Restless Life Led Me to America's #1 Daytime Drama. Smith is a bigger fan of General Hospital, but he's really good friends with Braeden.
Michael Robinson
Former Seattle Seahawks player Michael Robinson grew up watching The Young and the Restless. According to USA Today, he told NFL Access it was his guilty pleasure.
When my mom and dad were getting divorced and I was a young guy, about five or six years old, I remember going to my babysitter's house," he said. "In Richmond, Virginia, Y&R came on after Divorce Court. I remember watching Divorce Court expecting to see my mom and dad. I didn't get a chance to see them so I just sat around and watched Young and the Restless.
In 2014, Robinson guest starred on Y&R, telling CBS that it's the best show on daytime television.