'The Young and the Restless': How Filming May Have Foreshadowed Amelia Heinle and Thad Luckinbill's Real-Life Divorce
'The Young and the Restless' stars Amelia Heinle and Thad Luckinbill were married on the show and in real life, but they divorced.
Some of daytime's biggest fans may not even know that The Young and the Restless stars, Amelia Heinle (who plays Victoria Newman) and Thad Luckinbill (who plays J.T. Hellstrom) played a married couple on and off the set. The two aren't married any longer and there may be a reason. Turns out filming could've foreshadowed their demise long before their marriage ended.
Amelia Heinle and Thad Luckinbill's relationship timeline in a nutshell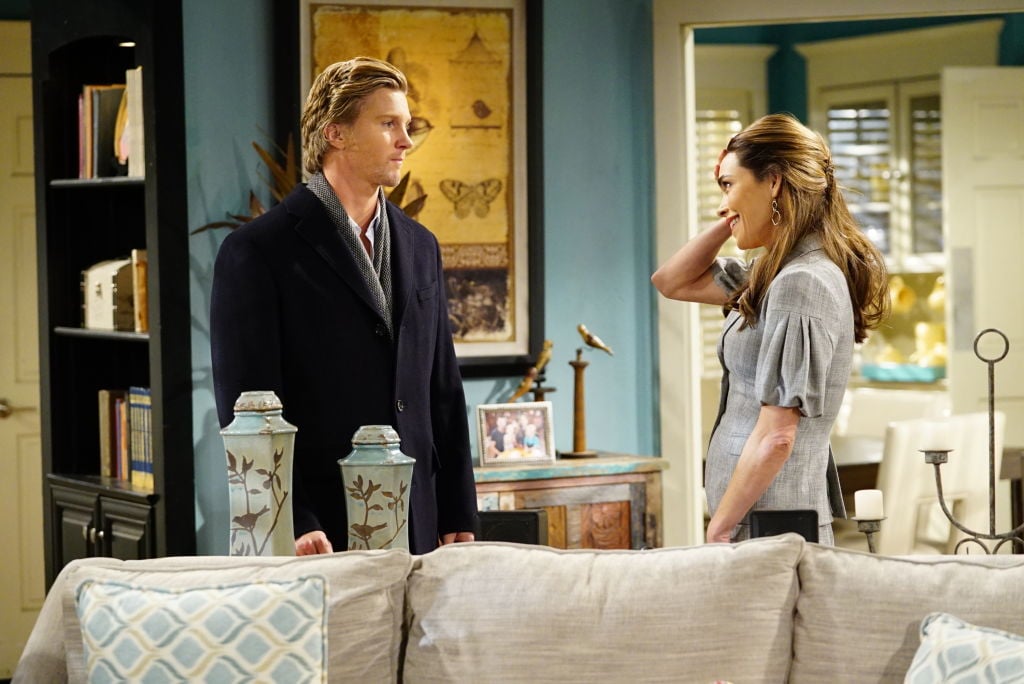 It won't surprise dedicated fans of The Young and the Restless, but between Thad Luckinbill joining the show in 1999 and Amelia Heinle (replacing Heather Tom) added six years later, a romance may have been inevitable.
The two played lovers-turned-spouses and eventually, their marriage fell apart due to a change in Luckinbill's character. In real life, the stars married in March 2007 and had two children while simultaneously starring in Y&R together.
Despite the happy couple appearing on TV game shows like The Newlywed Game, Luckinbill filed for divorce in 2017, citing "irreconcilable differences."
Luckinbill left Y&R in 2010 to pursue other projects, but he reprised his role in 2017 with his run ending with his last airdate in March 2019. In the meantime, Heinle's Victoria has moved into a relationship with Billy Abbott (Jason Thompson).
Here's how 'The Young and the Restless' foreshadowed their divorce
When Heinle and Luckinbill were still married and thriving, Heinle spoke with Soaps She Knows about working with her [then] real-life husband just as Victoria and J.T. were involved in the divorce process.
"It's fun! We don't really fight at home that often. Everybody fights, but we fight very seldom. Maybe one of the reasons for that is because, when we come to work lately, all we get to do is fight!" Heinle said.
"I don't know, I guess anyone who's married would understand it. It's kind of fun to yell at your husband. It's like punching a punching bag! Yeah! It's like, 'we don't need to go to a counselor. We have The Young and the Restless!'"
Could those scenes have foreshadowed the end of the duo's real-life marriage?
"I think sometimes in life you're going through things, and you act out," she added.
When asked about the discomfort in filming intimate scenes with someone other than Luckinbill, Heinle didn't see it as a problem.
"There's nothing really that sexy about it. For Thad and I, we know it's a job and we see it like that. I'm sure it's caused problems between couples before, but for us, it all just works out," she said.
Do Heinle and Luckinbill get along now?
Despite the divorce, the two still co-parent their children. Heinle previously said they remain close friends. She told Hollywood Hiccup they both enjoyed the complicated storyline surrounding J.T.'s mental abuse toward Victoria adding it wasn't weird to work with her ex-husband in any capacity.
They may have split for "irreconcilable differences" but all appears well. It seems Heinle and Luckinbill have moved on and remain dedicated to their respective work in the most professional, and mature, way possible.
The Young and the Restless airs weekdays on CBS.