'The Young and the Restless': Robert Newman Believes Ashland Loves Victoria
'The Young and the Restless' actor Robert Newman believes his character Ashland Locke's love for Victoria Newman is genuine.
The Young and the Restless character Ashland Locke (Robert Newman) knows how to create trouble. The suave conman's lies set up another feud within the Newman family. In the midst of the feud is Ashland's wife, Victoria Newman (Amelia Heinle). While fans believe Ashland's marriage to Victoria is based on money, the actor doesn't see it that way.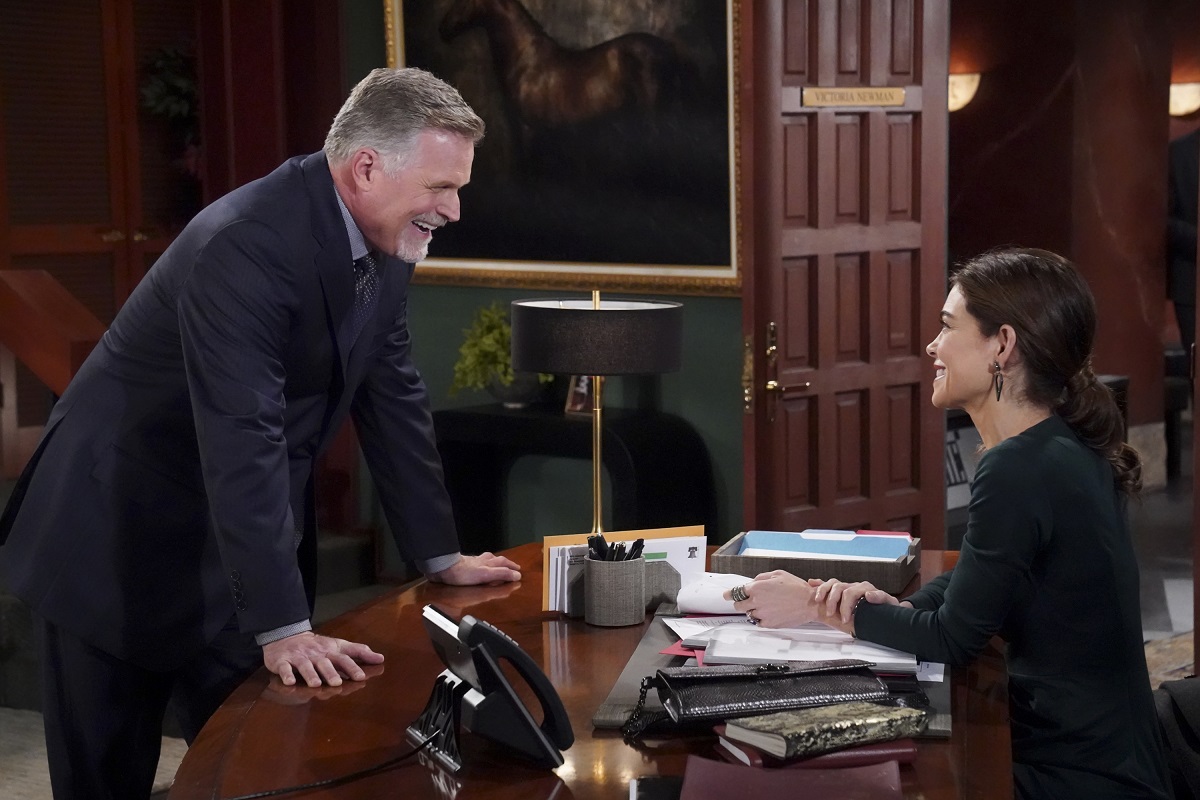 'The Young and the Restless' star Robert Newman believes Ashland Locke is in love with Victoria Newman
Ashland and Victoria's romance captivated The Young and the Restless fans. After Victoria's ordeal with Billy Abbott (Jason Thompson), they were happy to see her move on. Ashland had everyone's approval, and the couple wed in an elegant ceremony in Tuscany.
However, the support for the couple has diminished in recent months because of Ashland's lies. The businessman has a shady past, including lying about his identity and forging someone's will. Given his history, fans are skeptical of Ashland's feelings for Victoria.
Speculation is he married her only for her money. However, in an interview with TV Insider, Newman believes his character does love his wife. "In my view, Ashland's love for Victoria is real. He's figuring out how to protect his part of the business, but I personally think he's petrified of losing her," he explained.
Ashland Locke's latest betrayal could cost him his wife
Ashland often lied to his wife on The Young and the Restless. After learning about Ashland's unsavory past, Victoria gave him another chance on the condition there would be no more lies. Yet, there's one big lie he's hiding from his wife.
During the beginning stages of their relationship, Ashland revealed he was dying. Victoria, the loving wife, stayed by Ashland's side as he sought treatments that helped his condition. However, Ashland lied about his illness unbeknownst to her, a fact Victor Newman (Eric Braeden) has uncovered.
With Victor hot on his trail, Ashland knows his time is up. Yet, he's not going down without a fight and doing whatever it takes to protect his secret and keep Victoria.
Will she stay with him affter his secret is exposed?
Ashland is already working this situation in his favor. After learning Victor was digging into his past, Ashland didn't waste any time making himself look like a victim. During a talk with Victoria, he said Victor accused him of faking his illness and wanted to break up their marriage. Victoria sided with her husband and told her father he crossed the line.
However, Victor having concrete proof of Ashland's lies changes everything. When Victoria learns the truth about her husband's betrayal, she'll be devastated. She'll question whether Ashland loved her or was after her company.
Ashland isn't going to give up on his marriage so easily. He'll pull on the charm to convince Victoria to stay with him. Will she fall for his lies again? Or will she finally kick him to the curb?