'The Young and the Restless' Star Eric Braeden Addresses 1991 Altercation With Peter Bergman
Sometimes drama from the set of The Young and the Restless spills into real life. Such is the case with longtime feuding alphas on the daytime soap, Victor Newman (Eric Braeden) and Jack Abbott (Peter Berman). In the early 1990s, the two were involved in an altercation that Braeden finally decided to address. Here's what we know.
Eric Braeden and Peter Bergman 'didn't like each other'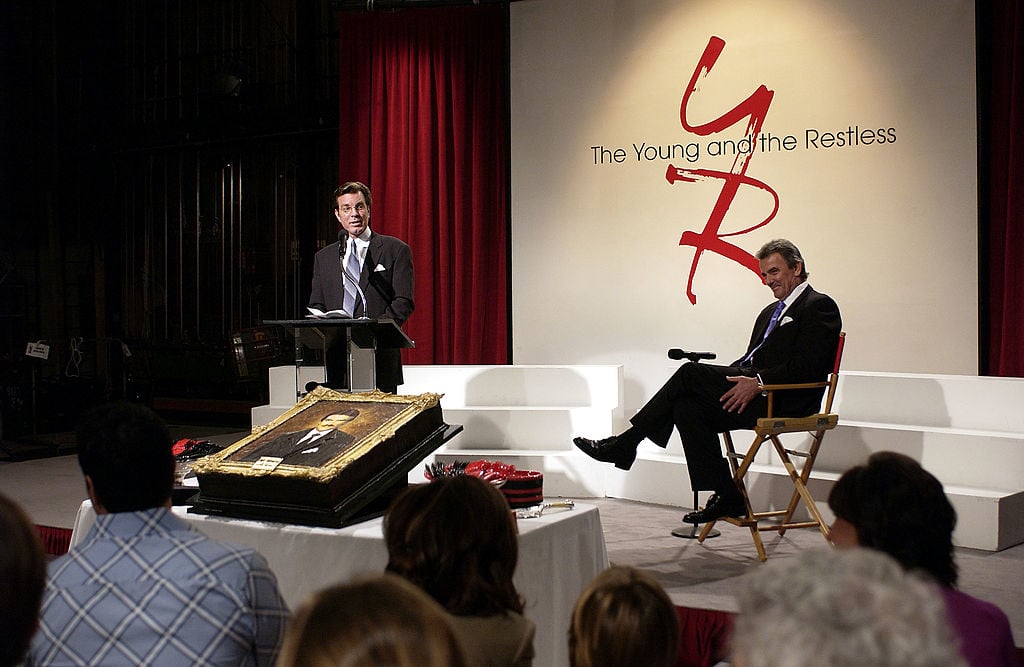 Actors don't always have to see eye-to-eye when working on a project, as long as they're respectful enough to et the job done. This wasn't the case between Eric Braeden and Peter Bergman during their early years of filming The Young and the Restless.
Braeden addressed a 1991 incident that left things a little too tense for the actors, and others who worked on Y&R at the time.
"Because it was such a big thing at the time, and something that obviously I wish one could have avoided, and also to show how it is possible to get beyond something like that and develop enormous respect," Braeden previously told Soap Opera Digest.
He explained that some of their beef had to do with different approaches to work, but mutual respect had always been there — since Bergman joined in 1989 to Braeden's 1980 introduction.
"There was a time when I said to Peter, 'Look, we may not like each other, but we are both good for the show. This storyline that you and I have, this enmity between us, is good for the show. It makes for drama and conflict.,'" he said.
"And he, of course, is a bright guy and agreed with me, and we have nothing but respect for each other, but it took a while to get to that point. I came from a world of sports. I'm used to having altercations on the sporting field, and then afterwards you shake hands and have a beer. You know what I'm saying? I felt the need to not gloss over that because I have such respect for Peter."
Does Bergman feel the same way? Seeing as the fight is still brought up in interviews, he thought to address it, too.
"It is part of our history here. Eric and I had a number of problems when I first came here and they climaxed in an ugly situation that Eric wished would never have happened and I certainly could have done without it in my life," Bergman previously said via Michael Fairman TV.
"But Eric and I worked together for 20 years, and we have this enmity that the audience clearly loves.  It's a crazy rivalry and it still has legs, and I am very grateful for It. We work together just fine."
Bergman once thought Braeden would leave over pay negotiations
Years later — in 2009 — pay negotiations nearly pushed Braeden out for good. Sony's new deal at the time meant a substantial pay cut for the veteran actor. Negotiations were ongoing, meaning writers wrote Victor Newman temporarily out of the show while they figured things out.
Braeden told Entertainment Weekly at the time they settled amicably and Braeden signed a new deal to keep Victor Newman on Y&R.
"All's well that end's well," Braeden said. "Both sides were reasonable. We were both satisfied with the outcome. This business is tough."
Executive producer/head writer, Maria Arena Bell, wrote Victor "going off to rehabilitation."
Braeden joked at the time that it was, "rehabilitation…from the negotiations. He's been cured miraculously! Miracles do happen. A week ago, I didn't think they would," he said.
Bergman told EW that everyone was asked to take a cut and it wasn't personal. Still, they didn't know which way Braeden would lean.
"There were days that we all thought he was going to be gone. In the end, it was fighting with a corporation, and the corporation was going to win," Berman said. "It wasn't whether or not they were going to fold. It was always whether or not Eric was going to agree to come back for a lesser salary."
Braeden had conflict with others in the past
As the leading man for the No. 1 most-watched daytime drama for many years over, Braeden's earned his spot as Y&R's highest-paid, most respected actor.
Still, there are some Braeden's had issues with over the years. One of which, former castmate, Michael Muhney, is mentioned in Braeden's 2017 memoir, I'll Be Damned. Well, sort of.
Per Soap Opera Digest, Braeden alluded to a conflict in the book by saying, "Those of you who are fans of THE YOUNG AND THE RESTLESS will know who I'm talking about."
The reference was about Muhney, who played Adam Newman from 2009-2014. Muhney was fired due to alleged bad behavior on-set and disagreements with Braeden, who refused to name him in the book.
It was so egregious, and I remember at the time, a lot of people in the audience listening to a side of the story that simply was not so," he said as to why he wouldn't speak on Muhney's exit or whether it had anything to do with Braeden.
"And that, when it happens — to be quite frank with you — pisses one off a lot. So, that's why."
In the end, Muhney apologized and Braeden accepted. They're likely not friends. As for Braeden and Bergman, the two seem to have patched things up over the last 29 years. Maybe there's hope for Jack and Victor after all.
The Young and the Restless airs weekdays on CBS.