'The Young and the Restless': Which of Victor Newman's Wives Is Worth More — Melody Thomas Scott, Sharon Case, or Eileen Davidson?
Over the years, The Young and the Restless lead, Eric Braeden, as had his fair share of fictional wives (and then some). A few of the women he married more than once. Which Y&R star has a higher net worth: Nikki (Melody Thomas Scott), Sharon (Sharon Case), or Ashley (Eileen Davidson)?
Melody Thomas Scott isn't the original Mrs. Victor Newman on 'The Young and the Restless'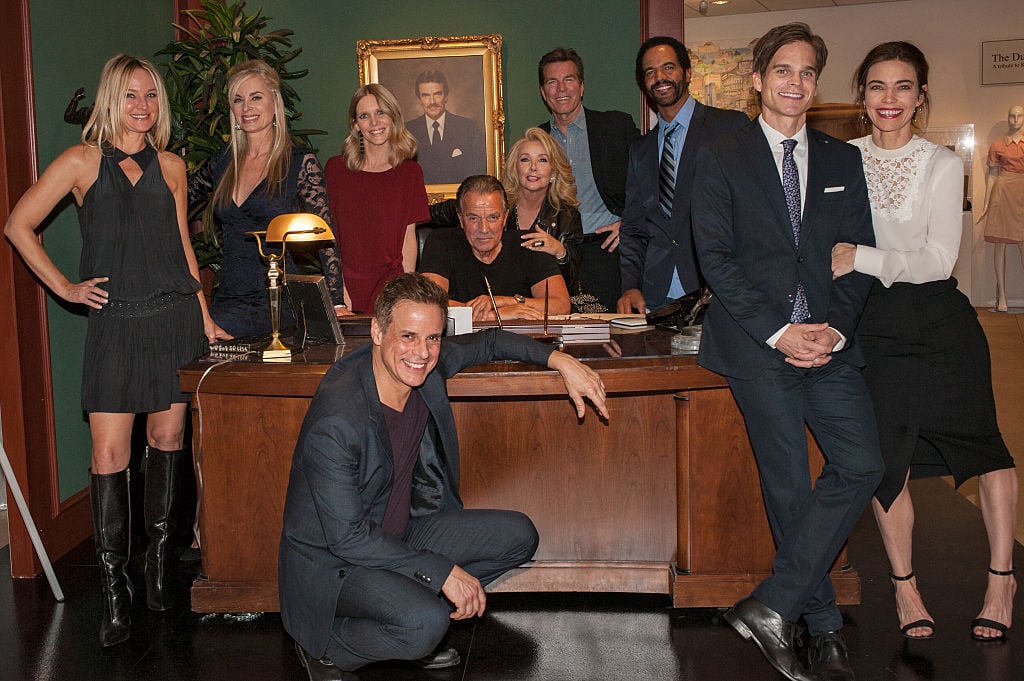 The character of stripper, Nikki Reed, was first introduced on The Young and the Restless in 1979 and portrayed by another actress, Erica Hope. Melody Thomas Scott made a name for herself, and the role, in 1979. She and Victor (Braeden) have been lovingly deemed by soap fans as the iconic power couple, "Niktor." They are parents to Victoria (Amelia Heinle) and Nicholas Newman (Joshua Morrow).
Scott has an extensive resume across TV and film. She began acting at the tender age of three with her first big role in the Alfred Hitchcock-directed film, Marnie.
"It was absolute horror," she previously told the Chicago Tribune of working with Hitchcock. "He never smiled, he was very imposing and you just wanted to please him and get the hell out of there!"
Scott has credits in projects like The Waltons, Charlie's Angels, The Rockford Files, The Nanny, King of Queens, and more. After taking Hope's place on Y&R, Scott's never had anyone step into the role — she's been Nikki Newman for nearly 30 years.
According to Celebrity Net Worth, Scott has an estimated net worth of $7 million.
Sharon Case is the only woman to play 'Sharon'
Perhaps one of the Y&R relationships in Victor's life fans hated most, is that of his marriage to his former daughter-in-law, Sharon, played by Sharon Case.
Her character first came onto the set in March 1994 via Monica Potter, then Heidi Mark. Case took over in September 1994 and has played her ever since.
The character of Sharon first married Nichoal, then Jack Abbott (Peter Bergman). By 2003, Sharon and Victor shared their first kiss, and later, they married. It was ultimately annulled but they had genuine feelings for one another after. Morrow didn't understand the pairing.
I was always kind of surprised that Nick just accepted this from his dad. There were never any scenes showing legitimate anger, like, 'What are you doing?! I had several scenes with Sharon [Case] where Nick voices his displeasure," Morrow previously told CBS Soaps In Depth.
"There are so many stories happening, so maybe they couldn't invest in that. The writers just wrote Nick with him raising his hands, like, 'Well, what can I do?"
Case is a former model and dancer who got her start on General Hosptial. Some of her other credits include Beverly Hills 90210, Doogie Howser, and As the World Turns before joining the Y&R cast.
The Daytime Emmy Award winner has an estimated net worth of $3 million, according to Celebrity Net Worth.
Eileen Davidson married Victor twice
In 1984, Eileen Davidson joined The Young and the Restless as the woman who originated Ashley Abbott. Through the years, Davidson has come and gone with other actresses stepping into the role, such as Brenda Epperson and Shari Shattuck.
Victor married Ashely after their affair which led to Ashley's pregnancy, from 1990-1993. However, when Nikki was diagnosed with cancer, Victor left Ashley and the baby was aborted  — something she regretted in later episodes. The two later reunited and married again, but that didn't last either.
As for Davidson, she began as a model doing commercials and print work. When Davidson moved to act, she doubled as Kristen DiMera on Days of Our Lives while working on Y&R. In 1998, the actress played "five separate characters at the same time which won her an Emmy nomination as Best Actress," according to IMDb.
Davidson has also appeared in The House on Sorority Row, Broken Badges, and as a cast member of Bravo's The Real Housewives of Beverly Hills.
According to Celebrity Net Worth, Davidson has a net worth of $3 million. However, this number may be low considering she earned $750,000 per episode of RHOBH alone.
The Young and the Restless airs weekdays on CBS.