Theo James Joked That He and Shailene Woodley Were '69-ing' in 'Divergent'
It's not uncommon for the media to scrutinize the chemistry between the leads of a major movie franchise. This is particularly true when there is an on-screen romantic connection. Certainly, Theo James and Shailene Woodley experienced their fair share of attention when they were filming the Divergent movies. The pair often had a playful banter amongst themselves when they were giving joint interviews. And they weren't afraid to make jokes about themselves or the filmmaking experience.
In the films, Woodley and James played Beatrice "Tris" Prior and Tobias "Four" Eaton. They both start off in the Abnegation faction before choosing Dauntless. Though their relationship is fraught at first, they eventually fall in love and pursue a romantic relationship with one another. Because the actors gave a believable performance as a couple, some people questioned if their chemistry existed outside of filming Divergent.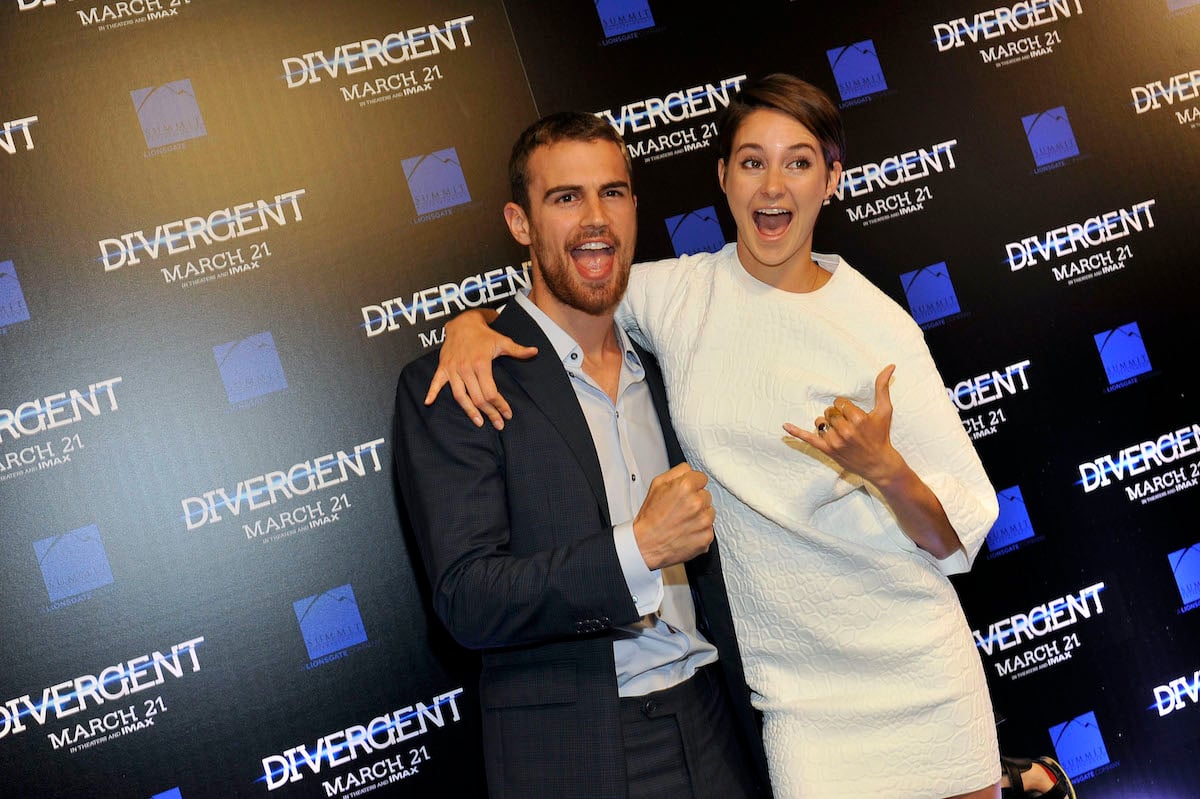 Shailene Woodley and Theo James had a great rapport while filming and promoting the 'Divergent' movies
For their part, James and Woodley were good sports about the interest in their dynamic. They even joked that James wanted to practice their big kissing scene in Divergent over and over. The White Lotus star hilariously reenacted banging on Woodley's trailer wanting to "rehearse" the kiss before she sent him away. And that wasn't the only time the pair joked about the physical aspects of their on-screen romance.
The actors did many of their own stunts for the films
In an interview with Vanity Fair, the actors discussed what it was like to film Divergent. Fans of the franchise may be surprised to learn that both Woodley and James did many of their own stunts for the films. One memorable stunt was the famous Ferris wheel scene, where Tris decides to get to higher ground in order to see where the other team was hiding their flag in a game of capture the flag.
"We got to climb a Ferris wheel, [which] was not as cool as it seems," Woodley explained. "There was a ladder at about 45 degrees, and we were essentially just climbing the ladder. But it was a full moon, a super moon, so it was cool."
James joked that he and Woodley were 69-ing during the Ferris wheel scene in 'Divergent'
Of course, the interviewer wanted to know a bit more about the Ferris wheel scene. When she asked if there was a love scene that took place on the ride or a romantic moment like in The Notebook, James gave a hilarious response. "We were 69-ing on the top," he shared after laughing. Woodley continued the joke adding "That was actually the most intense stunt work in the film," she shared in jest. "It was really tricky to figure out."
While James and Woodley weren't 69-ing in Divergent, the pair seems to have had a lot of fun making the movies. And their easy rapport together only contributed to the chemistry felt between their characters.