'Criminal Minds' Cast Members Recently Reunited – 'Deep on a Case With an Old Friend'
Although Criminal Minds may be over, it hasn't stopped fans from still loving the unique series about catching unsubs. Two beloved characters from the show recently reunited, and they took a must-see selfie. We have all the information you need to know.
'Criminal Minds' actors Matthew Gray Gubler and Thomas Gibson reunite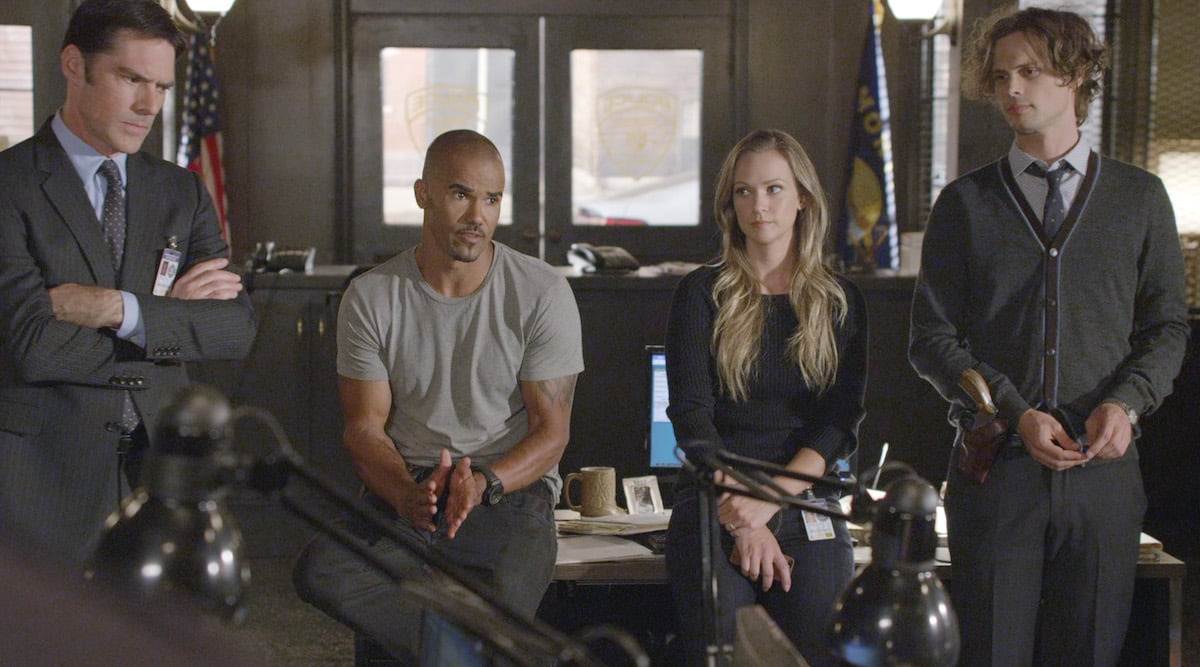 Matthew Gray Gubler, who plays Dr. Spencer Reid in Criminal Minds from season 1 to the end of the series in season 15, recently reunited with Thomas Gibson, who played Aaron "Hotch" Hotchner. Both are integral members of the BAU from the very first episode of the show. Hotchner is the former BAU unit chief, and he supervised the team that Reid is a part of. The two work well together, and they've became household names in Criminal Minds.
The friends and actors recently met up together according to both of their social media accounts. Gubler shared an image of himself holding Gibson with masks on their faces. Both wear jackets and look towards the camera for the shot. Gibson is taking the photo, and there's a red heart drawn around their faces. They're outside on a porch at night, and they each shared the iconic moment with their fans.
Gubler captioned the post on Instagram: "Deep on a case with an old friend."
Gibson shared what appears to be the same image, just edited and without the heart. "Reunited 😊😊," Gibson captioned the post on Instagram.
Dr. Spencer Reid and Aaron Hotchner are unique characters
RELATED: 'Criminal Minds': Why David Rossi Once Referenced a Grand Theft Auto Character
Both characters have been beloved by fans over the years and have proved themselves as important members of the team. Reid is extremely smart, and he graduated from high school before a lot of kids his own age would be finishing middle school. He has not one, but three PhDs in Engineering, Mathematics, and Chemistry according to his Fandom page. Although he might not always know how to read the room, Reid always has an important fact on hand to add critical information to the case. He always seems to be one step ahead, and his knowledge is an important aspect to the BAU.
Hotchner knows how to lead and keep the team focused on the task at hand. He's a serious individual, but he has a soft spot for the team he supervises. He's all business, and he usually can be seen with a stoic look on his face. But it works out well with other members of the team who are very different from him. He also has an iconic line that he has been known to say, "Wheel's up" along with a time limit attached to when the team will depart, always keeping them on a strict schedule.
Why did Thomas Gibson leave 'Criminal Minds'?
Hotch never returned to the series after appearing in two episodes of season 12. He was at first said to be on special assignment. But the BAU was told after some time that Hotchner's son, Jack, was being stalked, so they were in witness protection now according to Country Living. Peter Lewis, known as Mr. Scratch (Bodhi Elfman) was the one who was really stalking Jack. Gibson was written off as a father trying to focus on his son, that decided not to return.
In reality, it was a bit more complicated. In 2016, Gibson was fired from the series after serving a suspension for two weeks after an incident between him and a writer and producer, Virgil Williams, during filming for season 12. Gibson was given the boot after allegedly kicking the producer and an internal review was conducted, according to Entertainment Weekly.
Fans can certainly appreciate this reunion between these stars. It hearkens back to the original cast members and the many awesome episodes Criminal Minds has brought us over the years.