These Are the Kansas City Chiefs' Most Famous Fans
The Kansas City Chiefs are headed to the Super Bowl for the first time in 50 years. Behind another strong performance by their star quarterback, Patrick Mahomes, the Chiefs are set to square off against the San Francisco 49ers in this year's Super Bowl. No doubt Hollywood's brightest stars will be in attendance at the NFL's biggest event, including some of the Chief's most famous fans. Here is a quick look at all of the celebrities who call the Kansas City Chiefs their favorite team.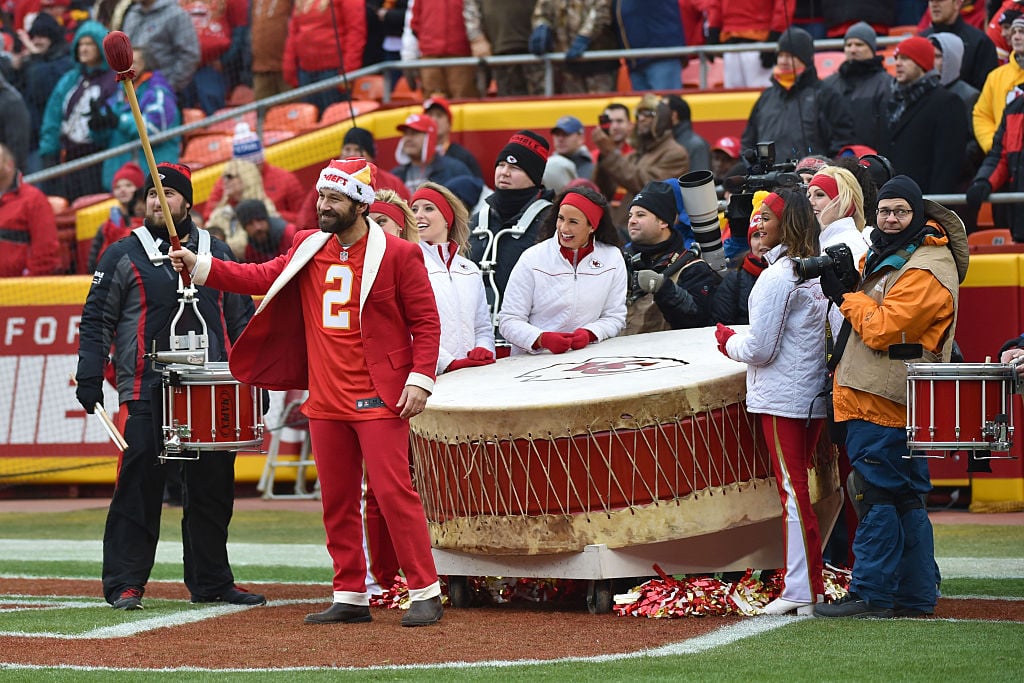 Rob Riggle
Rob Riggle (The Daily Show) is not a Kansas City native, but he was raised in the area and attended Shawnee Mission High School in the 1980s. Riggle, who started his career working on The Daily Show between 2006 and 2008, has gone on to cameo in a slew of movies, including The Hangover, Step Brothers, 12 Strong, and 21 and 22 Jump Street.
Riggle, of course, is a frequent guest at Arrowhead Stadium and often makes it onto the big screens on game day to help hype the Kansas City crowd.
Paul Rudd
Paul Rudd, a.k.a. Ant-Man, might be the most famous Kansas City Chiefs fan in the country. Like Riggle, Rudd is a graduate of Shawnee Mission High School and attended the University of Kansas (he was a theater major).
Rudd began his career in Hollywood in the early 1990s and has appeared in a number of films over the years. Some of his more famous films include Clueless, Knocked Up, The 40-Year-Old Virgin, and Ant-Man.
According to KC Kingdom, Rudd hosts an annual charity event in Kansas City every year called Big Slick Celebrity Weekend. All of the proceeds from the event go towards the Children's Mercy Hospital.
Jason Sudeikis
Like a few other celebrity Kansas City Chiefs fan, Jason Sudeikis attended Shawnee Mission High School and calls Overland Park his hometown.
Sudeikis started his improv comedy career in clubs in Kansas City before landing a job as a writer on Saturday Night Live. Sudeikis went on to become one of the biggest comedy stars in Hollywood, and some of his films include Horrible Bosses, We're the Millers, Masterminds, and Mother's Day.
Melissa Ethridge
Melissa Etheridge might be the most educated celebrity on this list, not to mention that she loves talking about her Kansas City Chiefs whenever she gets the chance. Born in Leavenworth, Kansas, the 13-time Grammy nominated singer once performed the National Anthem for the Chiefs.
Ethridge has also worked on various television shows, where she has never been shy about mentioning her love for the Chiefs.
Eric Stonestreet
Eric Stonestreet is a native of Kansas City and graduated from Kansas State University. He is probably best known for playing the part of Cameron Tucker in Modern Family. But he has also done voice work, including a part of Duke in The Secret Life Of Pets.
Stonestreet has also cameoed on a slew of television shows over years, such as Party of Five, CSI, Dharma and Greg, Sofia the First, and Monk.
Besides being a huge Kansas City Chiefs fan, Stonestreet is also part of a group that just bought the Kansas City Royals.
David Koechner
David Koechner was born in a small town in Missouri called Tipton. He went on to attend Mizzou before launching a career in acting. Koechner struck up a friendship with Will Farrell during his time on SNL and has never looked back.
Apart from being a huge Kansas City Chiefs fan, Koechner snagged two MTV nominations for his part in the comedy, Anchorman. Some of his other notable films include the likes of Get Smart, Talladega Nights, 40-Year-Old Virgin, and Anchorman 2.
Television fans might also recognize him as Todd Parker in The Office.
Henry Cavill
Of course Superman is a Chiefs fan! Henry Cavill may hail from across the pond in London, but he is one of the Chiefs biggest fans from abroad.
Cavill started his career in Hollywood as Albert Montego in The Count of Monte Cristo. He is best known for his role as Superman in Man of Steel, Justice League, and Batman v Superman.
Taking to Twitter, Cavill has been known to post Kansas City Chiefs related content throughout the season and has shown up for one playoff game. We do not know if Cavill is going to the Super Bowl, but he'll definitely be tuning in for his favorite team.