The Kardashians' Most Important Thanksgiving Tradition Is Way More Relatable Than You Might Think
Thanksgiving is a time to be with family. Apparently even the Kardashian-Jenner clan gets together as a family on Thanksgiving. While most regular families sit around their dining room table on Turkey day, the Kardashians have a whole host of vacation homes available to them.
Their go-to spot to spend the holiday as a family? The desert.
Their Thanksgiving table is going to be even bigger this year. The Kardashian-Jenners have added a few new family members. A recently released clip of the three Kardashian sisters discussing Thanksgiving plans in 2018 proves that like a lot of families, they sometimes have logistical issues around the holidays.
The Kardashians look for family time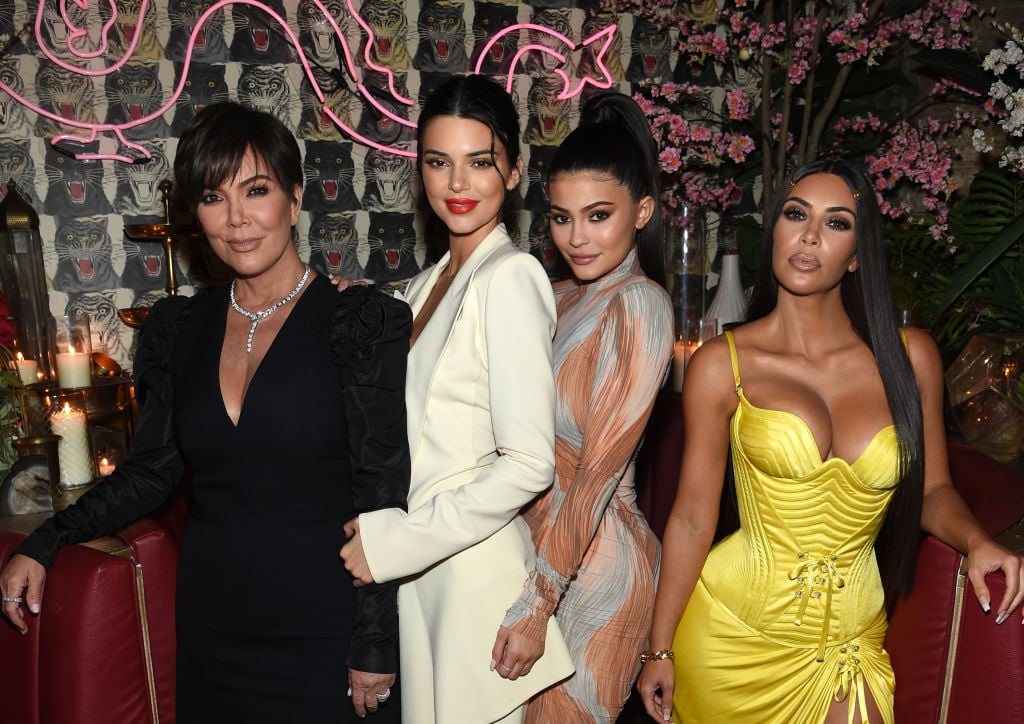 In the clip of Kourtney Kardashian, Kim Kardashian, and Khloe Kardashian discussing Thanksgiving plans, the three discussed past Thanksgiving holidays with their mother. They called Kris Jenner on the phone, and she asked the girls to go with their families to her vacation home in Palm Desert.
Khloe Kardashian said she couldn't go since she and Baby True Thompson would be in Cleveland for Thanksgiving to spend the holiday with Tristan Thompson. (Since Thanksgiving 2018, Khloe Kardashian and Tristan Thompson have parted ways.)
Although we can only imagine Jenner's vacation home is quite comfortable, it still may have been cramped when it's filled with all her children and grandchildren, even without Khloe Kardashian and Baby True.
How many people will be invited to Thanksgiving dinner?
Kris has six children. She had four kids with her first husband, Robert Kardashian: The three Kardashian girls, Kourtney, Kim, and Khloe, and her son Rob.
After she separated from Robert Kardashian, she married Bruce Jenner (now Caitlyn Jenner) and had two more girls: model Kendall Jenner and beauty mogul Kylie Jenner.
Now, she has grandchildren from almost all of her kids. Her oldest daughter Kourtney Kardashian has three kids: Mason, Penelope, and Reign. She is no longer with their father, Scott Disick, but the two are still close. They try to be together for the kids as much as possible, so it's possible he'll be invited to Thanksgiving. He may even bring along his new girlfriend, Sofia Richie. She has gone on vacation with Disick, Kourtney, and the kids before.
Kim Kardashian has four children: North, Saint, Chicago, and Psalm. Her husband Kanye West will definitely be at any Thanksgiving celebration with the rest of them.
Khloe Kardashian only has one daughter: True. Baby True just turned 1, and even though Khloe is not with True's father Tristan Thompson anymore, it is possible that he'll try and spend Thanksgiving with them. They've been trying to co-parent peacefully, just like Kourtney Kardashian.
Kylie Jenner is in the same co-parent boat with her ex, Travis Scott. Scott is her daughter Stormi's father. She may want him at Thanksgiving with the Kardashian-Jenners so that he and Stormi can share the holiday.
Oh, and don't forget Rob. He has a daughter with his ex-girlfriend Blac Chyna. We don't think they'll all make Thanksgiving together, but even if Rob comes alone, there will be more than 20 people at Kris' house for Thanksgiving.
In the clip of Kourtney, Kim, and Khloe talking, Kim mentioned they may have trouble fitting in the house. She doesn't seem to mind, though. She says: "Even if there's sleeping bags and we're figuring it out and sleeping on the couch, that's what makes it fun."
The Kardashian family focuses on food
Like most other American families, the Kardashians are focused on feasting. In 2014, Kris Jenner told People that the family likes a traditional dinner: "We do a very traditional Thanksgiving dinner. It's turkey and dressing, gravy, mashies, veggies and stuffing and, of course, a gazillon desserts."
Recently, it was revealed that Khloe Kardashian takes the lead in cooking for Thanksgiving. This year, the family's biggest debate is whether they should cook or hire a chef.
"We've been talking about this cooking thing. You feel like we should cook it all on our own, Kylie [Jenner] and mom [Kris Jenner] think we should get a chef," Kim Kardashian told her sister on The Real. "It's like split."
Khloe Kardashian revealed she cooks and cleans every Thanksgiving by herself and that she's "famous for [her] Oreo cake." Other Kardashian and Jenner family members have their trademark dish too: Kris Jenner is is known for her sweet potato souffle and Kylie Jenner is a pro at making yams.